First aid courses in Melbourne Victoria
Our Melbourne first aid training centres are ideal for fast and affordable first aid certification.
Simply use the Course Selector above to see up-to-the-minute information on course availability at each location.
Click the images below for in-depth information about each training centre and its courses.
OPERATING HOURS
The times and days for our CPR first aid course training sessions vary from location to location. Make sure you check the details of your booking carefully.
REGIONAL BOOKINGS
If you are based regionally and can not attend the venues listed, an onsite CPR first aid course might be possible, depending on your requirements. See more information about this option.
First Aid Course Victoria
Australia Wide First Aid (Registered Training Organisation #31961) is committed to making first aid training easier and more accessible for Victorians, with excellent first aid course training centres at:
Our first aid courses in Victoria combine fast-tracked e-Learning with minimal face-to-face first aid training. The idea is to get you certified hassle-free and with the least disruption to your everyday life.
Getting your first aid certificate is a certain way to improve your employment prospects, as well as to potentially save lives.
After completing your course at one of our Melbourne first aid training centres, you'll get your first aid certificate — the same day. No waiting around, or chasing anyone to get it. Your first aid certificate will be nationally recognised and accepted in Victoria, as well as in every state and territory in Australia.
Business owners in Melbourne can take advantage of our group first aid training. It's an easy way to organise First aid training for your staff. Having the group first aid course conducted at your site means the training can address the health and safety concerns specific to your workplace.
Importance of First Aid in Victoria
Melbourne is consistently voted one of the 10 most liveable cities in the world, scoring highly in terms of environment, education, infrastructure, safety, and healthcare.
The OHS Act (Occupational Health and Safety Act of 2004) is taken seriously in light of this, and the focus falls squarely on the importance of first aid training in the workplace.
Our first aid training centres in Victoria deliver expert instruction in CPR, Provide First Aid, and Child Care First Aid.
Businesses, schools, even families, can benefit from Australia Wide First Aid's Melbourne group training.
It's a brilliant way to train in first aid as a group to be done at your own workplace, school, or home. This group first aid training can be tailored to address the potential health hazards at your site.
Simply choose the relevant course for your organisation to benefit from you can make the most of your time. Individual Statements of Attainment can be emailed to participants within 24 hours of successful completion of the first aid course.
What is first aid?
First aid is the immediate treatment provided to an injured or sick person in an emergency situation, until full medical care becomes available.
This initial care is vital for the recovery of the patient and can, in some cases, even be life-saving.
First aid is limited to basic treatment that can be learned through minimal training.
Becoming qualified and confident through our endorsed first aid courses means knowing how to act on concrete information and proceeding step-by-step in a medical emergency.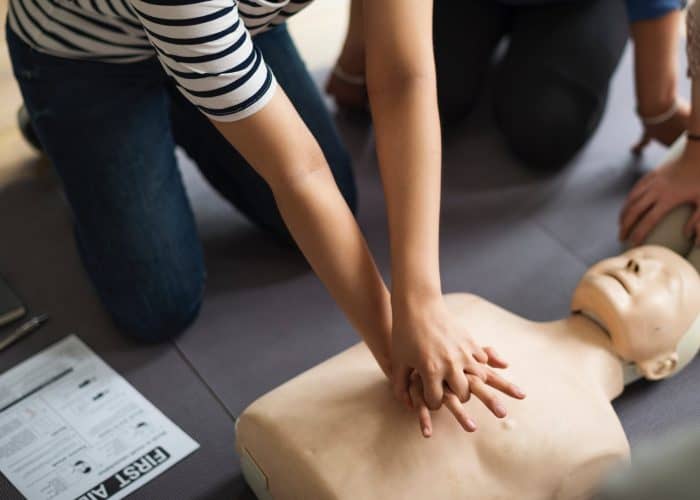 Why learn first aid?
Learning first aid is empowering. Instead of feeling helpless at a medical emergency you can, it enables you to properly assess the situation and take action.
An officially recognised first aid certificate will boost your employment prospects.
The resourcefulness and sense of responsibility demonstrated by learning life-saving skills do not go unnoticed by prudent employers. They will appreciate the value a certified first aider brings, not only helping the company comply with workplace safety obligations, but also being able to help should the unexpected happens.
These workplace obligations, overseen by WorkSafe Victoria, ensure employer compliance with the Occupational Health and Safety Act (OHS Act of 2004) and the Occupational Health and Safety Regulations (OHS Regulations of 2017). This includes providing proper first aid facilities and establishing first aid protocols for safe work environments.
Medical emergencies can happen anywhere, any time. And they can happen to anyone.
Having learned first aid, whether you're at home, at work, or out traveling, being prepared can save a life. You might even save the life of someone you love.
Our first aid courses in Victoria are fast and inexpensive — streamlined to fit in with busy lifestyles. Our Best Price Guarantee ensures you pay less with Australia Wide First Aid.
For more information, call Monday to Friday, 8am to 5:30pm AEST or email. We'll be happy to help.