First Aid Course Adelaide
South Australia Training Locations
Our training centres in Adelaide are ideal for your first aid certification.
The Course Selector above will show you up-to-the-minute details about courses and availability.
Tap on an image below to see detailed information about each training centre and its available courses.
OPERATING HOURS
Operating hours and days for our first aid training courses vary across our training centres around Australia. Please check the details for your selected location carefully.
REGIONAL BOOKINGS
If you are regionally based and can not attend one of the venues listed above, we may be able to arrange an onsite first aid course, depending on your requirements. See more information about group first aid training.
First Aid Course Adelaide South Australia
Take a first aid course at our training centres in Adelaide, South Australia.
Australia Wide First Aid is making it easier for you to get your first aid certificate. Our streamlined first aid training courses are designed so you can get your First Aid Certificate in just one day.
Book your first aid course with just a couple of clicks. Grab your USI (Unique Student Identifier) and get immediate access to your First Aid eBook.
You'll find plenty of great information in this first aid manual. You can also use it as your reference to answer the e-Learning questionnaire. Not only that, when answering the quiz, you get as many attempts as you need to arrive at the correct answers.
Simply submit your completed e-Learning by 11:59pm the day before your scheduled face-to-face first aid training session.
Once that's completed, your first aid certificate will be emailed to you the same day.
Group First Aid Bookings
Australia Wide First Aid also offers on-site first aid courses. Our experienced trainers can come to your home or workplace in and around Adelaide to provide group first aid training that can be tailored to your specific needs.
Our First Aid Courses in South Australia
With Australia Wide First Aid, you can become certified in first aid faster and cheaper.
What is First Aid and Why Do You Need to Learn It?
Benefit of learning first aid
First aid is first-response medical assistance provided to a person suffering from an injury or illness.
Until full medical assistance is available, first aid prevents the patient's condition from getting worse.
In the unpredictable case of accidents and medical emergencies, first aid skills are invaluable in preventing panic and loss of life.
Accredited first aid training and certification will give you the skills and the confidence to help those in need in emergency situations. It will be a game changer when someone near and dear requires immediate care for a medical episode, such as a severe allergy, heart condition, or seizure disorder.
It's a potentially life-saver when you have the right knowledge and training.
First aid training will also allow you to quickly evaluate risks to health and safety in your environment, be it the home, your place of work, or elsewhere. You can then take steps to minimise those risks.
First aid certification can also help boost your career. A first aid certificate is a requirement in some industries and huge plus in many more.
Australia Wide First Aid is a nationally recognised training organisation (RTO  No. 31961) specialising in providing fully accredited courses and certification that is recognised Australia-wide.
You will benefit from the most professional and efficient first aid training available.
Our training is endorsed by the Australian College of Nursing (ACN) and the Royal Australian College of General Practitioners (RACGP).
First aid for safety and survival
Prompt and proper first aid ultimately aims to preserve a person's life.
It's the first responder's best plan to attend to a person in a medical emergency. This action strives to prevent their injury or illness becoming worse until the availability of full medical attention.
First aid treatment can be the difference between life and death. It can also have a dramatic impact on the patient's recovery time and quality of life after accident or injury.
Acquiring first aid skills and knowledge will help you remain calm, considerate, and compassionate.
You'll be able to quickly and correctly assess situations and take efficient and effective action. This confident first aid response is reassuring and calming for the patient, who will be less likely to feel anxious or afraid.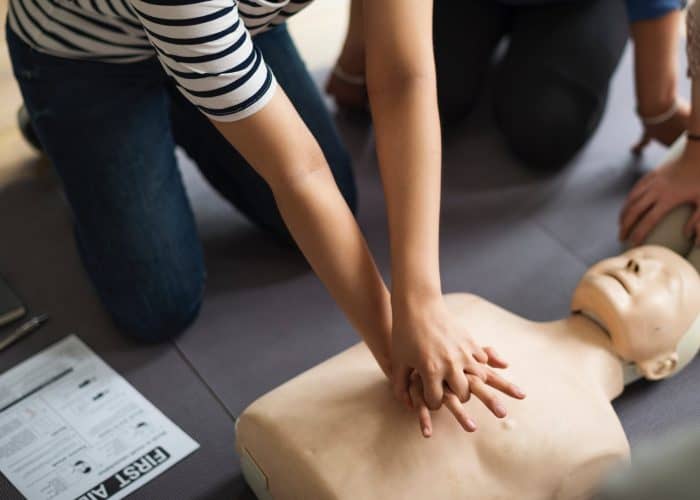 What it takes to become a First Aider
In South Australia, you need a Statement of Attainment to become an authorised first aider.
This statement, or first aid certificate, is issued once you've successfully completed the required units of a first aid module.
Australia Wide First Aid offers a range of first aid training courses, including Provide First Aid and Provide CPR. These workplace-compliant courses are available for individuals and groups.
Same-day first aid certificates for South Australia
You can receive your Statement of Attainment the same day you complete the coursework. This includes e-Learning and face-to-face training and assessment.
Your first aid certificate will be sent by email as a PDF. The certificate issued by Australia Wide First Aid (RTO No. 31961) will be recognised Australia-wide.
The Provide First Aid certificate is valid for 3 years, while the Provide CPR certificate is valid for 12 months.
Australia Wide First Aid courses can also contribute to your Continuing Professional Development (CPD) points.
For further information about our training courses in South Australia, please call 07 3437 7500 or email info@australiawidefirstaid.com.au