Find a cheaper price we'll beat it by 10%
Provide First Aid Course Bankstown
HLTAID003
- Provide First Aid (Includes CPR)
    RTO: 31961

HLTAID001
- Provide Cardiopulmonary Resuscitation
    RTO: 31961
Child Care First Aid Course Bankstown
HLTAID004 - Provide an Emergency First Aid Response in an Education and Care Setting
    RTO: 31961
Same-Day First Aid Certificate
Completing an Australia Wide First Aid course — in Bankstown or elsewhere — is an opportunity to get same-day First Aid certification. We've made this possible by continually fine-tuning our training systems.
Since 1996, we've helped well over a million Australians get their First Aid certificates.
Our First Aid trainers are hand-picked for their ability to make learning enjoyable and effective. Our Google reviews will show you the kind of appreciation there is for our trainers.
First Aid Course Prices
You won't find a better price for your training, thanks to our Best Price Guarantee — if you find a cheaper First Aid course, we'll beat it by 10%… Guaranteed!
Paying less is icing on the cake, considering we issue same-day certificates. And, as a Registered Training Organisation (RTO 31961), we can guarantee our First Aid certificate will be accepted Australia-wide.
Our courses and trainers are fully compliant, in line with industry regulators — Australian Skills Quality Authority (ASQA) and Australian Vocational Education and Training (VET).
Our CPR training is conducted in accordance with the guidelines established by the Australian Resuscitation Council.
Industry Endorsement
We have unwavering support from Australia's peak bodies in the health industry.
The Australian College of Nursing (ACN) — endorses and includes our First Aid courses in Continuing Professional Development (CPD) for nurses.
The Royal Australian College of General Practitioners (RACGP) — also endorses our courses, including our First Aid training in its recommendations for doctors' Continuing Professional Development.
Workplace First Aid Training Bankstown
Business owners know that workplace health and safety is a serious responsibility. Having their staff receive fully accredited certification after being trained in their own workplace makes total sense.
Group First Aid training, delivered by our accomplished trainers, can be customised to suit the health and safety concerns specific to your workplace.
Whether your group training is conducted at your site or in one of our training centres, First Aid Statements of Attainment (PDF) can be emailed to successful students the same day as the course.
Your Place or Ours
Aside from our training centres in Bankstown, Sydney CBD, Penrith, Parramatta, and Blacktown, we also have a First Aid training centre in Wollongong.
You can see all our First Aid training centres on our Branches page.
First Aid Course Frequently Asked Questions
How Long Does a First Aid Course Take?
The module of an Australia Wide First Aid course is online. This e-Learning can be done in one focused effort or over several sessions. Either way, you do it at your convenience. After completing the e-Learning and submitting it by 11:59pm the day before, it's time for the face-to-face practical training and assessment.
Durations for the face-to-face sessions are as follows:
| | |
| --- | --- |
| Course Title | Course Duration |
| HLTAID001 Provide CPR | 2 hours |
| HLTAID003 Provide First Aid | 4 hours |
| HLTAID004 Child Care First Aid | 5 Hours |
How Much Does a First Aid Course Cost?
The Course Selector at the top of this page will show you up-to-the-minute prices and availability. If you find a cheaper price — anywhere in Australia — we'll beat it by 10%.
Where Else Do You Hold First Aid Training?
In addition to our Bankstown First Aid training centre, we also conduct First Aid training at Parramatta, Blacktown, Penrith, and the Sydney CBD, we also conduct First Aid courses at Wollongong.
We also have training centres in locations across Australia, including in most state capitals.
If you search "first aid course near me" — in Bankstown or elsewhere — our Branches page will come in handy.
Is Discount Group First Aid Training Available?
Yes. With Group First Aid training, savings are certainly possible, assuming the process is cost-effective in terms of logistics and administration. Please contact us to discuss arrangments for your group training.
Admission Requirements
The minimum age to attend Australia Wide First Aid courses is 14 years of age.
For CPR assessment, students would need to be physically capable of performing 2 minutes of uninterrupted cardiopulmonary resuscitation on a mannikin, while kneeling on the floor.
Course Information
First Aid Course Tips
Download the First Aid eBook and read the relevant passages, as instructed in the Welcome email.
Refer to the eBook to answer questions in the e-Learning. Submit your finished e-Learning by 11.59pm AEST before the day of your scheduled face-to-face training.
Difference between Standard First Aid & Emergency First Aid
Our Bankstown First Aid courses share common competencies and meet the requirements of our regulator and peak industry bodies. Each course teaches the basics in terms of providing First Aid and basic life support, and both include CPR.
The courses differ in duration and in the scope of situations they handle. In particular, Child Care First Aid has an additional focus on providing First Aid for infants and children in emergency situations.
HLTAID004 Child Care First Aid is specifically designed for staff employed in Education and Care settings. As with the HLTAID003 Provide First Aid certificate, you would need to refresh your training and renew your qualification every 3 years.
Child Care First Aid is often taught in groups at the client's own premises. Our public training centres at Bankstown, Blacktown, Parramatta, Penrith, Sydney CBD and Wollongong are also available for group First Aid courses.
At Australia Wide First Aid, our goal is to make First Aid skills more readily available throughout Australia to help keep people as safe as possible in their homes and workplaces.
Don't hesitate to call our hotline or leave a message via our contact page.
Types of First Aid
Different First Aid courses target specific knowledge and skill sets that apply in different circumstances.
Our most popular course —  HLTAID003 Provide First Aid — satisfies Australian workplace compliance. This course incorporates HLTAID002 Basic Emergency Life Support, as well as HLTAID001 Provide Cardiopulmonary Resuscitation, which focuses on the life-saving techniques of cardiopulmonary resuscitation.
All our accredited First Aid courses are fully compliant and teach you the techniques of First Aid professionals. These courses are as follows: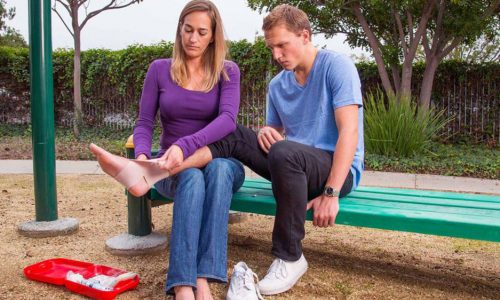 HLTAID003 Provide First Aid
This course is recommended for workplace health and safety compliance. It covers the skills needed to provide First Aid to a sick or injured person. Included are techniques for responding to typical medical emergencies in homes, workplaces, and in community settings. It is recommended that this certification be renewed every 3 years. The CPR component should be refreshed every 12 months.
HLTAID001 Provide Cardiopulmonary Resuscitation
This unit of competency covers the techniques involved in performing CPR, as well as how to use an AED (Automatic External Defibrillator). The Australian Resuscitation Council recommends renewing training for this qualification every 12 months.
HLTAID004 Provide an emergency first aid response in an education and care setting (Child Care First Aid)
This course is also known as Emergency First Aid and Child Care First Aid. With its focus on First Aid response for children, infants and adults, this course is a requirement for those who plan to work in the childcare and education sectors. It is also popular with parents. 
Includes the units:
HLTAID001 Provide CPR
HLTAID002 Provide basic emergency life support
HLTAID003 Provide first aid
HLTAID004 Provide and emergency first aid response in an education and care setting