BOOK ONLINE HERE
First Aid Course Selector
One-Day First Aid Course in Caboolture
You can get certification in one day at our Caboolture First Aid course.
It's a streamlined method designed to minimise face-to-face training. In fact, you can get started on the online module as soon as you complete the easy booking process.
Your certificate will be recognised Australia-wide. That's the reason for our name. Australia Wide First Aid is a fully accredited training organisation (RTO 31961).
The First Aid courses we provide are aligned with the standards set by the Australian and New Zealand Committee on Resuscitation (ANZCOR). Our Provide First Aid course is endorsed by the Australian College of Nursing (ACN).
When you train with us, you earn points for Continuing Professional Development (CPD).
Our trainers are second-to-none and you won't find a better price for First Aid training in Caboolture, or at any of our other training locations around Australia.
Check out our Price Beat Guarantee. We'll not only match any price for equivalent First Aid training, we'll beat it by 10%.
First Aid training is invaluable in situations requiring an emergency medical response — anaphylactic shock, heart attacks, respiratory failure, snake bite… the list goes on.
The safety and wellbeing of Australia's communities depends on help being available to those in need. And your First Aid training is integral to this process.
After updating your First Aid certification, skills and knowledge, you'll be well-prepared for your role in the workforce. Your clear thinking and confident action could mean the difference between life and death.
First Aid Classes for both Individuals & Companies
Australia Wide First Aid brings industry-leading First Aid courses to both individuals and companies in 20 locations around Australia.
If your business here in Caboolture needs First Aid training for its workers, phone and speak to us at Australia Wide First Aid today. Or leave a message and we'll get back to you with the information you need.
Businesses are assured of workplace compliance with Australia Wide First Aid certification.
Our Caboolture First Aid Courses
HLTAID003 Provide First Aid includes CPR
HLTAID001 Provide Cardiopulmonary Resuscitation
HLTAID004 Provide an Emergency First Aid Response in an Education and care Setting

Arranging Your First Aid Training in Caboolture
Arranging a First Aid course in Caboolture is a piece of cake. You can book online by clicking the Yellow Button above. Or just call to enrol over the phone.
Our course schedules cater for everyone — including those who need to do a First Aid course for the first time, as well as experienced First Aiders who simply need to renew their certification.
Customised training can be delivered to your home or workplace if that works better for you.
Why Choose Us?
Price Beat Guarantee (find a cheaper price and we'll beat it by 10%)
Flexible Online Learning & Assessment
Same-Day Certificate
Nationally Recognised/Accredited Certification
Come to us… Or we can come to You
Courses 7 Days
Endorsed by the Australian College of Nursing
Endorsed by Australian Acupuncture and Chinese Medicine Association
Book Online or by Phone
Parking & Access to our training centre:
Ample FREE parking 7 days a week
Bus Station a few hundred metres away at Caboolture Station
Train Station only 300 metres away at Caboolture Station
Conveniently located near Caboolture Square Shopping Centre
Centrally located near the heart of Caboolture CBD
Things you should know about our Training Centre:
Food and beverages, including daily lunch specials are available for purchase at the venue.
Air conditioned.
When should I do a First Aid course at Caboolture?
There has never been a better time to get certified in First Aid, now that Australia's leading First Aid training provider has come to Caboolture!
You won't find a better First Aid course and you won't find one cheaper. In fact, if you find a cheaper course, we'll beat it by 10% – that's our promise to you and it's one of the many reasons people waste no time choosing Australia Wide First Aid when they need to do a first aid course.
Are our First Aid courses Accredited?
Yes, absolutely! We are a registered training organisation (RTO 31961). No matter where you go in Australia, your Australia Wide First Aid certificate will be recognised and accepted by employers.
How Long is Face-to-Face Training?
For Provide First Aid including CPR, you would come in for 4 hours of face-to-face after completing your pre-course online reading, training, and assessment.
For CPR only, after completing your pre-course online reading, training, and assessment, the face-to-face is just 2 hours!
For Childcare First Aid, face-to-face is 5 hours after completing your pre-course online reading, training, and assessment.
When do I receive my First Aid Certificate?
The same day as the course, you'll receive your Statement of Attainment! (As long as all documentation has been submitted correctly and when requested, including your unique student identifier.)
Which First Aid Course do I need to get a job?
In Australia, the course that is by far the most commonly requested First Aid certification by employers is Provide First Aid HLTAID003
Do First Aid Courses need to be Renewed?
YES
Provide First Aid including CPR – Every 3 years
CPR only – Every year
Childcare First Aid – Every 3 years
Need to Know More?
Easy – simply check out our frequently asked questions here
OR give our friendly team a call on 1300 336 613
Ready to Book your Course?
Congratulations! You won't be disappointed.
Scroll to the top of this page and you'll see our booking form pre-filled and ready for you to book your Caboolture First Aid course. Simply select the course you're interested in!
Prefer to book by phone? By all means! Our friendly team members are standing by to take your call.
Phone today on 1300 336 613
Surrounding Suburbs and Regions:
Our Caboolture training centre is strategically positioned in Brisbane's North side. Centrally located and with quick access to surrounding suburbs and regions including:
• Beachmere
• Beerwah
• Bribie Island
• Burpengary
• Caloundra
• Esk
• Kallangur
• Kilcoy
• Morayfield
• Narangba
• North Lakes
• Pine Rivers
• Redcliffe
• Strathpine
Our Caboolture training centre is also only a 40-minute drive up the M1 to the beautiful Sunshine Coast!
Types of First Aid
When people talk about "first aid" they are really referring to a set of first responses that can be performed in a wide range of emergency situations. In Australia, these different types of medical responses are catalogued by the National Register of Vocational and Education Training as units of competencies for which learners can earn Statements of Attainment.
At Australia Wide First Aid, we offer courses that cover these units of competencies, sometimes as a standalone unit like CPR only which has the course code HLTAID001, or bundled together like Provide First Aid which includes the units HLTAID001, HLTAID002, and HLTAID003. These are designed to holistically prepare students for hazards and emergencies that they may be likely to encounter in the real world, either in their workplace or in everyday situations which includes how to use first aid kits in emergency and non emergency settings.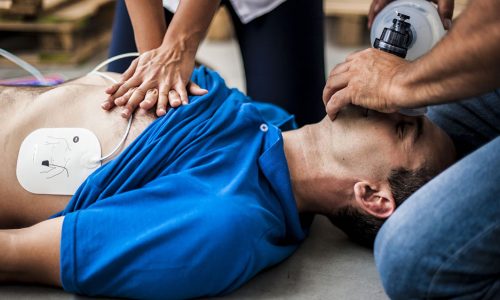 Cardiopulmonary Resuscitation – A first aid technique covered under the Provide Cardiopulmonary Resuscitation (HLTAID001) unit of competency, cardiopulmonary resuscitation or CPR is a lifesaving procedure that is helpful in many types of emergencies, including in cases of cardiac arrest and near drowning. By combining methods such as chest compressions and breaths, an individual trained in CPR can prevent a casualty from dying or suffering permanent brain damage due to the brain and other major organs being deprived of oxygenated blood.
Basic Emergency Life Support – Provide Basic Emergency Life Support (HLTAID002) is an Australian first aid training unit of competency that aims to provide students with the fundamental skills and knowledge necessary to respond to various emergency situations. In this course, students will be taught how to follow the DRSABCD (Danger, Response, Send for Help, Airway, Breathing, CPR, and Defibrillation) action plan, and they will likewise learn how to manage a range of conditions, including shock, bleeding, burns airway obstruction, anaphylaxis, asthma, other forms of respiratory distress, as well as bites and stings.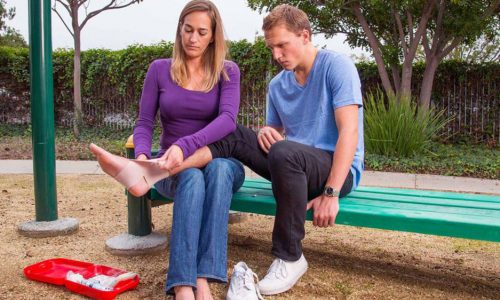 First Aid (General) – Provide First Aid (HLTAID003) is a unit of competency that used to be known in Australia as Apply First Aid or Senior First Aid. This comprehensive training unit will equip students with the skills and knowledge necessary to be able to provide appropriate first aid response, life support, and casualty management in a range of settings, be it in their own residence, in their place of work, or in the community. Aside from basic life support (DRSABCD), students will learn a variety of first aid techniques like fracture, sprain, and strain management, allergy and anaphylaxis management, envenomation management, control of bleeding emergencies, as well as choking and airway obstruction response.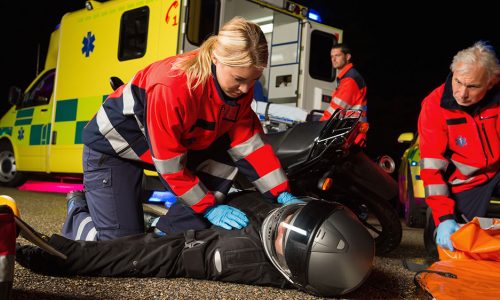 Childcare First Aid– Provide an Emergency Response in an Education and Care Setting (HLTAID004) is a first aid unit of competency specifically designed for teachers and carers. It's also useful for parents who desire child-focused training in incident and casualty management, and in delivering first aid response and basic life support.