Why more people are choosing
Australia Wide First Aid Penrith
CPR & First Aid Courses Fast-Tracked

Online First Aid Course + Face-to-Face Training

Same-Day First Aid Certificate – Nationally Recognised

Group First Aid Courses at Your Site
Other Australia Wide First Aid training centres around Sydney
Our accredited first aid courses are also conducted at other locations around Sydney:
Royal Australian College of General Practitioners – endorsed

Australian College of Nursing – endorsed

Registered Training Organisation #31961 – established 1996

See our customer reviews.

Find a Cheaper Price, We'll Beat it by 10%
Our Penrith first aid training centre
Our Penrith training centre is a relaxed, professional, and well-equipped environment for our Penrith first aid courses. You'll be in a facility that is conducive to excellent learning outcomes.
This location is convenient for students from Penrith and surrounding areas, including…
Caddens
Cambridge Gardens
Cambridge Park
Cranebrook
Emu Heights
Glenmore Park
Jamisontown
Jordan Springs
Werrington
Same-day first aid certificate
You'll get your first aid certificate the same day you complete both the online first aid course (e-learning module) and the hands-on training and assessment.
Confidence and empowering knowledge will be yours in quick time at the most competitive rates at Australia Wide First Aid Penrith.
Workplace first aid
As a business owner, it's an important aspect of your legal obligations to assess your workplace for potential health and safety hazards. It also informs your decision on first aid training for your staff.
Australia Wide First Aid offers innovative group courses in response to this need. Our group first aid training can be tailored to address the health and safety concerns specific to your workplace.
Aside from the obvious benefits of courses customised for your workplace, onsite training is also less disruptive to the schedules of your people. And it makes the process easy for you to manage.
Please don't hesitate to call us if you need further advice.
Food & Refreshment
Water is provided throughout the day to keep you hydrated.
A 30-minute lunch break is scheduled for courses running longer than 4 hours. You are welcome to bring your lunch. Fast food establishments and the Grey Gums Hotel are minutes away.
NOTE: Please arrive 15 minutes prior to course commencement. This allows time for signing in and being seated. Late arrivals cannot be admitted as course disruptions inconvenience all in attendance.
Recognised all over Australia
Your Australia Wide First Aid certificate will be recognised Australia-wide!
Australia Wide First Aid is a nationally Registered Training Organisation (RTO No. 31961) and a leader in quality first aid training with more than 2 decades in the industry.
We provide on-demand training at locations all around Australia, blending online first aid courses with hands-on training conducted by instructors who are second to none.
Backed by the industry's peak bodies, our first aid courses comply with guidelines set by the Australian Resuscitation Council (ARC).
We are breaking down barriers with a Best Price Guarantee to deliver first aid courses at the best prices anywhere in Australia.
Finding a trainer for your first aid course
Choosing a First Aid course trainer
Getting started with your first aid course
Online first aid course booking can be done in just a few clicks. Or simply pick up the phone and let our friendly staff book your course for you.
Get in touch with us if you're in business and need first aid training for your staff.
First aid training checklist
Follow this checklist to take an Australian Wide First Aid course:
Complete your enrolment
Agree to the Terms and Conditions
Obtain your Unique Student Identifier (USI) through the government website or contact us
Complete your e-Learning by 11:59pm the day before to attend the face-to-face training
Wear modest clothing and closed shoes for your face-to-face training
Bring a pen and notepad for note-taking purposes
During class, switch off digital devices or place them in silent mode
If you have further questions about our first aid courses, please call or message us via our Contact page.
Frequently Asked Questions
How long does first aid qualification take?
First aid qualification can be done in one day, provided you complete the required e-Learning prior to the day of your course.
The e-Learning is an online module, comprising reading material — First Aid eBook (free download) — plus a multiple-choice quiz you can do in your own time, logging back in as time permits.
Simply submit your completed e-Learning by 11:59pm the day before your scheduled face-to-face training and assessment. This practical session is also streamlined, taking 2 to 5 hours, depending on which course you take.
How long does my certificate last for?
The official recommendation for Provide First Aid and Child Care First Aid, is to renew your certification every 3 years. The validity period for the Provide CPR certificate is 12 months from date of issue.
How much does a course cost?
The cost for an Australia Wide First Aid course is cheaper than you'll find anywhere else — whether for Provide CPR, Provide First Aid, or Child Care First Aid.
Our Best Price Guarantee gives you a 10% advantage over any competing first aid courses.
The drop-down selector at the top of our web pages shows up-to-the-minute prices and availability for all our courses.
Are first aid certificates accepted in all states?
Australia Wide First Aid certificates will be recognised and accepted all over Australia. Our certificates are officially accredited and comply with national regulatons and standards.
Your first aid certificate will be beneficial to your career. Sent to you as a PDF the day you complete your course, you'll be able to print it, as well as email it to employers.
Are school first aid courses available?
Our trainers are available for group first aid courses. The minimum age for certification is 14 years.
Where are courses held?
Group training can be conducted at your site. This is by arrangement and makes training and booking easy for you to manage.
More importantly, this group first aid training can be tailored to suit the health and safety concerns specific to your workplace.
Our training for both groups and individuals is also regularly available at locations throughout
See all of our branches.
Essential reading for first aid students
What is first aid?
First aid is the act of providing emergency medical assistance to a sick or injured person until professional medical help arrives.
It covers a range of skills and competencies, from basic care to more complex skills, such as Cardiopulmonary Resuscitation (CPR), using an AED (Automatic External Defibrillator), and applying techniques to manage severe bleeding.
Australia Wide First Aid certificates are recognised all around Australia. Your C.V. will be enhanced by the addition of your first aid certificate, and you'll be prepared to take effective action in emergency situations.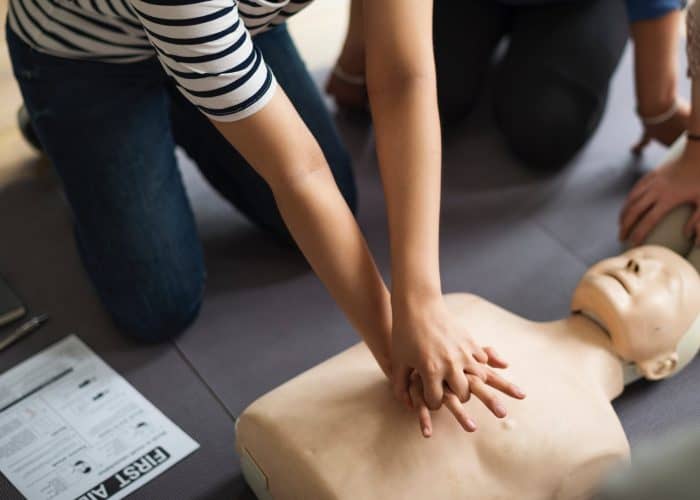 Why learn first aid?
Being able to provide first aid when a medical emergency arises can means quicker recovery for the patient. Without first aid, the outcomes can be far worse.
First aid is much more than dressing a wound or trying to alleviate pain. It also includes knowing how to provide basic life support or how to properly administer an auto-injector (Epi-Pen) when someone is experiencing anaphylaxis.
Australia Wide First Aid courses include face-to-face training that takes from 2 to 5 hours to complete.
Your first aid certificate will be recognised all over Australia and can be applied in any workplace or community setting. You'll find that gaining the knowledge and skills to provide first aid is a real confidence booster.
First aid in the workplace
Health and safety standards for the workplace have been established by the peak bodies in their respective industries.
The Australian Children's Education and Care Quality Authority (ACECQA), for example, sets standards for those who work with children. Working within that sector, you'd need to undertake the prescribed training.
Workplace Safety is an issue Australia Wide First Aid takes seriously. Courses such as Provide First Aid and Child Care First Aid, specifically cover scenarios within the workplace.
Our courses comply fully with the guidelines set by industry peak bodies.