BOOK ONLINE HERE
First Aid Course Selector
Your Trusted First Aid Training Provider
One of our goals here at Australia Wide First Aid is to make first aid trainings as convenient as possible for our students. This is why we've chosen to hold regular first aid training courses in Logan, which is located between Brisbane and Gold Coast. We believe that this strategic location helps us make first aid courses more accessible to residents and businesses in this area referred to as Logan Central, Logan, and Loganholme.
We deliver first aid training in 20 locations across the country. To take the stress out of organising training, Australia Wide First Aid has streamlined our 1-day blended courses so that students can complete them any day of the week at one of our convenient locations open to the public. We can also come to your home or place of work if you prefer. We pride ourselves on delivering the most relevant blended online and face-to-face training, specifically contextualised to the nature of your business.
Australia Wide First Aid is a nationally recognised training organisation (RTO no. 31961), and the courses we offer are strictly aligned with the guidelines set by the Australian and New Zealand Committee on Resuscitation (ANZCOR). As such, the statement of attainment that we issue our students are recognised nationally. We only employ the best experienced and qualified trainers and assessors who deliver industry leading professional training in accordance with the VET Quality Framework.
Your Statement of Attainment (PDF) will be emailed to you the same day you complete the course.
HLTAID003 Provide First Aid
HLTAID001 CPR only
HLTAID004 Childcare First Aid
Why Choose Us?
Nationally recognised training organisation
20 convenient locations around Australia
7 days a week
Weekend and weekday classes available
Same-day certificate
Endorsed by the Australian College of Nursing
Come to us or we come to you
Online and phone bookings
Getting Here
CAR – FREE parking is available at the Business Complex or on the surrounding streets. Turn into Wayne Goss Drive, off Browns Plains Road. The Australia Wide First Aid training centre is located straight ahead once you enter the Business Complex off Kellar Street.
PUBLIC TRANSPORT (MAP)
BUS – 10 MINS walk – Browns Plains Station (545, 550)
Food & Refreshments
Water, coffee and tea is provided throughout the day.
There is a 30 minute lunch break for courses running over 4 hours. You are welcome to bring your own lunch. Alternatively, there is a cafe located next door to the training centre (weekdays only).
NOTE: To make sure you have enough time to comfortably sign in and complete enrolment documents, please arrive 15 minutes prior to your course commencement. You will need your USI number with you at the time of enrolment.
What Is First Aid?
It has been proven time and time again that knowing first aid helps save lives. First aid skills and knowledge can be used to ease the anxiety and pain experienced by the patient and prevent their injuries from getting worse. It can spell the difference between life and death, the gravity of the injury, and the recovery duration of the casualty.
First aiders must have the necessary skills and knowledge to administer first aid. They should know how to properly assess the situation and make the right decisions. They should also remain calm in times of emergency, as one of their duties is to reassure the patient under their care.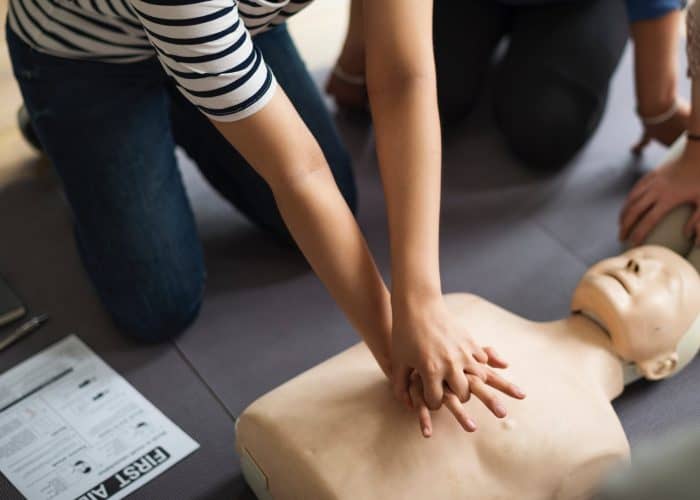 Why Do You Need to Learn First Aid?
Emergency situations can happen anytime anywhere. People spend the majority of their time either at home or at work which is why our courses give particular focus to these environments. Knowing how to administer first aid can give you the confidence to promptly help others in times of need without compromising your own safety.
Possessing first aid certification also improves your employability, as most careers and workplaces require people who are certified in Provide First Aid. What's more, undergoing first aid training can earn you Continuing Professional Development (CPD) points for your existing employment.
Another aspect of first aid that makes it so useful is that it helps you become more aware of the hazards in your home or workplace. Once you know the common dangers you face, you can take steps to reduce risks and formulate emergency response plans that address the specifics of your home, facility, or office situation.
What Does It Take to Become a First Aider?
To become a first aider, you need to undergo training from a registered training organisation like Australia Wide First Aid. After completing all the required units of a module and passing the assessment, you'll receive a statement of attainment. Take note that a Provide First Aid certificate is valid for 3 years, while it is recommended that you renew your CPR certification every 12 months.
Course Offerings
Australia Wide First Aid courses include: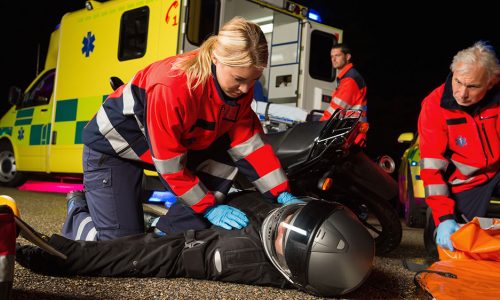 The course teaches students how to respond to emergency situations in accordance with the requirements set by the ACECQA. It covers asthma and anaphylaxis management with specific focus on child and infant first aid. The course requires 5 hours of face-to-face training plus pre-course reading and online assessment.
Includes: Provide Cardiopulmonary Resuscitation (HLTAID001), Provide Basic Emergency Life Support (HLTAID002), Provide First Aid (HLTAID003), and Provide an Emergency Response in an Education and Care Setting (HLTAID004)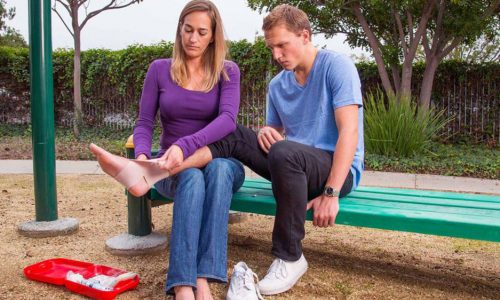 Those who want to meet the minimum requirement for workplace first aid compliance should take up Provide First Aid. The course covers first aid, casualty management, and life support and requires 4 hours of face-to-face training plus pre-course reading and online assessment.
Includes: Provide Cardiopulmonary Resuscitation (HLTAID001), Provide Basic Emergency Life Support (HLTAID002), and Provide First Aid (HLTAID003)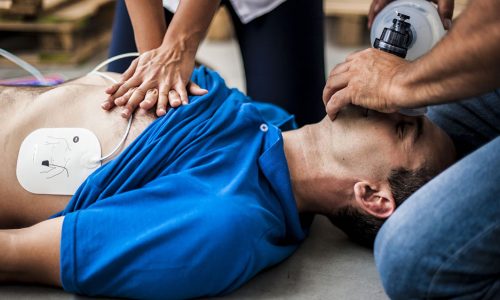 The first component of Provide First Aid is called Provide CPR and it enables students to respond properly to breathing and cardiac emergencies. This course requires 2 hours face-to-face training plus pre-course reading and online assessment. Take note that CPR Certificate is valid for 12 months and required annual renewal.
Includes: Provide Cardiopulmonary Resuscitation (HLTAID001)
Regular and Fast Tracked Courses
While our streamlined courses take less time to complete, they still provide students with the same level of knowledge, skills, and certification as regular courses. Its vital students understand they are required to read Australia Wide First Aid's e-manual and complete the online assessment on or before 11:59PM the night before their face-to-face training to be eligible to attend the face to face training. Students who have completed the requirements of their course and passed the assessment will receive their statement of attainment the same day as the face to face course.
Book one of Australia Wide First Aid's training courses in Logan today. For inquiries, please email info@australiawidefirstaid.com.au or call 1300 336 613. Our support team is available Monday through Friday from 8:00AM to 5:30PM.