First Aid Course Campbelltown
First Aid Campbelltown Training Centre
Our Campbelltown first aid courses are conducted in relaxed, well-equipped facilities.
We also provide Group First Aid training which can be conducted at your premises in the following areas, as well as in others, by arrangement:
Abbotsbury
Airds
Alfords Point
Ambarvale
Appin
Ashcroft
Audley
Austral
Badgerys Creek
Bangor
Bankstown Aerodrome
Barden Ridge
Bass Hill
Bickley Vale
Blair Athol
Blairmount
Bonnet Bay
Bonnyrigg
Bonnyrigg Heights
Bossley Park
Bow Bowing
Bradbury
Bringelly
Brownlow Hill
Busby
Cabramatta
Cabramatta West
Camden
Camden Park
Camden South
Campbelltown North
Canley Heights
Canley Vale
Carramar
Cartwright
Casula
Casula Mall
Cataract
Catherine Field
This training facility in Campbelltown is both relaxed and professional, creating a learning environment that we find is conducive to excellent learning outcomes.
We also provide first aid courses at other locations in and around Sydney:
Frequently Asked Questions
How long does first aid qualification take?
A first aid course can be done in one day, provided you complete the required e-Learning prior to the day of your course.
The online first aid course module comprises e-Learning — reading material (First Aid eBook) plus a multiple-choice questionnaire you can do in your own time.
Just be sure to submit your completed e-Learning by 11:59pm the day before your scheduled face-to-face training and assessment. This practical session is also streamlined, taking 2 to 5 hours, depending on which course you take.
How long does my first aid certificate last for?
The validity period for the Provide CPR certificate is 12 months from date of issue. The official recommendation for Provide First Aid and Child Care First Aid, is to renew your certification every 3 years
How much does a first aid course cost?
Costs for our first aid courses are cheaper than you'll find anywhere else — whether for Provide CPR, Provide First Aid, or Child Care First Aid.
The drop-down selector at the top of our web pages shows up-to-the-minute prices and availability for all our first aid courses.
Our Best Price Guarantee gives you a 10% advantage over any competing first aid courses.
Where are first aid courses held?
We provide first aid training in
See all of our branches listed here: Find a First Aid course near me.
Group first aid training can also be conducted, by arrangement, at your site. The booking arrangements are easier to manage and, more importantly, the training can be tailored to suit the specific health and safety concerns at your workplace.
Are school first aid courses available?
Our trainers are available for Group First Aid courses. The minimum age for first aid certification is 14 years.
Campbelltown CPR First Aid Courses
CPR & First Aid Courses Fast-Tracked

Online First Aid Course + Face-to-Face Training

Same-Day First Aid Certificate – Nationally Recognised

Group First Aid Courses at Your Site

Royal Australian College of General Practitioners – endorsed

Australian College of Nursing – endorsed

Registered Training Organisation #31961

Check Course Availability in Selector above

Find a Cheaper Price, We'll Beat it by 10%
Choosing a First Aid course trainer
First Aid Certificate in One Day!
Your first aid certificate will be emailed to you upon successful completion of your e-Learning and face to face training and assessment
With Australia Wide First Aid Campbelltown, you'll enjoy the empowering knowledge and confidence gained in quick time, training in first aid at the most competitive rates.
Recognised throughout Australia
With more than 2 decades in the industry, Australia Wide First Aid is a leader in quality first aid training.
We are a recognised Registered Training Organisation (RTO No. 31961), offering on-demand courses at locations all around Australia.
Blending online first aid training with face-to-face sessions conducted by instructors who are second to none, we break down barriers with a Best Price Guarantee to deliver first aid courses at the best prices anywhere in Australia.
Backed by the industry's peak bodies, our first aid courses comply with guidelines set by the Australian and New Zealand Committee on Resuscitation (ANZCOR).
Your first aid certificate will be recognised Australia-wide!
First Aid Course Requirements
For any of our courses at Australian Wide First Aid, simply follow this checklist:
Complete your enrolment
Agree to the Terms and Conditions
Acquire a dedicated Unique Student Identifier (USI) through the student login portal or by contacting customer support
Have valid photo ID
Wear modest clothing and closed shoes for all face-to-face training
Bring a pen and notepad for note-taking purposes
Switch off or place in silent mode all mobile phones and devices during class
When you enrol in our Provide First Aid Course, which includes CPR, you are required to complete pre-course e-Learning assessment by 11:59 AEST the day before the course. This is a standard requirement to attend the face-to-face training.
Australia Wide First Aid values human life highly. We aim to make first aid knowledge more acessible, so that those who need it can receive the proper care necessary during an emergency situation.
To learn more about first aid training, please call or message us from our Contact Us page.
Getting Here
CAR – Parking is available onsite.
PUBLIC TRANSPORT (TRIP PLANNER)
BUS – 3 minutes walk to Bus stop
TRAIN – 11 minute walk – Campbelltown Train Station
Food & Refreshments
Water is provided throughout the day to keep you hydrated.
A 30-minute lunch break is scheduled for courses running longer than 4 hours. You are welcome to bring your lunch or make a quick dash to a local café.
NOTE: Please arrive 15 minutes prior to course commencement. We respect the busy schedules of all in attendance and, for that reason, disruption for the admission of late arrivals is discouraged.
First aid courses at our Campbelltown training centre 
Australia Wide First Aid provides several courses designed to help you master essential first aid techniques.
What Is First Aid?
First aid is the act of providing emergency medical assistance to a sick or injured individual until professional medical care arrives.
First aid covers a wide range of skills and competencies, covering basic care to more complex skills, such as Cardiopulmonary Resuscitation (CPR), using an AED (Automatic External Defibrillator), and applying techniques to control severe bleeding.
Australia Wide First Aid provides various types of first aid courses — all of them recognised all around Australia.
Once you have completed your certification with us, you'll be prepared for most emergency situations when the time comes and be confident in knowing how to handle them.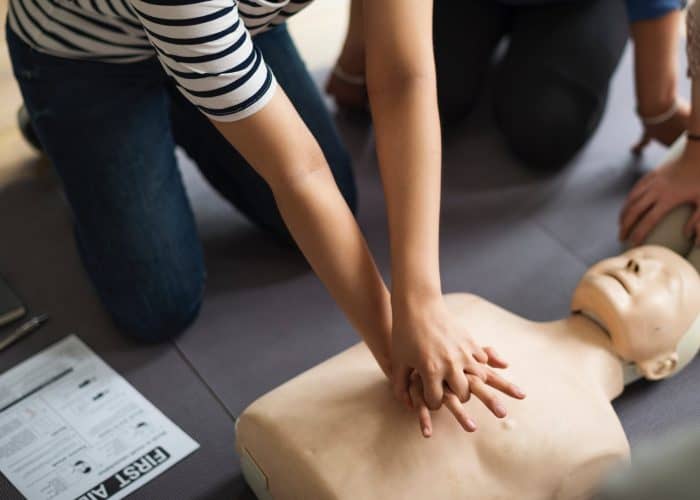 Why Is It Important to Learn First Aid?
When a medical emergency arises, being able to provide first aid can often mean quick recovery. Without first aid, injuries can be far worse.
First aid is much more than simply dressing a wound or try to alleviate pain with calm reassurance. It also includes skills such as the correct way to provide basic life support or how to administer an auto-injector (Epi-Pen) properly when someone is suffering from anaphylactic shock.
Australia Wide First Aid courses include face-to-face training that takes from 2 to 5 hours to complete.
You'll find that gaining the knowledge and practical skills to provide first aid is a real confidence booster. Your first aid certificate will be recognised all over Australia and can be applied in any workplace or community setting.
Providing First Aid in the Workplace
Industry peak bodies establish health and safety standards for the workplaces within their respective industries.
Groups such as the Australian Children's Education and Care Quality Authority (ACECQA), for example, set standards specific to employees working with children. If you work with children, you would be required to undertake the prescribed training, so you can confidently respond to accidents within your place of work.
Another example would apply to those working in the electrical industry. The appropriate training would enable a person to effectively provide first aid in the event of a colleague needing to be rescued from a live LV panel.
Likewise, an employee suffering an asthma attack could be helped immediately if their co-worker was trained in the proper first aid procedures.
Workplace Safety is an issue that Australia Wide First Aid takes very seriously. That's why our first aid courses focus on the workplace as well as home settings.
Our training courses, such as Provide First Aid and Child Care First Aid, specifically cover scenarios within the workplace. They include examples of what employees are likely to encounter and how to attend to any incident with confidence.
Our courses fully comply with the guidelines set by our industry peak bodies. Graduates of our first aid training courses can trust that their training is optimised for the safety in the workplace — regardless of the organisation or industry they represent.