FIRST AID COURSE – WA
Our Training Locations in Western Australia
Choose Your First Aid Course
Complete your First Aid course at one of excellent First Aid training locations in Western Australia.
Detailed information on location and course availability is linked below:
OPERATING HOURS
The operating hours and days of our First Aid training courses vary across our locations. Please check the details of each location carefully.
REGIONAL BOOKINGS
If you are regionally based and can not attend one of the venues listed above, we may be able to arrange an onsite First Aid course, depending on your requirements. See more information about group First Aid training.
Our First Aid courses in Western Australia continue with effective safeguards in place against Coronavirus.
We are an essential service.
* Covid-19 Update Aug 2020
First Aid Course Western Australia
Our First Aid courses in Western Australia are held at Belmont and Joondalup.
Just 7 kilometres from Perth's central business district, Belmont is a mixed-use suburb on the southern bank of the Swan River. The Great Eastern Highway forms the suburb's north-western boundary.
Belmont's residential area is in its eastern and northern areas, while the western part of the suburb is primarily industrial and commercial.
Joondalup is located about 26 kilometres north of Perth. It's an urban centre with a business district that is focused on retail.
Australia Wide First Aid's training venues in these 2 strategic locations make it easier for many Western Australians who wish to get their First Aid certificates.
We provide streamlined First Aid training courses designed so you can get your First Aid Certificate in just one day.
You can book your First Aid course with just a couple of clicks, grab your USI (Unique Student Identifier), and gain immediate access to your First Aid training e-Manual.
Reading your PDF e-Manual and referring to it while you answer the online questionnaire comprises your e-Learning module. Simply submit it before midnight prior to your scheduled face-to-face First Aid training session.
After your course is successfully completed, you First Aid certificate is emailed direct to your inbox.
Group First Aid Bookings
Australia Wide First Aid also offers on-site training and assessment sessions. Our experienced personnel can come to your home or workplace to provide First Aid training that is tailored to your specific needs.
What is First Aid and Why Do You Need to Learn It?
Simply put, first aid is any form of medical assistance given to a person who is suffering from an injury or illness. It prevents the patient's condition from getting worse until proper and full medical assistance can be provided. Because we can't predict when and where accidents and medical emergencies would happen, first aid skills are quite valuable in preventing panic and loss of life during these situations.
Having proper training and certification will give you the right set of skills and the confidence to be able to help those in need, regardless of where the emergency may occur. Learning first aid is even more critical if someone you know suffers from an illness that may require immediate care, like severe allergies, heart conditions, and seizure disorders. When you have the right knowledge and training, you can give your loved ones and friends potentially life-saving first aid.
You can also improve safety conditions at home and at your place of work in order to minimise risks of injuries and other accidents. In fact, being certified in first aid may help boost your employability and pay grade. There are also various industries where first aid knowledge comes as a huge plus.
Australia Wide First Aid is a nationally recognised training organisation (RTO  No. 31961) that can provide you with fully accredited courses at the best prices. We are also endorsed by the Australian College of Nursing or ACN, so you can rest assured that you will receive only the most professional and efficient training for providing first aid.
Prompt and Proper First Aid = Safety and Survival
The ultimate goal of administering prompt and proper First Aid is to preserve a person's life.
First Aid also aims to improve a person's condition or at least prevent their injury or illness from becoming worse until full medical attention becomes available.
When done correctly, First Aid treatments might very well spell the difference between life and death. Moreover, knowing how to correctly administer First Aid is not only critical for preventing the loss of life, it also has an impact in the patient's recovery time and quality of life after the accident or injury.
When you earn an Australia Wide First Aid certificate, you'll have the right skills and theoretical knowledge. Your newly acquired knowledge will enable you to remain calm, considerate, and compassionate.
You should have the mindset that allows you to quickly and correctly assess situations and make good decisions based on those observations. As a consequence of your reassuring, calming presence, the patient will be less likely to feel anxious or afraid.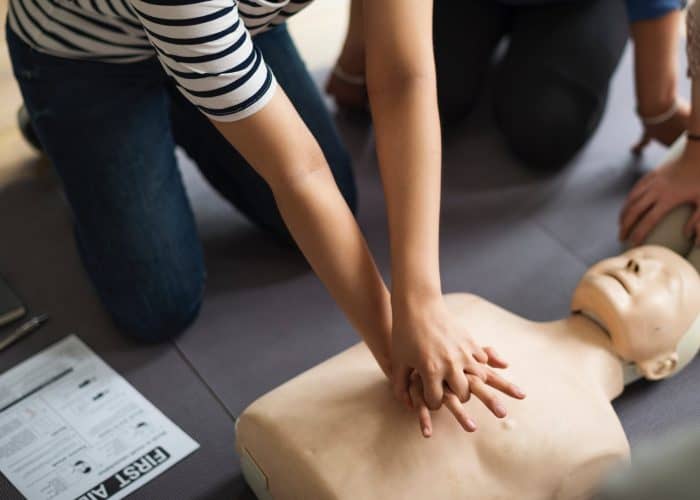 What Does It Take to Be a First Aid Provider?
In Australia, you need to have a Statement of Attainment before you can become an authorised First Aider.
This statement or certificate will be issued to you once you've successfully completed the required units of a First Aid module.
Australia Wide First Aid offers a range of First Aid training modules, including among others, emergency First Aid, CPR and LVR, asthma management, and workplace-specific courses.
Our First Aid Courses in Western Australia
With Australia Wide First Aid, you can become certified in various kinds of First Aid. The training courses we offer are comprised of basic and advanced First Aid knowledge and skills. They include: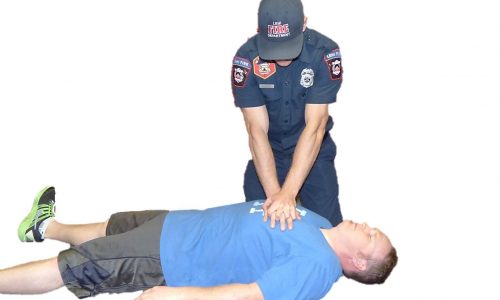 Provide CPR – With this course, which includes 2 hours of face-to-face training, you will receive theoretical knowledge and practical skills to be able to respond to cardiac and breathing emergencies.
Includes: Provide Cardiopulmonary Resuscitation (HLTAID001)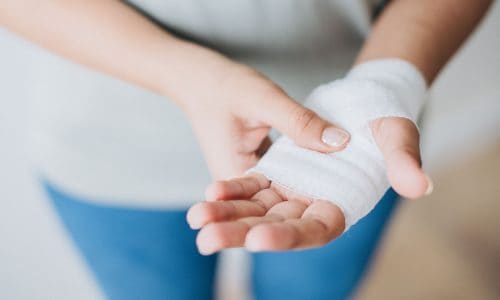 Provide First Aid – If you want to receive workplace First Aid compliance, this course is the minimum requirement. It provides the necessary skills and knowledge for delivering First Aid response and life support, as well as casualty and incident management, until the proper authorities arrive at the scene.
Includes: Provide Cardiopulmonary Resuscitation (HLTAID001), Provide Basic Emergency Life Support (HLTAID002), and Provide First Aid (HLTAID003)
Emergency First Aid – This is a 5-hour course that combines CPR, First Aid, emergency life support, and emergency response for infants, children, and the elderly. This is the ideal Statement of Attainment if you intend to work in schools or childcare facilities.
Includes: Provide Cardiopulmonary Resuscitation (HLTAID001), Provide Basic Emergency Life Support (HLTAID002), Provide First Aid (HLTAID003), and Provide an Emergency Response in an Education and Care Setting (HLTAID004)
Australia Wide First Aid also offers Express versions of these courses. These streamlined courses impart the same kind of quality training as their longer counterparts. But being designed for those who need to renew their First Aid certification, they take less time to complete. To enrol in an Express First Aid course, you'd need to provide proof you've previously earned the relevant Statement of Attainment for the equivalent regular course.
More Information about WA First Aid Certifications
You'll receive your Statement of Attainment the same day you complete the coursework, including the e-Learning assessment, along with providing a valid USI and full payment for your course.
Your First Aid certificate will be sent via email in PDF format. It is a certificate that will be recognised Australia-wide because it's issued by Australia Wide First Aid — a nationally recognised training organisation (RTO No. 31961).
The Provide First Aid certificate is valid for 3 years, while the CPR Statement of Attainment is valid for 12 months.
In addition, by completing Australia Wide First Aid's courses, you can gain Continuing Professional Development (CPD) points.
For more information about our training courses in Western Australia, please call us on 1300 336 613 or email info@australiawidefirstaid.com.au
Book your First Aid training course with Australia Wide First Aid today.