Find a cheaper price we'll beat it by 10%
First Aid Courses in Melbourne Victoria
Our First Aid training centres in Melbourne CBD and Metropolitan areas are ideal for fast First Aid certification.
Simply use the Course Selector above to see up-to-the-minute information on course availability at each location.
Click the images below for in-depth information about each training centre and its courses.
OPERATING HOURS
The times and days for our First Aid Course training sessions vary from location to location. Make sure you check the details of your booking carefully.
REGIONAL BOOKINGS
If you are based regionally and can not attend the venues listed, an onsite First Aid course might be possible, depending on your requirements. See more information about this option.
First Aid Course Victoria
With excellent First Aid training facilities in Melbourne CBD, Clayton, Ringwood, and Sunshine, Australia Wide First Aid is committed to making First Aid certification easier and more accessible for Victorians.
As a registered training organisation, Australia Wide First Aid (RTO 31961) provides high-quality First Aid training for individuals and employers.
Getting your First Aid certificate in Victoria is certainly one way to improve your employment prospects in these uncertain times, as well as to potentially save lives.
Our First Aid courses are streamlined, with an e-Learning component and minimal face-to-face First Aid training. The idea is to get you certified with the least disruption and pressure on your everyday life.
Upon successful completion of your course at our Victorian First Aid training centres, you'll receive a nationally recognised Statement of Attainment. It comes to you the same day. No waiting around, or chasing anyone to get your First Aid certificate.
Corporate clients can take advantage of group discounts and flexible training schedules.
Australia Wide First Aid can provide on-site training at your facility with customised First Aid training to address hazards specific to your workplace.
Importance of First Aid in Victoria
Melbourne has consistently been voted among the 10 Most Liveable Cities in the World. The city scores highly in terms of environment, education, infrastructure, safety, and healthcare.
In light of this, the enforcement the OHS Act (Occupational Health and Safety Act of 2004) is taken seriously. Not surprisingly, considering this Act, the focus falls on the need for First Aid training in the workplace.
Australia Wide First Aid is available at locations in Victoria to deliver expert training in CPR, Provide First Aid, Asthma & Anaphylaxis, Workplace First Aid Courses, and more.
What Is First Aid?
First Aid is the initial treatment provided to an injured or sick person until full medical care becomes available.
This initial care is vital for the recovery of the patient and can even be life-saving in some cases.
In most emergency situations, the First Aid providers are not medical professionals. That's why First Aid is limited to basic treatment that can be learned through minimal training.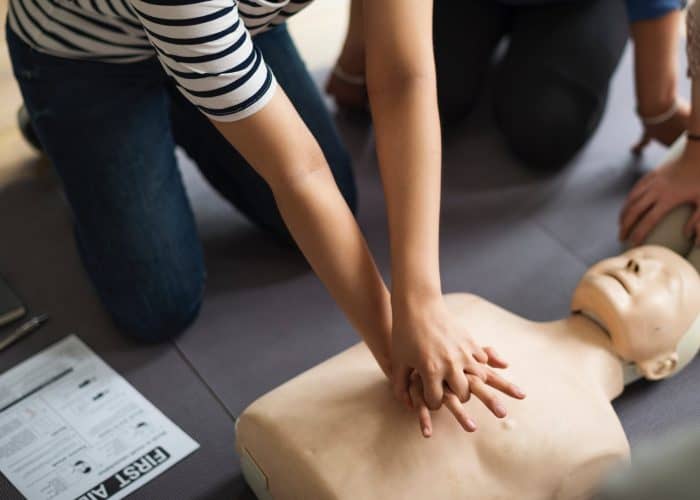 Why Do You Need To Learn First Aid?
Learning first aid is an empowering achievement that everyone can benefit from. Instead of feeling helpless during medical emergencies, you can take control, assess the situation properly, and take action.
An officially recognised training certification can also boost your employment prospects. Regardless of the industry you are in, this life-saving skill is a boon to any workplace. Your employer will appreciate the fact that there is a certified First Aider who can assist the company in complying with workplace safety standards.
Speaking of which, workplace compliance is another critical factor for learning First Aid.
WorkSafe Victoria, under Victorian WorkCover Authority ensures that employers comply with the Occupational Health and Safety Act (OHS Act of 2004) and the Occupational Health and Safety Regulations (OHS Regulations of 2017) in providing proper First Aid facilities and establishing first aid protocols for a safe work environment.
Under these standards, First Aid training requirements are dependent on how large the organisation is and the risk assessment of the workplace.
Medical emergencies can happen anywhere. And they can happen to anyone. Whether you're at home, at work, or out traveling, being prepared by having learned First Aid can save a life. You might even save the life of someone you love.
Are You Qualified to Do First Aid?
There's a big difference between a trained First Aider and a first aider who has only vague knowledge of what to do in an emergency.
First Aid training — proper First Aid training — means you're able to act on concrete information and proceed step-by-step in most common medical emergencies.
Australia Wide First Aid can help you gain the skills to be a qualified and confident First Aider. With our endorsed First Aid courses — streamlined for the benefit of busy lives of Victorians — there's no better organisation you can trust for your First Aid training.
Book your First Aid course with Australia Wide First Aid today.
If you need more information about our services, call us on 1300 336 613 Monday to Friday, 8 AM to 5:30PM AEST.
You can also email your questions to info@australiawidefirstaid.com.au