First Aid Course Varsity Lakes
Australia Wide First Aid training benefits
CPR First Aid Courses Fast-Tracked

Online First Aid Course + Face-to-Face Training

Same-Day First Aid Certificate – Nationally Recognised

Group First Aid Courses at Your Site

Royal Australian College of General Practitioners – endorsed

Australian College of Nursing – endorsed

Registered Training Organisation #31961

Check Course Availability in Selector above

Find a Cheaper Price, We'll Beat it by 10%
First aid course Varsity Lakes training
Our fast-tracked first aid courses are ideal for Varsity Lakes businesses, residents and visitors.
Find Australia Wide First Aid's Varsity Lakes first aid course training facility at:
Palmer Colonial Golf Course
57 Paradise Springs Ave
Robina QLD 4230
Areas serviced:
Advancetown
Ashmore
Ashmore City
Austinville
Australia Fair
Benowa
Bonogin
Broadbeach
Broadbeach Waters
Bundall
Burleigh Heads
Burleigh Town
Burleigh Waters
Carrara
Chevron Island
Clear Island Waters
Elanora
Gilston
Highland Park
Isle Of Capri
Same-day first aid certificate
Our Varsity Lakes first aid course allows you to get your certificate the same day. Not only is this industry-leading accredited first aid training, it is also available to you at the best possible pricing.
If you find a cheap first aid course with equivalent training, we'll beat it by 10%! Guaranteed!
Emergency first aid training – our place or yours
Along with training for individuals, our first aid courses at Varsity Lakes, are also available for groups. These group first aid training sessions can be held at your home or workplace.
On-site group first aid training does not require your staff to abandon their workplace and, instead, is tailored to address the health and safety concerns specific to their environment.
Aside from being easier for you to manage, our group first aid courses will also take care of your workplace health and safety obligations.
Make a group booking online right now. Or phone us on 07 3437 7500 for more information and to discuss your needs.
Getting started with your first aid course
Online first aid course booking can be done with little more than a few clicks. Or simply pick up the phone and let our friendly staff book your course for you.
Get in touch with us if you're in business and need first aid training for your staff.
Getting There
CAR – Arrive via Paradise Springs Ave, off Robina Parkway.
Car parking is available on-site.
Food & Refreshment
Water is available.
There is a 30 minute lunch break for courses running over 4 hours. Bistro meals are served 7 days a week in the club house, so bringing your own food is not an option.
NOTE: Please arrive 15 minutes prior to your course commencement. We try to avoid disruptions and respect the busy schedules of everyone involved. For that reason, late arrivals are unlikely to be admitted to our streamlined face-to-face first aid training.
Accredited first aid training in Varsity Lakes
In Varsity Lakes and elsewhere around the country, Australia Wide First Aid is on a mission to make accredited first aid courses accessible for everyone.
Our prices for first aid training cannot be beaten and our first aid certificates are accepted Australia-wide. This is because Australia Wide First Aid is an established and nationally recognised training organisation(RTO No. 31961).
With your new first aid certificate, not only will your job prospects be enhanced, you'll also find that knowing how to respond effectively in medical emergencies is empowering.
Where human life hangs in the balance, first aid skills are invaluable.
You'll enjoy a streamlined method of first aid training with Australia Wide First Aid, and be able to complete your training with unparalleled convenience.
You'll have the flexibility to complete the theory side of your training — your e-Learning assessment — totally online and at the times you choose, regardless of disruptions.
Answering the questions in your online first aid course e-Learning can be done while referencing your provided First Aid eBook. You'll be able to provide your answers until you get them correct, at which point, reviewing those correct answers allows you to understand the topic more clearly.
Along with thousands of other Aussies doing their first aid training with us, you can have absolute confidence that what you're being taught in your first aid course in Varsity Lakes is of the highest industry standard.
Your first aid course in Varsity Lakes fully complies with the strict parameters set by our regulator – the Australian Skills Quality Authority (ASQA).
What's more, your first aid certificate (PDF) will be emailed to you the same day as you successfully complete your first aid course.
Becoming a first aider
Choosing to do your first aid course with Australia Wide First Aid — a nationally recognised training organisation (RTO#31961) — means you'll be awarded your accredited Statement of Attainment the same day you successfully complete the course.
We present modules that focus on essential first aid, not the least of which is the life-saving technique of CPR. In addition, we also provide training that is geared toward workplace first aid compliance, as well as providing training in the first aid management of anaphylaxis and asthma.
You can also train in first aid for childcare and education settings.
If you are time-poor, you'll find our streamlined courses are ideal, whether you're just now taking up first aid or wanting to refresh your skills and renew your first aid certification quickly.
After completing your first aid course requirements, you'll receive your Statement of Attainment that same day. Your certification will be fully accredited and recognised Australia-wide.
About Varsity Lakes first aid certification
In order to receive your First Aid Statement of Attainment, you need to:
Complete the required coursework, including completing pre-course reading and online assessment
Provide a valid USI (Unique Student Identifier)
Pay in full for your selected first aid course
Your first aid certificate (PDF) will be emailed to you the same day you complete your Varsity Lakes first aid course.
As a nationally registered training organisation, Australia Wide First Aid guarantees that your certificate will be accepted anywhere in the country.
Note that each certification is valid for a certain period. The Provide First Aid certificate, for example, is valid for 3 years, while the Provide CPR certificate is valid for 12 months.
Completing first aid training in Varsity Lakes with Australia Wide First Aid also helps you accrue continuing professional development (CPD) points.
Aside from that, when you become a qualified first aider, you help safeguard the lives of your friends, family, and neighbours.
Book your Varsity Lakes first aid course today. For more information about our Varsity Lakes first aid training for individuals or groups, simply call us on 07 3437 7500 or email info@australiawidefirstaid.com.au
Resources
HLTAID009 Provide cardiopulmonary resuscitation
HLTAID011 Provide First Aid
HLTAID012 Provide First Aid in an education and care setting
Essential Student Information
What is first aid and the 3 Ps?
First aid refers to a set of interventions for a person in need of immediate medical care, applied before medical assistance becomes available.
First aid awareness can be developed at any age, however 14 years of age is the starting point. Formal first aid training, which comes with certification, involves learning complex techniques, such as cardiopulmonary resuscitation. Consequently, under-14s are deemed too young for such responsibilities.
The 3 basic principles of first aid, or the 3 Ps are:
• Preserve life
• Prevent further injury
• Promote recovery
As a first aider, your training should constantly revisit these, strengthening your foundation in cutting edge first aid techniques, and reinforcing your ability to make tough calls, act quickly under pressure, and exercise compassion.
The more people who understand the 3 Ps and the actions behind them, the safer and healthier our communities will become.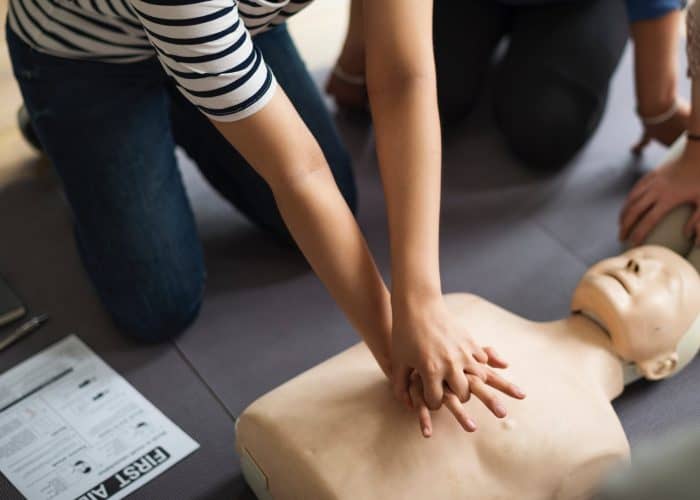 How will first aid benefit me?
First aid knowledge is invaluable in times of medical emergency. This really hits home if you picture a family member falling victim to a life threatening accident, such as collapsing from a stroke or a heart attack.
With first aid training under your belt, you'd have the chance to turn things around for the better… the chance of a lifetime.
Being able to intervene in a matter of life and death is what first aid training is all about. And these are not skills reserved for medical professionals only. You can do this.
Your first aid training will impact positively on you, your family, and your colleagues. You'll feel calm and composed about the prospect of being called for medical assistance.
First aid certification also improves your employability. You are more likely to get the job you're after because you've demonstrated your willingness to take responsibility. Prospective employers can see this.
In addition, first aid certification is a means of accruing Continuing Professional Development (CPD) points, satisfying the requirements for career advancement in many industries.
About the Gold Coast
The Gold Coast is where the city meets the surf. It's home to some of Australia's most famous beaches and it's been dubbed the "Adventure Lover's Playground."
There's something for everyone at the Gold Coast — from the eye candy of Surfers Paradise to the pristine nature reserves of the Gold Coast hinterland, from the boho charms of Burleigh Heads and white-knuckle rides at one of the many theme parks, to catching fish, catching rays and catching waves at points along the coast.
All that glitters is not immune from danger, however. With all this excitement, accidents do happen — anywhere and anytime. People are always getting banged up abroad. But it's not just visitors. Locals too, suffer heat stroke. There are stingers, in the water and out. In the surf and in the pool, drowning continues to be an all-too frequent occurrence.
The Gold Coast's attractions can be explored and enjoyed safely when we all do our part by learning life-saving First Aid skills.
Getting your First Aid certification helps make any community a safer place for all.