First Aid Course Townsville
Benefits of our first aid training in Townsville
CPR First Aid Courses Fast-Tracked

Online First Aid Course + Face-to-Face Training

Same-Day First Aid Certificate – Nationally Recognised

Group First Aid Courses at Your Site

Royal Australian College of General Practitioners – endorsed

Australian College of Nursing – endorsed

Registered Training Organisation #31961

Check Course Availability in Selector above

Find a Cheaper Price, We'll Beat it by 10%
Selecting your first aid trainer
Choosing a First Aid course trainer
Australia Wide First Aid Townsville
Location
Townsville Golf Club
Benson Street
South Townsville, QLD 4812
Life in Townsville is the envy of many — a picturesque regional Queensland city on the north-eastern coast of Queensland. A young vibrant population. Home to the North Queensland Cowboys NRL team.
It's a laidback city. All that said, first aid has a big role to play.
Along with being a major industrial centre, serving as a base for some of the world's largest refineries for zinc, nickel, and copper, Townsville has more than its share of unexpected accidents and medical emergencies, including encounters with marine life.
Learning first aid, you'll be prepared. You'll be on the front foot and you'll be contributing to a wonderful community here in Townsville.
You can easily reach our first aid training centre in Townsville from:
Aitkenvale
Annandale
Belgian Gardens
Bohle
Brookhill
Castle Hill
Chandler
Cluden
Condon
Cranbrook
Currajong
Douglas
Garbutt
Garbutt East
Gulliver
Heatley
Hermit Park
Hyde Park Castletown
Idalia
James Cook University
Julago
Kirwan
Mount Louisa
Mount St John
Mount Stuart
Mundingburra
Murray
Mysterton
North Ward
O'Reilly
Oonoonba
Pallarenda
Pimlico
Railway Estate
Rasmussen
Roseneath
Rosslea
Rowes Bay
Shaw
South Townsville
Trusted first aid training in Townsville
Australia Wide First Aid conducts streamlined first aid courses in Townsville.
Our courses are designed for busy people — time-poor but needing to get their first aid certificate either for the very first time, or wanting renew their certification as quickly as possible.
As a nationally recognised training organisation (RTO 31961), our courses are taught by first aid trainers who are second to none.
Our first aid training complies with the highest industry standards, including the VET Quality Framework and guidelines set by the Australian Resuscitation Council (ARC).
In addition, our First Aid courses are endorsed by the Royal Australian College of general Practitioners (RACGP) and the Australian College of Nursing (ACN).
This high quality first aid training is not only available at our Townsville first aid course training venue, our experienced first aid instructors can also provide group first aid training at your home or workplace.
Location
Australia Wide First Aid Townsville
Getting Here
CAR – FREE onsite parking is available. From the Townsville CBD, travel south along Bowen Road out of the city until you reach the Townsville Golf Club. Turn left into Benson Street.
PUBLIC TRANSPORT (MAP)
BUS – 5 MINS walk – Bowen Road stops
Food & Refreshment
Water is available throughout the day.
There is a 30 minute lunch break for courses running over 4 hours. No external food is allowed. There are limited food venues within walking distance.
NOTE: Please make sure arrive 15 minutes prior to your course commencement. Late arrivals may not be accommodated due to health measures and disruption to the first aid course in progress.
Frequently Asked Questions
How long does first aid qualification take?
First aid qualification through Australia Wide First Aid is fast-tracked. Provided you complete the required e-Learning before the day of your hands-on training and assessment, you'll get your certificate that very day.
The e-Learning is an online first aid course — a multiple-choice quiz you can do in your own time, logging off and back in as time permits. You also get a comprehensive reference in the form of a First Aid eBook (free download).
Simply complete and submit your e-Learning by 11:59pm the day before your scheduled first aid class. This practical session is streamlined training and assessment. It will take 2 to 5 hours, depending on which course you take.
How long does my certificate last for?
The official recommendation for Provide First Aid and Child Care First Aid, is to renew your certification every 3 years. The validity period for Provide CPR certification is 12 months from date of issue.
How much does a course cost?
Australia Wide First Aid courses — Provide CPR, Provide First Aid, or Child Care First Aid – are cheaper than you'll find anywhere else.
This is our guarantee. We will instantly match the price of any competing course in Australia and then beat it by 10%.
Up-to-the-minute prices and availability for all our courses can be seen in the drop-down selector at the top of our web pages shows.
Are first aid certificates accepted in all Australian states?
Our certificates are recognised and accepted all over Australia, which is extremely advantageous in the job market.
Australia Wide First Aid certificates are fully accredited and comply with national regulatons and standards. Sent to you the day you complete your course (as a PDF), you'll be able to email your first aid certificate to employers, as well as print it out.
Are school first aid courses available?
Our trainers are available by arrangement to deliver group first aid courses. The minimum age for first aid certification is 14 years.
Where are courses held?
Group training can be conducted at your site by arrangement. This makes training and booking easy for you to manage and your people can train in their own workplace.
More importantly, the first aid course itself can be tailored to address the health and safety concerns specific to your workplace.
Our training for both groups and individuals is regularly available at locations throughout
See all of our branches.
What you gain by learning first aid
Enrolling in a first aid course can earn you points for Continuing Professional Development (CPD).
First aid certification can also improve your career prospects, as it highlights your skills and drive to learn, lead, and help others.
More than that, learning first aid makes you more capable of accomplishing the Three Ps — preserving life, preventing further injury, and promoting recovery — in cases of emergency.
The skills and techniques that you'll learn in our first aid courses will allow you to help a person in need, regardless of whether it's a member of your family, someone from work, or a complete stranger.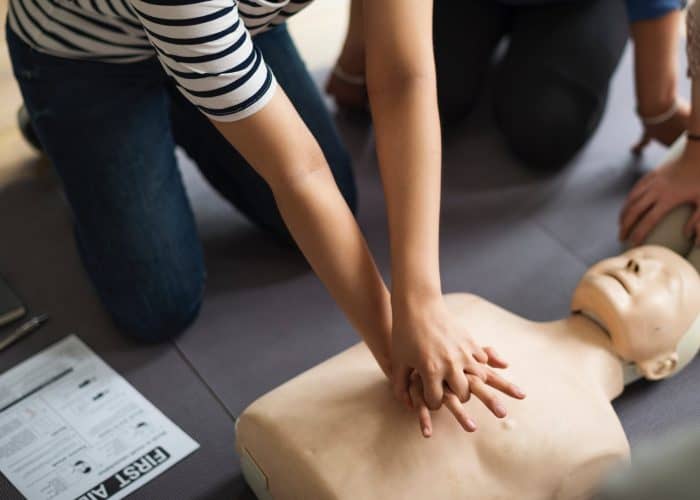 How can you join a first aid course?
Australia Wide First Aid Townsville offers training courses that allow professionals and students alike to gain their first aid certification with minimal disruption to their busy schedules.
To sign up, simply choose a course from our list, make your payment, and provide a valid unique student identifier (USI).
You will need to complete your e-Learning — some pre-course reading from your First Aid eBook and a multiple-choice online first aid course assignment. Simply submit the finished e-learning assessment the night before your face-to-face training, as a condition of entry into the class.
After completing these course requirements, you will receive your Statement of Attainment PDF by email a few hours.
Be an asset to your Townsville community by enrolling in a first aid course today!
Find out more. Call us on 07 3437 7500 or sending an email to info@australiawidefirstaid.com.au