Choose Your First Aid Course
Why Choose Us?
Best Price Guarantee (find a cheaper price and we'll beat it by 10%)
Flexible Online Learning & Assessment
Same-Day Certificate
Nationally Recognised/Accredited Certification
Come to us. Or, we can come to You
Courses 7 Days
Endorsed by the Australian College of Nursing
Endorsed by Australian Acupuncture and Chinese Medicine Association
Book Online or by Phone
First Aid Course Sunshine
Learning First Aid equips you with the tools, skills, and knowledge to offer assistance and, possibly, save lives during a medical emergency.
Australia Wide First Aid holds affordable and regular First Aid training courses all around Australia — including Sunshine and other locations in Victoria.Victoria.
Sunshine, a multicultural suburb that serves as a base for many businesses and industrial companies, is located some 12 kilometres west of Melbourne City Centre.
The town is an important hub for public transportation, with 3 rail lines — Ballarat, Bendigo and Geelong — meeting at Sunshine station. In front of the station is a major suburban bus interchange.
That didn't stop Sunshine earning a spot in the top 20 most walkable suburbs in Melbourne.
First Aid Training Location
Australia Wide First Aid's training centre in Sunshine is easily accessible to students coming from the surrounding suburbs of Albion, Sunshine North, Braybrook, Sunshine West, Brooklyn, and Tottenham.
Club Italia Sporting Club Inc.
128-152 Furlong Rd, Sunshine
Victoria 3020
Our First Aid training venue in Sunshine is easily accessible. It's a 15-minute walk from the rail and bus stations, and there is free parking on site.
Your Trusted First Aid Training Provider
Australia Wide First Aid is a nationally recognised training organisation (RTO 31961).
Training with us, you will earn a First Aid certificate that is accepted in Sunshine as well as anywhere else in Australia.
In addition to our streamlined First Aid classes — held every day of the week — we also offer express First Aid courses that are ideal for busy people who are renewing their certification in First Aid.
Our experienced trainers are second to none. And, what's more, they can come to your site and deliver group First Aid training. This kind of training can be customised to address the specific health and safety concerns of your site.
Upon successful completion of your First Aid course, your Statement of Attainment (PDF) will be emailed to you the same day!
At the same time, our First Aid courses follow guidelines set by the Australian and New Zealand Committee on Resuscitation (ANZCOR) and Australian Resuscitation Council (ARC).
Our Provide First Aid course (HLTAID003) is also endorsed by no less than the Royal Australian College of General Practitioners (RACGP) and the Australian College of Nursing (ACN).
Choose from the following First Aid courses in Sunshine:
HLTAID003 Provide First Aid
HLTAID001 CPR only
HLTAID004 Provide an Emergency First Aid Response in an Education and Care Setting (Childcare First Aid)
Getting Here
CAR – FREE on-site parking
PUBLIC TRANSPORT – (JOURNEYPLANNER)
RAIL / BUS – 15 mins – walk – The Sunshine railway station or use the connecting bus (Route 408) which operates every 20 minutes, stopping 400m from the venue.
Food & Refreshments
Water is available throughout the day.
A 30-minute lunch break is scheduled for courses running over 4 hours. There is a Bistro onsite. No external food is allowed.
NOTE: Please make sure you arrive 15 minutes prior to your course commencement. Late arrivals may not be accommodated due to health measures and disruption to the First Aid course in progress.
How Will Learning First Aid Benefit You?
Acquiring First Aid certification can benefit you, your home, your workplace, and your community. It allows you to help out in medical emergencies, regardless of where the situation might take place.
First Aid certification enhances your prospects for employment, making acceptance more likely in certain professions and industries. It also shows prospective employers that you have the drive to learn more and help others.
Knowing First Aid is also reassuring for your family, friends and colleagues.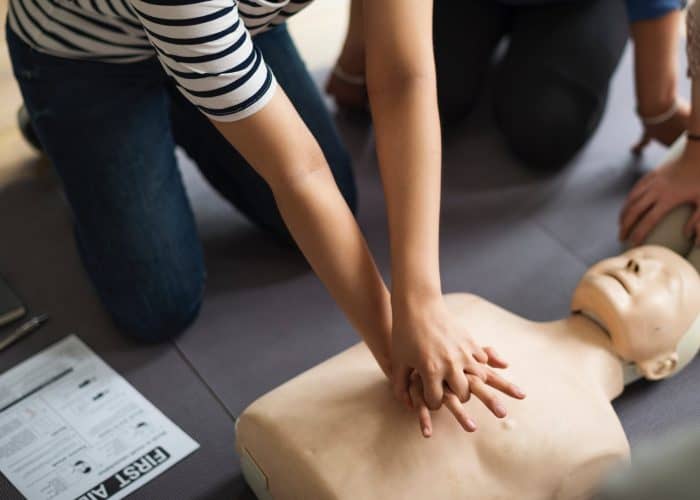 How Can You Join a First Aid Class?
Australia Wide First Aid's training courses are available for individual and group bookings.
We can accommodate students as long as they are over 14 years old. Under 18s need written consent from a parent or guardian.
After booking and paying for your First Aid course, and providing a valid USI (Unique Student Identifier), you only need to complete your e-Learning assessment before 11:59 PM, the night before your scheduled face-to-face First Aid training.
Once your practical assessment is successfully done, your First Aid certificate will be emailed to you the same day!
Available First Aid Courses in Sunshine
Australia Wide First Aid's training venue in Sunshine offers the following streamlined First Aid classes: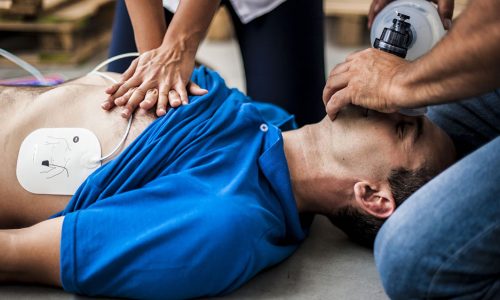 Knowing CPR or cardiopulmonary resuscitation is a basic step in providing First Aid. This can be of great use in cases of drowning or cardiac emergencies.
The online assessment for this class takes about 2.5 hours, while the face-to-face First Aid training takes about 2 hours.
Includes: Provide Cardiopulmonary Resuscitation (HLTAID001)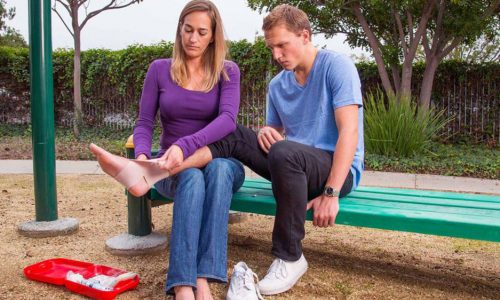 An ideal course for First Aiders, Provide First Aid covers basic CPR as well as providing First Aid, managing casualties, and providing life support. The face-to-face training for this course lasts 4 hours.
Includes: Provide Cardiopulmonary Resuscitation (HLTAID001), Provide Basic Emergency Life Support (HLTAID002), and Provide First Aid (HLTAID003)
These 1-day courses are ideal for professionals and students who are either acquiring their Statements of Attainment for the first time.
We also offer Express First Aid courses for those who need to renew their certification to keep it current. They simply need to show they have previously completed the regular version of the First Aid course.
Sign up for a course with Australia Wide First Aid and acquire top-notch First Aid training in a location near your home or workplace.
For more information about the courses we hold at our Sunshine venue, call 1300 336 613 or email info@australiawidefirstaid.com.au