CPR First Aid Course Sunshine VIC
CPR First Aid Courses Fast-Tracked

Online First Aid Course + Face-to-Face Training

Same-Day First Aid Certificate – Nationally Recognised

Group First Aid Courses at Your Site

Royal Australian College of General Practitioners – endorsed

Australian College of Nursing – endorsed

Registered Training Organisation #31961

Check Course Availability in Selector above

Find a Cheaper Price, We'll Beat it by 10%
Choosing a First Aid course trainer
Your Melbourne first aid trainer
Roger is ready for danger, as you can see from the photo.
Our  first aid students appreciate the benefits of Roger sharing the benefits of his vast experience.
Most other days, he's in the field, devising health and safety response plans in the event of incidents at warehousing sites that could involve fire, chemicals, and other hazards.
He's also a certified snake handler.
Your first aid training with Roger is certain to be interesting, educational, enjoyable, and memorable.
Location
Australia Wide First Aid Sunshine
Club Italia
– Training Room
128-152 Furlong Road
Sunshine, Melbourne, VIC 3020
Food & Refreshment
Water is available throughout the day.
A 30-minute lunch break is scheduled for courses running over 4 hours.
NOTE: Please make sure you arrive 15 minutes prior to course commencement. Late arrivals may not be accommodated due to health measures as well as disruption to the first aid course in progress.
Australia Wide First Aid courses in Sunshine
Frequently Asked Questions
How long does first aid qualification take?
First aid qualification can be done in one day, provided you complete the required e-Learning prior to the day of your course.
The e-Learning is an online module, comprising reading material — First Aid eBook (free download) — plus a multiple-choice quiz you can do in your own time, logging back in as time permits.
Simply submit your completed e-Learning by 11:59pm the day before your scheduled face-to-face training and assessment. This practical session is also streamlined, taking 2 to 5 hours, depending on which course you take.
How long does my certificate last for?
The official recommendation for Provide First Aid and Child Care First Aid, is to renew your certification every 3 years. The validity period for the Provide CPR certificate is 12 months from date of issue.
How much does a course cost?
The cost for an Australia Wide First Aid course is cheaper than you'll find anywhere else — whether for Provide CPR, Provide First Aid, or Child Care First Aid.
Our Best Price Guarantee gives you a 10% advantage over any competing first aid courses.
The drop-down selector at the top of our web pages shows up-to-the-minute prices and availability for all our courses.
Are first aid certificates accepted in all states?
Australia Wide First Aid certificates will be recognised and accepted all over Australia. Our certificates are officially accredited and comply with national regulatons and standards.
Your first aid certificate will be beneficial to your career. Sent to you as a PDF the day you complete your course, you'll be able to print it, as well as email it to employers.
Are school first aid courses available?
Our trainers are available for group first aid courses. The minimum age for certification is 14 years.
Where are courses held?
Group training can be conducted at your site. This is by arrangement and makes training and booking easy for you to manage.
More importantly, this group first aid training can be tailored to suit the health and safety concerns specific to your workplace.
Our training for both groups and individuals is also regularly available at locations throughout
See all of our branches.
How Will Learning First Aid Benefit You?
Acquiring First Aid certification can benefit you, your home, your workplace, and your community. It allows you to help out in medical emergencies, regardless of where the situation might take place.
First Aid certification enhances your prospects for employment, making acceptance more likely in certain professions and industries. It also shows prospective employers that you have the drive to learn more and help others.
Knowing First Aid is also reassuring for your family, friends and colleagues.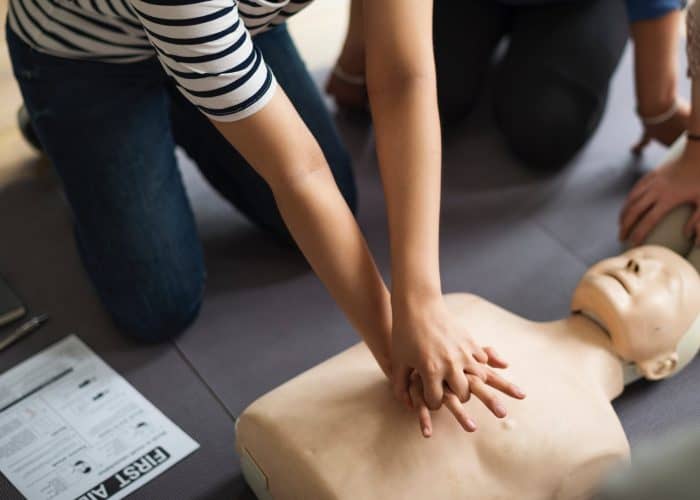 How Can You Join a First Aid Class?
Australia Wide First Aid's training courses are available for individual and group bookings.
We can accommodate you as long as you are over 14 years of age. If you are under 18, you'll need written consent from a parent or guardian.
After you book and pay for your First Aid course, you then provide your valid USI (Unique Student Identifier— instructions will come to you by email).
You simply complete your e-Learning assessment by 11:59 PM, the night before your scheduled face-to-face First Aid training.
Once your practical assessment is successfully done, your First Aid certificate will be emailed to you the same day!
Our First Aid courses are ideal if you're either acquiring accredited Statements of Attainment for the first time, or renewing your First Aid certification.
You'll find First Aid training near you at one of our training centres or we can arrange for it to be conducted at your workplace. If you're considering another, equivalent First Aid course, we'll beat it by 10%.
For further information about the courses at our Sunshine First Aid training centre, call 07 3437 7500 or email info@australiawidefirstaid.com.au