Springfield Lakes first aid course advantages
CPR First Aid Courses Fast-Tracked

Online First Aid Course + Face-to-Face Training

Same-Day First Aid Certificate – Nationally Recognised

Group First Aid Courses at Your Site

Royal Australian College of General Practitioners – endorsed

Australian College of Nursing – endorsed

Registered Training Organisation #31961

Check Course Availability in Selector above

Find a Cheaper Price, We'll Beat it by 10%
Selecting a trainer for your fist aid course
Choosing a First Aid course trainer
First aid Springfield Lakes
 

training centre
Location
YMCA Springfield Lakes Community Centre
53 Springfield Lakes Boulevard
Springfield Lakes, QLD 4300
You'll find free parking within the Shopping Centre.
The venue is also accessible via public transport. Springfield Lakes Boulevard stop (522) is just a 7-minute walk from the venue, while Springfield Station is 18 minutes away.
There are plenty of lunch options in the Shopping Centre.
Make sure you arrive 15 minutes prior to class commencement. Due to disrupting other attendees' busy schedules and the tight timing of the first aid course itself, late arrivals often cannot be accommodated.
Areas serviced:
Beachmere
Beerwah
Bribie Island
Burpengary
Caloundra
Esk
Kallangur
Kilcoy
Morayfield
Narangba
Pine Rivers
Redcliffe
Strathpine
Your first aid trainer in Darra
If your schedules align, 'Woody' — aka Mark — will be your First Aid instructor at our first aid training centre in Springfield Lakes.
You'll be in for a treat with Woody. Known for his spirited, uplifting training style, Woody's humour and his ability to deliver crystal clear first aid instruction is a winning combination.
He has vast safety and emergency experience in Australia, Asia, Europe and America. He's been a firefighter. He's worked at the mines. He's also worked at heights and in confined spaces. He's been a surf lifesaver. He is trained in rope rescues.
Woody's knowledge and practical advice will provide you with some of the best first aid training time you could enjoy anywhere.
When he's not at our Springfield Lakes first aid training centre, Woody also delivers his highly effective style of instruction at our Ipswich and Darra training centres.
Trusted first aid training
At Australia Wide First Aid, we are passionate about making first aid training more accessible… to people in Springfield Lakes, as well as in other locations right around Australia.
No matter where you're located, you're likely to find our first aid courses available not too far from you.
We can also come to you. If you need first aid training for a group at your home or office, we can make it happen.
We are a nationally recognised training organisation (RTO 31961) conducting first aid training 7 days a week.
Our first aid training is endorsed by the Royal Australian College of General Practitioners (RACGP) and the Australian College of Nursing. We follow guidelines established by the Australian Resuscitation Council (ARC) and the Australian and New Zealand Committee on Resuscitation (ANZCOR).
We deliver fast-tracked first aid courses with minimal face-to-face contact time, which will make your Springfield Lakes first aid course a welcome relief when you're trying to find time in a busy schedule. You can get your first aid certificate the same day as your course.
Choose from the following Springfield Lakes CPR first aid courses:
HLTAID011 Provide First Aid
HLTAID009 Provide cardiopulmonary resuscitation
HLTAID012 Provide First Aid in an education and care setting (Child Care First Aid)

Getting Here
CAR – FREE parking is available within the Shopping Centre complex.
PUBLIC TRANSPORT (MAP)
BUS – 7 MINS walk – Springfield Lakes Bvd stop (522)
RAIL – 18 MINS walk – Springfield Station
Food & Refreshment
Water is provided throughout the day.
There is a 30 minute lunch break for courses running over 4 hours. You are welcome to bring your own lunch. Alternatively, there are many lunch options available within the Shopping Centre complex.
NOTE: Please arrive 15 minutes prior to your course commencement. Late arrivals cannot be guaranteed entry, as disruptions impact the tight schedules of all who are involved.
Frequently Asked Questions
How long does first aid qualification take?
First aid qualification can be done in one day, provided you complete the required e-Learning prior to the day of your course.
The e-Learning is an online first aid course module, comprising reading material — First Aid eBook (free download) — plus a multiple-choice quiz you can do in your own time, logging back in as time permits.
Simply submit your completed e-Learning by 11:59pm the day before your scheduled face-to-face training and assessment. This practical session is also streamlined, taking 2 to 5 hours, depending on which course you take.
How long does my first aid certificate last for?
The official recommendation for Provide First Aid and Child Care First Aid, is to renew your certification every 3 years. The validity period for the Provide CPR certificate is 12 months from date of issue.
How much does a first aid course cost?
The cost for an Australia Wide First Aid course is cheaper than you'll find anywhere else — whether for Provide CPR, Provide First Aid, or Child Care First Aid.
Our Best Price Guarantee gives you a 10% advantage over any competing first aid courses.
The drop-down selector at the top of our web pages shows up-to-the-minute prices and availability for all our first aid courses.
Are first aid certificates accepted in all states?
Australia Wide First Aid certificates will be recognised and accepted all over Australia. Our certificates are officially accredited and comply with national regulatons and standards.
Your first aid certificate will be beneficial to your career. Sent to you as a PDF the day you complete your course, you'll be able to print your certificate, as well as email it to employers.
Are school first aid courses available?
Our trainers are available for group first aid courses. The minimum age for first aid certification is 14 years.
Where are first aid courses held?
Group first aid training can be conducted at your site. This is by arrangement and makes training and booking easy for you to manage.
More importantly, this group first aid training can be tailored to suit the health and safety concerns specific to your workplace.
Our first aid training for both groups and individuals is also regularly available at locations throughout
See all of our branches.
What Advantages Does First Aid Knowledge Offer?
First aid has three goals. Known as 3 Ps, these goals are preserve life, prevent further injury, and promote recovery.
First aiders are taught the techniques and skills to enable them to offer immediate assistance to a person who is undergoing a medical crisis.
In addition, first aid certification can also make a job applicant stand out from the others. First aid training highlights a person's leadership and communication skills, as well as spirit of selflessness.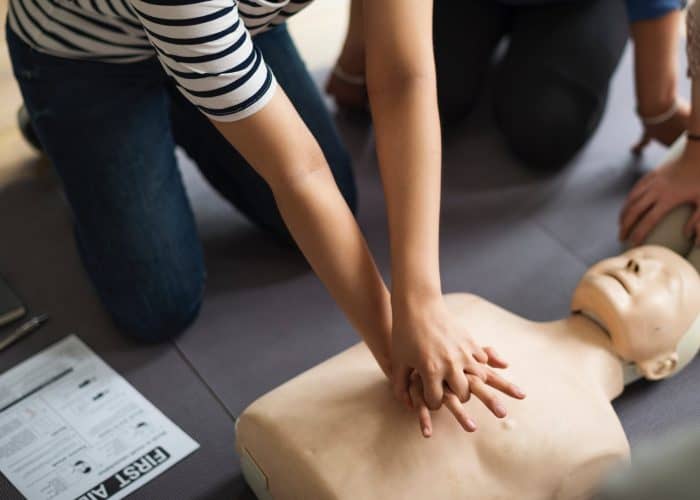 Prerequisites for Joining a First Aid Course
First aid can be taught to anyone at any age, but you'd need to be at least 14 years old to be awarded a nationally recognised a Statement of Attainment. Another enrolment consideration is that under-18s would need to provide signed parental consent. A valid unique student identifier (USI) is also an enrolment requirement.
Aside from these stipulations, students can sign up online or by phone. The e-Learning online first aid course needs to be completed and submitted the night prior to the scheduled training.
Once the face-to-face first aid training and assessment is completed, you will receive your first aid certificate the same day.
About Springfield Lakes
Springfield Lakes is located in Australia's largest master planned community, Greater Springfield. As of 2016, has been called home by more than 15,000 individuals.
The suburb is developed as a series of smaller neighbourhoods, and the northern section is serviced by the Springfield railway station, while the southern section is serviced by the Springfield Central railway station.
Its proximity to residential and commercial areas alike makes Springfield Lakes a central and in-demand location, which is why Australia Wide First Aid is pleased to make first aid training available to this suburb.
Quality Training and Better Prices
You will enjoy learning from the best first aid trainers in the business when you sign up for an Australia Wide First Aid course. And our Best Price Guarantee means you'll also pay less.
For further information about our training in Springfield Lakes or any of our other training venues, call 07 3437 7500 or email info@australiawidefirstaid.com.au.