First Aid Training in Rockingham
It is well known that Warnbro in the City of Rockingham is an amazingly beautiful part of the world so where else could you possibly want to go to complete your first aid and CPR training course!
Rockingham boasts many attractions including friendly locals, some of the worlds most pristine beaches, easy access to the freeway, or to the train station and all within a quick and easy 35 mins to Perth. First-class shopping experience also awaits at Warnbro, Port Kennedy, and Rockingham City.
Don't be fooled though, just like other beautiful places across Australia danger still lirks, so whether your moving to Rockingham to work in an office, a factory, or you're a born and bred local surfer who spends your days chasing the perfect wave, give yourself the best possible chance of being able to help in an emergency by getting your first aid certification up to date right here in Rockingham through Australia Wide First Aid.
Here's the first aid courses we offer at Rockingham:
HLTAID003 Provide First Aid includes CPR
HLTAID001 Provide Cardiopulmonary Resuscitation
HLTAID004 Provide an Emergency First Aid Response in an Education and care Setting
Why Choose Us?
Best Price Guarantee (find a cheaper price and we'll beat it by 10%)
Reduced Face to Face Duration
Same-Day Certificate
Nationally Recognised Certification
Accredited Training
Come to us – or we come to you
Courses 7 Days
Endorsed by the Australian College of Nursing
Endorsed by Australian Acupuncture and Chinese Medicine Association
Book Online or by Phone
Parking & Access to our training centre:
Ample free parking 7 days
Things you should know about our Training Centre:
Air conditioning
Amenities including kitchenette
Types of First Aid
When people talk about "first aid" they are really referring to a set of first responses that can be performed in a wide range of emergency situations. In Australia, these different types of medical responses are catalogued by the National Register of Vocational and Education Training as units of competencies for which learners can earn Statements of Attainment.
At Australia Wide First Aid, we offer courses that cover these units of competencies, sometimes as a standalone unit like CPR only which has the course code HLTAID001, or bundled together like Provide First Aid which includes the units HLTAID001, HLTAID002, and HLTAID003. These are designed to holistically prepare students for hazards and emergencies that they may be likely to encounter in the real world, either in their workplace or in everyday situations which includes how to use first aid kits in emergency and non emergency settings.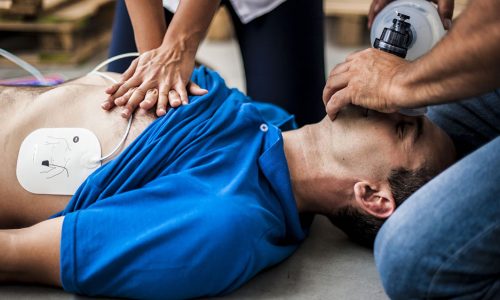 Cardiopulmonary Resuscitation – A first aid technique covered under the Provide Cardiopulmonary Resuscitation (HLTAID001) unit of competency, cardiopulmonary resuscitation or CPR is a lifesaving procedure that is helpful in many types of emergencies, including in cases of cardiac arrest and near drowning. By combining methods such as chest compressions and breaths, an individual trained in CPR can prevent a casualty from dying or suffering permanent brain damage due to the brain and other major organs being deprived of oxygenated blood.
Basic Emergency Life Support – Provide Basic Emergency Life Support (HLTAID002) is an Australian first aid training unit of competency that aims to provide students with the fundamental skills and knowledge necessary to respond to various emergency situations. In this course, students will be taught how to follow the DRSABCD (Danger, Response, Send for Help, Airway, Breathing, CPR, and Defibrillation) action plan, and they will likewise learn how to manage a range of conditions, including shock, bleeding, burns airway obstruction, anaphylaxis, asthma, other forms of respiratory distress, as well as bites and stings.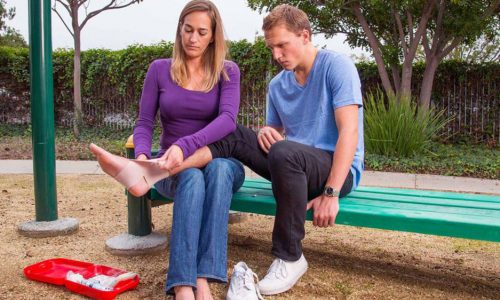 First Aid (General) – Provide First Aid (HLTAID003) is a unit of competency that used to be known in Australia as Apply First Aid or Senior First Aid. This comprehensive training unit will equip students with the skills and knowledge necessary to be able to provide appropriate first aid response, life support, and casualty management in a range of settings, be it in their own residence, in their place of work, or in the community. Aside from basic life support (DRSABCD), students will learn a variety of first aid techniques like fracture, sprain, and strain management, allergy and anaphylaxis management, envenomation management, control of bleeding emergencies, as well as choking and airway obstruction response.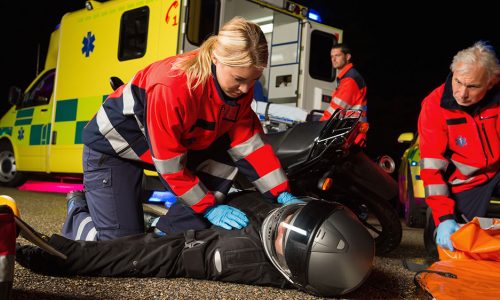 Childcare First Aid– Provide an Emergency Response in an Education and Care Setting (HLTAID004) is a first aid unit of competency specifically designed for teachers and carers. It's also useful for parents who desire child-focused training in incident and casualty management, and in delivering first aid response and basic life support.