BOOK ONLINE HERE
First Aid Course Selector
Your Trusted First Aid Training Provider
Learning first aid prepares you for emergencies and helps you stay calm in situations that would otherwise cause you to panic. First aid teaches you to identify risks and plan for disasters, as well as the skills and knowledge needed to preserve life and prevent injuries from worsening.
Australia Wide First Aid makes it easy for people to learn first aid. This nationally recognised training organisation (RTO 31961) has training locations all over the country and offers individual and group bookings. In addition to our regular trainings, we can also send our trainers and assessors to your home or office for on-site training. This makes our company an ideal choice for companies and businesses that want to equip their employees with first aid skills.
Our courses are taught according to the guidelines set by the Australian Resuscitation Council (ARC) and the Australian Children's Education and Care Quality Authority (ACECQA). Our Provide First Aid course is also endorsed by the Australian College of Nursing (ACN). To take part in our courses and learn from our experienced trainers and assessors, you can check out our training venue in Ringwood, Victoria.
HLTAID003 Provide First Aid
HLTAID001 CPR only
HLTAID004 Provide an emergency first aid response in an education and care setting (Childcare First Aid)

Why Choose Us?
Best Price Guarantee (find a cheaper price and we'll beat it by 10%)
Reduced Face to Face Duration
Same-Day Certificate
Nationally Recognised Certification
Accredited Training
Come to us – or we come to you
Courses 7 Days
Endorsed by the Australian College of Nursing
Endorsed by Australian Acupuncture and Chinese Medicine Association
Book Online or by Phone
Getting Here
CAR – FREE onsite parking is located at the rear of the hotel
PUBLIC  TRANSPORT (JOURNEY PLANNER)
TRAIN
16 MINS walk – Ringwood train station
8 MINS walk – Heatherdale train station
Food & Refreshments
Water is provided throughout the day.
There is a 30 minute lunch break for courses running over 4 hours. No external food allowed.
NOTE: To make sure you have enough time to comfortably sign in and complete enrolment documents, please arrive 15 minutes prior to your course commencement. You will need your USI number with you at the time of enrolment.
Please be aware that liquor and gaming occurs on the premises however the training room is located in a separate area.
Location
Ringwood is surrounded by Donvale, Ringwood North, Croydon, Mitcham, Ringwood East, Vermont, Wantirna, and Heathmont, making it easy for students based in these suburbs to reach our training location.
The Coach – Level 1,  33 Maroondah Hwy, Ringwood, VIC 3134
The venue, The Coach Hotel, is situated on the corner of the Maroondah Hwy and Eastlink. It is just a short walk from Eastland Shopping Centre. There are 2 train stations near the venue: Ringwood train station, which is a 16-minute walk away, and Heatherdale train station, which is 8 minutes away on foot. There is free parking behind the hotel.
Why Should You Learn First Aid?
Learning first aid presents an advantage to would-be first aiders and the people around them. In certain professions and industries, it's an advantage for an applicant or employee to have first aid certification. In addition to serving as proof of someone's skill and knowledge in first aid, having the status of a first aider implies that a person is capable of leadership and making level-headed decisions in the face of calamity or disaster. Taking first aid classes can also merit points that will go into one's Continuing Professional Development.
Your family, friends, and colleagues also stand to benefit from your first aid skills. They'll feel safer knowing that someone in their home or office knows what to do during emergencies and other unexpected situations. This, in turn, will help them focus more on their tasks and become more productive.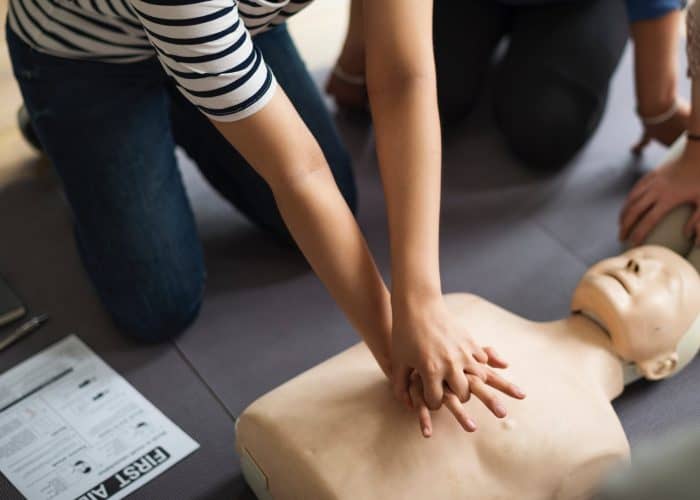 What Do You Need to Do to Become a First Aider?
Students need to be at least 14 years old in order to join a first aid class where they can earn a Statement of Attainment. Australia Wide First Aid's courses have 2 parts: online assessment and face-to-face training. All students are required to complete their online assessment 11:59 PM the night before the face-to-face training. In addition, they should also complete their payment, present a valid USI, and pass all the requirements of the course. They'll receive their Statement of Attainment within 48 hours of completing all their course requirements.
List of First Aid Courses
Prospective first aiders can choose from a variety of courses, from basic CPR classes to industry-specific courses. These are: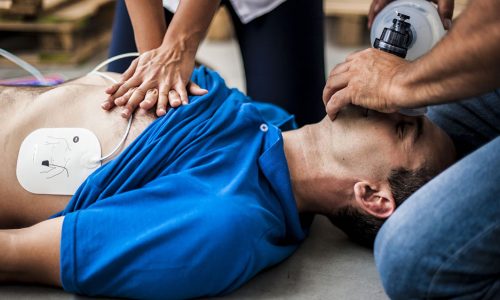 The course for learning proper cardiopulmonary resuscitation or CPR requires 2 hours of face-to-face training. It equips students with the skills and knowledge needed to respond to cardiac emergencies.
Includes: Provide Cardiopulmonary Resuscitation (HLTAID001)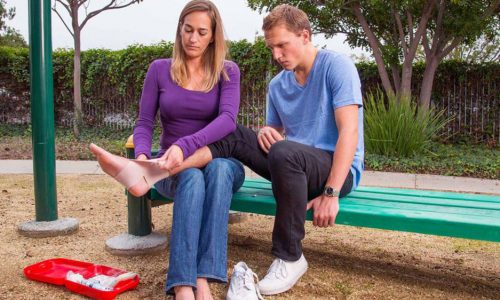 Students of this course will learn basic first aid skills, including CPR. The 4-hour face-to-face training covers identifying emergency situations and responding to them, applying first aid and providing life support, and communicating with emergency response services.
Includes: Provide Cardiopulmonary Resuscitation (HLTAID001), Provide Basic Emergency Life Support (HLTAID002), and Provide First Aid (HLTAID003)
Students who want to keep their CPR certification current must undergo a CPR refresher course every 12 months, while First Aid certificate holders must renew their certificate every 3 years.
Find convenient training locations with Australia Wide First Aid. For more information about the courses we offer and our trainings in Ringwood or any other area in Victoria, call 1300 336 613 or email info@australiawidefirstaid.com.au.