Find a cheaper price we'll beat it by 10%
CPR First Aid Course Ringwood
CPR & First Aid Courses Fast-Tracked

Online First Aid Course + Face-to-Face Training

Same-Day First Aid Certificate – Nationally Recognised

Group First Aid Courses at Your Site

Royal Australian College of General Practitioners – endorsed

Australian College of Nursing – endorsed

Registered Training Organisation #31961

Check Course Availability in Selector above

Find a Cheaper Price, We'll Beat it by 10%
Choosing a First Aid course trainer
First Aid Courses in Ringwood

Best Prices, Same-Day Certificates
Ringwood is surrounded by Donvale, Ringwood North, Croydon, Mitcham, Ringwood East, Vermont, Wantirna, and Heathmont.
From any of these suburbs, you should have no trouble reaching our First Aid training centre in Ringwood:
The Coach – Level 1,  33 Maroondah Hwy, Ringwood, VIC 3134
The First Aid training venue is at The Coach Hotel, which is situated on the corner of the Maroondah Highway and Eastlink. It is just a short walk from Eastland Shopping Centre.
There are 2 train stations near the venue: Ringwood train station, a 16-minute walk away, and Heatherdale train station, which is 8 minutes away on foot.
There is free parking behind the hotel.
Learning First Aid
Learning First Aid at our Ringwood training facility will prepare you for the unexpected.
You'll respond with confidence in the case of medical emergencies and stay calm while others might panic. Along with the expertise to preserve life and prevent injuries from deteriorating, your First Aid training will enable you to identify risks and devise plans for when things go wrong. There are many more benefits…
Your First Aid Certificate
You can get your First Aid certificate the same day as your First Aid course in Ringwood is successfully completed.
This certificate from Australia Wide First Aid is good for your career. For a start, it is accepted in all states of Australia, and it's worth points for your Continuing Professional Development.
Australia Wide First Aid is a nationally recognised training organisation (RTO 31961). Not only is our training in full compliance with the regulators, it is also being rolled out for Australians to learn First Aid at locations all over the country.
We offer individual training as well as group First Aid training. This means your home or workplace can be the venue for First Aid training that can be customised to suit your health and safety requirements.
Call us on 07 3437 7500 to discuss your needs for group First Aid training in Ringwood and surrounding suburbs.
First Aid training is an Essential Service.
For the latest Covid advice, please visit:
Location
The Coach
Level 1
33 Maroondah Hwy
Ringwood, VIC 3134
The Coach Hotel is situated on the corner of the Maroondah Hwy and Eastlink — a short walk from the Eastland Shopping Centre.
Getting Here
CAR – FREE onsite parking at the rear of the hotel
PUBLIC  TRANSPORT (JOURNEY PLANNER)
TRAIN
16 mins walk – Ringwood train station
8 mins walk – Heatherdale train station
Food & Refreshments
Water is provided throughout the day.
A 30 minute lunch break is scheduled for courses running over 4 hours. No external food is allowed.
NOTE: Please make sure you arrive 15 minutes prior to your course commencement. Late arrivals generally will not be accommodated due to health restrictions and disruption to the First Aid class already in progress.
Please be aware that liquor consumption and gaming occurs on the premises, however, the training room is located in a separate area.
Available First Aid Courses at Ringwood
Choose from these in-demand First Aid courses: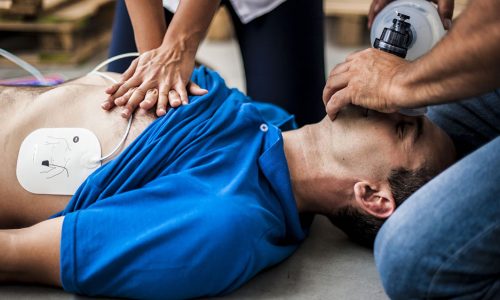 The course for learning proper cardiopulmonary resuscitation or CPR requires 2 hours of face-to-face training. It equips students with the skills and knowledge needed to respond to cardiac emergencies.
Unit of competency: HLTAID001 Provide cardiopulmonary resuscitation.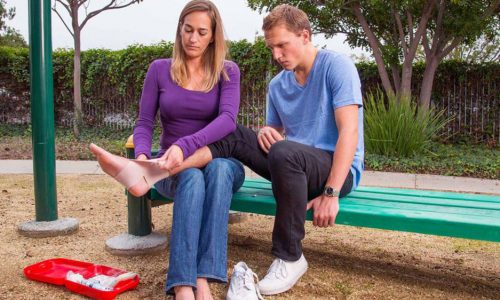 Students of this course will learn basic First Aid skills, including CPR. The 4-hour face-to-face training covers identifying emergency situations and responding to them, applying First Aid and providing life support, and communicating with emergency response services.
Units of competency: HLTAID001 Provide cardiopulmonary resuscitation, HLTAID002 Provide basic emergency life support, and HLTAID003 Provide first aid.
Who First Aid Helps
Learning First Aid empowers the First Aider whose skills and actions can help preserve and save lives.
As a First Aider, your family and friends will also look at you with new-found respect for demonstrating your preparedness to take a responsible role on the front line. They will no doubt also feel a sense of relief in your company.
First Aid certification is certainly advantageous in certain professions and industries. It's a requirement in some lines of work, but along with that gaining your First Aid certification indicates to employers your willingness to take leadership and making level-headed decisions in pressured situations.
First Aid certification also means merit points towards your Continuing Professional Development.
Book your First Aid training with Australia Wide First Aid. It's the fast, flexible and inexpensive way to get your First Aid Certificate.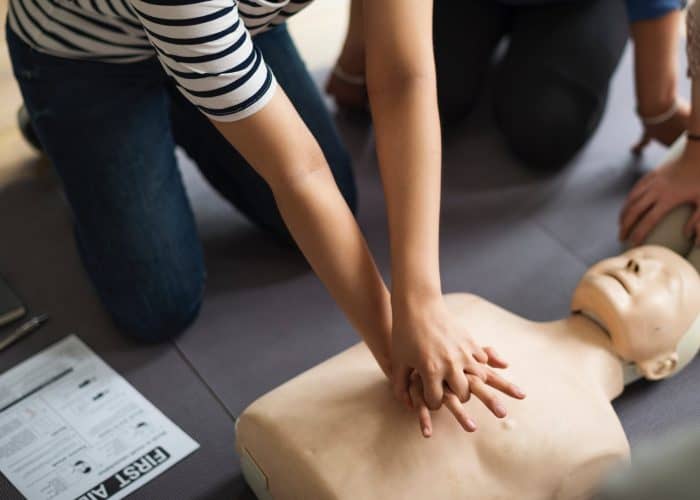 What Do I Need to Become a First Aider?
You need to be at least 14 years old to join a First Aid class and earn a Statement of Attainment. If you're under 18, you need the written consent of a parent or guardian.
Australia Wide First Aid's courses are streamlined and consist of 2 parts:
• e-Learning, which takes care of the theory aspect online and at your convenience</ br>
• face-to-face First Aid training </ br>
You have until 11:59 pm the night before the day of your face-to-face training to submit your e-Learning work. Refer to the PDF First Aid manual provided while you're answering the questions in the e-Learning assessment. You get as many attempts at the correct answers as you need.
After you complete your e-Learning and face-to-face assessments, you're in-line to receive your First Aid certificate.
Assuming there are no problems with your USI (Unique Student Identifier) and payment for your course, your First Aid Statement of Attainment will be emailed to you in PDF form.
You can expect your certificate the same day as you successfully complete your First Aid course.
Keeping Your First Aid Certification Current
To keep your CPR certification current, you should undergo a CPR refresher course every 12 months. Provide First Aid certificate holders should renew their certificate every 3 years.
Find convenient training locations with Australia Wide First Aid. For more information about the courses we offer and our First Aid training in Ringwood or any other area in Victoria, call 07 3437 7500 or email info@australiawidefirstaid.com.au