Find a cheaper price we'll beat it by 10%
First Aid Courses in QLD
Complete your First Aid Course in Queensland at one of our excellent training locations.
Click through on the location most convenient to you for course availability and more for detailed information.
OPERATING HOURS
Avaliable times and days for our Queensland First Aid Course training vary from location to location. Make sure you check the details of your booking carefully.
REGIONAL BOOKINGS
If you are based regionally and can not attend one of the venues listed, we may be able to arrange an onsite First Aid course, depending on your requirements. See more information about this option.
First Aid Course Queensland
Queensland — the "Sunshine State" — is Australia's second-largest and third-most populous state. Spectacular beaches bring many tourists to Queensland, especially to those on the Gold Coast, with its nightlife, dining, and shopping precincts.
Queensland is also renowned for the enthusiasm its citizens share in pitching in to help one another. It's no wonder that becoming a certified First Aider in Queensland is such a natural fit — giving back to one's community and caring for your neighbour's wellbeing is a Queensland tradition.
First Aid certification is invaluable in Australia, where sport and adventure outdoor are championed at every turn. And now, with our lives being busier than ever, First Aid courses have evolved, becoming more flexible and streamlined.
Australia Wide First Aid is the front runner when it comes to First Aid education. We are a nationally recognised training organisation (RTO No. 31961) delivering the highest of standards in the provision of First Aid training.
Following the guidelines established by the Australian and New Zealand Committee on Resuscitation (ANZCOR), our First Aid training is endorsed by the Royal Australian College Of General Practitioners (RACGP) and the Australian College of Nursing (ACN).
From our First Aid training venue in Brisbane and neighbouring Brisbane Northside and Brisbane Southside First Aid training locations, Queensland is dotted with Australia Wide First Aid training locations.
We also have 2 Gold Coast training locations — one at Southport and one at Robina. Three if you include Yatala, which also helps serve Brisbane Southside First Aid training demand.
It's our mission to make First Aid certification more accessible Australia-wide.
Same Day First Aid Certificates at the Best Prices
Our First Aid certificates are recognised Australia-wide and, thanks to our Best Price Guarantee there is no other equivalent First Aid course that is more affordable.
Each of our First Aid courses is structured to enable you to receive your First Aid certificate in just one day.
Along with our many convenient training venues, we also offer on-site First Aid training. This enables group sessions to be conducted in the workplace with a focus on the specific health and safety concerns of employers.
With this on-site training, seasoned professionals from the Australia Wide First Aid team show up at your doorstep, ready to qualify your employees in First Aid course.
First Aid Courses
Australia Wide First Aid offers streamlined First Aid courses to help you attain proficiency, whether for basic or advanced techniques. Our Queensland First Aid courses include: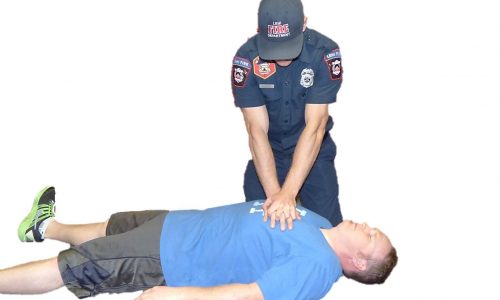 CPR – This 2-hour course will give a student the basic knowledge and practical skills to properly apply cardiopulmonary resuscitation, or CPR. Students will be taught how to respond to cardiac and breathing-related emergencies.
Includes: Provide cardiopulmonary resuscitation (HLTAID001)
Provide First Aid – The Provide First Aid course is a thorough 4-hour course on the minimum requirements of workplace first aid compliance. It was previously known as Apply First Aid, and also goes by the course title of Senior First Aid. In this course, students will learn first aid response, life support, and management of casualties, among others.
Includes: Provide cardiopulmonary resuscitation (HLTAID001), Provide basic emergency life support (HLTAID002), and Provide first aid (HLTAID003)
Emergency First Aid  – The Emergency First Aid course entails a comprehensive 5-hour session on emergency response for education and care settings, fulfilling the requirement of the Australian Children's Education and Care Quality Authority (ACECQA).
Includes:  Provide cardiopulmonary resuscitation (HLTAID001), Provide basic emergency life support (HLTAID002), Provide first aid (HLTAID003), and Provide an emergency response in an education and care setting (HLTAID004)  
More Information about First Aid Certification
Express courses can only be taken by students who have previously earned their Statement of Attainment for an equivalent course.
Once you've successfully completed your chosen First Aid course — submitted the e-Learning assessment, provided a valid USI, and paid for your training — you're in line to receive your Statement of Attainment the same day. It will come direct to your email inbox as a digital copy (PDF), ready for you to send online to employers or print out.
Australia Wide First Aid is a nationally recognised training organisation, so your Statement of Attainment is guaranteed to be accepted Australia-wide.
The Provide First Aid certificate is valid for 3 years, while the CPR certificate is valid for 12 months.
Australia Wide First Aid courses are also a valid avenue to attain CPD points.
To become an authorised First Aid responder with Australia Wide First Aid, simply book a slot in the First Aid training course of your choice today.
For more information about our Queensland First Aid training courses, simply phone 1300 336 613 or email info@australiawidefirstaid.com.au.
What Is First Aid?
First Aid is a form of intervention for a sick or injured person before professionals arrive to administer full medical assistance.
First Aid measures include, but are not limited to, the following:
Treating wounds and burns
Administering cardiopulmonary resuscitation (CPR)
Responding to symptoms of asthma or anaphylactic shock.
The more complex measures, such as CPR, must be taught by an accredited professional.
All in all, First Aid is meant to do the following:
Preserve life
Prevent further injury, and
Promote recovery
These three purposes are known as the 3 P's or basic principles of First Aid.
Students in a First Aid training course will learn just how much of a difference quick thinking, timely intervention, a calm countenance, and well-applied technique will make in saving someone's life.
This set of knowledge should be available to everyone—if more people are equipped to administer first aid, their home communities are guaranteed better health, safety, and security.
Aspiring First Aiders will learn basic concepts pertaining to First Aid; will be taught how to properly apply advanced techniques; and will be trained to enter the proper state of mind to make those hard calls in emergency situations. In the process, they will likely foster key values such as trust in others, mental strength, calmness, and compassion.
Why Should I Learn First Aid?
Never say never. You just don't know when you might face an emergency of the medical kind. Someone you know might suddenly suffer a heart attack or seizure. A loved one, even a complete stranger, could be injured or fall sick, with no one else around but you.
Now is your opportunity to choose to be prepared by learning First Aid.
The benefits of First Aid certification go beyond responding in cases of emergency. That special someone in your life who suffers from chronic illness or is extra vulnerable because of their age, will feel safer having you around.
You'll be an asset to your companions. They will look your way respectfully, comforted by your preparedness and responsible attitude. Vacations and family outings become more assured and therefore enjoyable.
When you're travelling, or in unfamiliar environments, your First Aid knowledge will give you peace of mind.
A First Aid certificate can also improve your chances of employment. In some cases, the certification leads to a higher pay grade.
Childcare Services is one of many industries that asks for advanced knowledge of First Aid.
First Aid training from a nationally recognised and accredited organisation can also help you attain Continuing Professional Development (CPD) points.
Do I Have What It Takes to Be a First Aider?
You can become an authorised First Aider when you earn a Statement of Attainment. Australia Wide First Aid will email you your Statement of Attainment once you have successfully completed the required units of your chosen First Aid course. Yes, that means you can get your First Aid certificate in one day!
You can choose between regular First Aid modules or express modules that focus on particular techniques, such as CPR or workplace-specific modules.
You need to be over that age of 14 years to enrol in an accredited First Aid training course at Australia Wide First Aid. Once you graduate from Australia Wide First Aid's courses, you become a bona fide First Aider!