Find a cheaper price we'll beat it by 10%
Provide First Aid Course Perth
HLTAID003
- Provide First Aid (Includes CPR)
    RTO: 31961

HLTAID001
- Provide Cardiopulmonary Resuscitation
    RTO: 31961
Child Care First Aid Course Perth
HLTAID004 - Provide an Emergency First Aid Response in an Education and Care Setting
    RTO: 31961
Our First Aid Course Training Centre Perth
First Aid Courses 7 Days a Week
Find a Cheaper Price, We'll Beat it by 10%
Same-Day First Aid Certificate
Nationally Recognised & Accredited Certificates
Flexible Online Learning & Assessment
Group Training at Your Site by Arrangement
Royal Australian College of General Practitioners – endorsed
Australian College of Nursing – endorsed
Book Online or by Phone
Get Started with Your Training
Booking your Perth First Aid course online can be done in just a few clicks. Alternatively, just pick up the phone. Our friendly staff will make your booking a breeze.
If you're in business, simply get in touch with us to arrange group First Aid training for your workers.
Call or message us today from our contact page.
Choosing a First Aid course trainer
Choose from these short courses in Perth:
– also known as Level 2 First Aid or Senior First Aid. Soon to become HLTAID011. This a staple for workplace compliance and our most popular course. You could go through the entire contents of a quality First Aid kit, explaining the use of each item, in order to describe the comprehensive scope of this course.
– CPR is a life-saver for cardiac arrest victims and anyone who has been deprived of life-giving oxygen. This course is not the same as Level 1 First Aid (HLTAID002 Basic Emergency Life Support), which is part of Provide First Aid HLTAID003 and Emergency First Aid HLTAID004.
– also known as Child Care First Aid, this course is a career requirement for many people, and a compelling choice for concerned parents.
While Provide CPR (HLTAID001) puts essental life-saving skills within your reach in short time, both Provide First Aid (HLTAID003) and Child Care First Aid (HLTAID004) are more comprehensive First Aid courses.
They combine more advanced First Aid and include CPR. These are two courses that encompass a little more e-Learning and a half-day of face-to-face training.  And they are ideal for career advancement.
Same-Day First Aid Certificate
Complete your Australia Wide First Aid course — Perth or elsewhere — and you can get your certificate sent to you the same day. This is a result of continual fine-tuning of our training systems since 1996.
During that time, we've helped more than a million Australians get their First Aid certificates.
Our First Aid trainers are carefully selected for their ability to make learning enjoyable and effective. Our Google reviews will show you the kind of appreciation there is for our trainers.
Price Matters
Your decision is made even easier because you won't find a better price for your training either, thanks to our Best Price Guarantee.
If you find a cheaper First Aid course, we'll beat it by 10%. Guaranteed!
Considering that you get your certificate so fast, paying less is icing on the cake. Plus, as a Registered Training Organisation (RTO 31961), we can guarantee your certificate will be accepted Australia-wide.
All our courses and all our trainers are fully compliant, in line with industry regulators — Australian Skills Quality Authority (ASQA) and Australian Vocational Education and Training (VET).
Our CPR (Cardio Pulmonary Resuscitation) training adopts the guidelines established by the Australian Resuscitation Council.
Endorsement Matters
We have unwavering support from Australia's peak bodies in the health industry.
The Australian College of Nursing (ACN) — endorses and includes our First Aid courses in Continuing Professional Development (CPD) for nurses.
The Royal Australian College of General Practitioners (RACGP) — also endorses our courses, including our First Aid training in its recommendations for doctors' Continuing Professional Development.
Workplace First Aid Training Perth
Business owners love that our fully accredited certification allows their staff to be trained in their own workplace.
Our group First Aid training can be customised to suit the health and safety concerns specific to your workplace.
Whether training in a group at your site or in a class at one of our training centres, First Aid certificates — Statements of Attainment (PDF) — can be emailed to successful students the same day as the course.
Your Place or Ours
Aside from our training centre at Subiaco, you'll find an ideal solution from the Northern Suburbs of Perth at Belmont. We also have a First Aid training centre at Joondalup and another at Rockingham.
You can see all our First Aid training centres on our branches page.
Perth First Aid Course Frequently Asked Questions
How Long Does a First Aid Course Take?
Our First Aid courses include face-to-face learning — 2 hours for HTLAID001 CPR; 4 hours for HTLAID003 Provide First Aid; and 5 hours for HTLAID004 Childcare First Aid.
You'd need to complete an e-Learning component prior to the face-to-face practical training, but this is done online and at your convenience.
| | |
| --- | --- |
| Course Title | Course Duration |
| Provide CPR (HLTAID001) | 2 hours |
| Provide First Aid (HLTAID003) | 4 hours |
| Child Care First Aid (HLTAID004) | 5 Hours |
How Much Does a First Aid Course Cost?
Our courses cost between $69 and $170. If you find a cheaper price, we'll beat it by 10%. The course selector tool at the top of this page will quickly show you the prices and availability.
Where Else Do You Hold First Aid Training?
In addition to our Perth First Aid training centres at Belmont and Joondalup, we have a training centre at Rockingham. We also have training centres in locations across Australia, including in most state capitals.
If you're searching "first aid course near me" in Perth or elsewhere, our Branches page is sure to come in handy.
Is Group First Aid Training Available?
Group First Aid training can be conducted onsite at your premises by arrangement. This means that the First Aid training can be tailored to suit the specific health and safety concerns at your workplace.
Business Owners
As a business owner, you're well-advised to conduct a thorough assessment of potential hazards in your workplace to gain an understanding of your legal obligations.
This will give you an idea how many of your workers need a First Aid certificate and which First Aid courses to book. If you need further advice regarding this, please don't hesitate to call us..
Admission Requirements
To attend a First Aid course with Australia Wide First Aid, you must be at least 14 years of age. If you're under 18 years, signed consent from a parent or guardian will be needed.
For cardiopulmonary resuscitation assessment, you'll need to be physically capable of performing 2 minutes of uninterrupted CPR while kneeling on the floor.
Course Information
First Aid Course Tips
Download your First Aid eBook and read the relevant passages, as instructed in your Welcome email.
Refer to your eBook to answer questions in your e-Learning assignment. Submit your finished assignment by 11.59pm AEST before the day of your scheduled face-to-face training.
What Is First Aid?
First Aid is all about providing immediate assistance to a sick or injured person until professional medical help becomes available. It aims to prevent the patient's conditioning worsening and ultimately saves lives.
First Aid can be as simple as dressing minor wounds or helping a person who is experiencing a serious asthma attack. It could also involve more advanced First Aid procedures, such as cardiopulmonary resuscitation.
First Aid attention also provides the means to reassure a distressed casualty, until professional medical personnel arrive. The importance of this reassurance cannot be overstated.
Getting Here
BELMONT
CAR – FREE on-site street parking
PUBLIC TRANSPORT – JOURNEY PLANNER
BUS – 1 minute walk – stops on Abernethy road (288, 38)
SUBIACO
PUBLIC TRANSPORT – JOURNEY PLANNER
BUS – Subiaco PCYC is handy for #24, #25, #97 buses.
CAR – limited free parking may be available on-site.
Food & Refreshments
Water is available throughout the day.
A 30-minute lunch break is scheduled for courses running over 4 hours. Bringing your own food into the Belmont Sports & Recreation Club is not an option and there are very few options for lunch nearby to the Club. At Subiaco PCYC, you are welcome to bring your own lunch.
NOTE: Plan to arrive 15 minutes prior to course commencement. This allows time for signing in and being seated. Respecting that everyone has busy schedules, late arrivals cannot expect to be admitted.
Perth First Aid Courses – Belmont
Perth First Aid Courses – Subiaco
Types of First Aid
Different First Aid courses target specific knowledge and skill sets that apply in different circumstances.
Our most popular course — Provide First Aid (HLTAID003) — satisfies Australian workplace compliance. This course incorporates HLTAID002 Basic Emergency Life Support, as well as HLTAID001 Provide CPR, which focuses on the life-saving techniques of cardiopulmonary resuscitation.
All our accredited First Aid courses are fully compliant and teach you the techniques of First Aid professionals. These courses are as follows: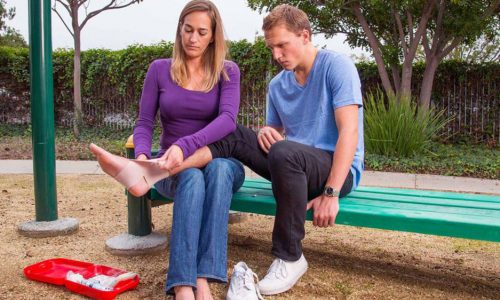 Provide First Aid (HLTAID003) 
In this course, you'll learn the skills needed to provide First Aid to a sick or injured person. Included are techniques for responding to typical medical emergencies in homes, workplaces, and in community settings. It is recommended that this certification be renewed every 3 years. The CPR component should be refreshed every 12 months.
Provide CPR (HLTAID001)
This training module teaches you how to perform Cardio Pulmonary Resuscitation, as well as how to use an AED (Automatic External Defibrillator). The Australian Resuscitation Council recommends renewing training for this particular qualification every 12 months.
Child Care First Aid (HLTAID004)
This course is also known as Provide an Emergency First Aid response in an Education and Care Setting. With its focus on First Aid response for children, infants and adults, this course is a requirement for those who work in the childcare and education sectors. It is also popular with parents.  Includes the units HLTAID001, HLTAID002 (Provide Basic Emergency Life Support), HLTAID003, and HLTAID004.
Difference between Standard First Aid and Emergency First Aid
Our Perth First Aid courses share common competencies, with each course teaching the basics in terms of providing First Aid and basic life support, and both include CPR. And all courses meet the requirements of our regulator and peak industry bodies.
However, the courses differ in their duration and the scope of situations they handle. In particular, Child Care First Aid has an additional focus on providing specialised First Aid for infants and children in emergency situations.
The HLTAID004 Childcare First Aid course is specifically designed for staff employed in Education and Care settings. As with the Provide First Aid HLTAID003 certification, you would need to refresh your training and renew your qualification every 3 years.
HLTAID004 Childcare First Aid can be taught to groups at your premises. At our public training venues at Belmont and Joondalup, we deliver HLTAID003 Provide First Aid and HLTAID001 CPR.
Whether at our location or yours, our Perth First Aid courses are fully accredited. As well as a way to acquire valuable First Aid knowledge and skills, these are courses designed to streamline the process of attaining a First Aid certificate.
At Australia Wide First Aid, our goal is to make First Aid skills available to as many people as possible throughout Australia. In this way, we can help to keep people as safe as possible in their homes and workplaces.
Don't hesitate to call our hotline or leave a message via our contact page.