Choose Your First Aid Course
Australia Wide First Aid - an Introduction
Why Choose Our First Aid Course?
Find a Cheaper Price, We'll Beat it by 10%
Flexible Online Learning & Assessment
Same-Day Certificate
Accredited Certification, Nationally Recognised
Training at Your Site by Arrangement
Courses 7 Days
Royal Australian College of General Practitioners – endorsed
Australian College of Nursing – endorsed
Book Online or by Phone
First Aid Course Perth
Our Perth First Aid training venues are convenient for students coming from North Perth, Highgate, Northbridge, East Perth, West Perth, South Perth, and Victoria Park.
With more than 2 million residents in its greater metropolitan area, Perth is the 4th most populous city in the country. Your decision to learn First Aid will give you an invaluable skill set and certification that will enhance your employment prospects while living in the WA capital.
Our First Aid training in Belmont is conducted at Belmont Sports and Recreation Club – around 20 minutes' drive from Perth CBD – convenient for students living in Bayswater, Canning Vale, and Western Suburbs.
You'll find our Joondalup First Aid training at Quest Joondalup, which should be convenient for students coming from the Northern Suburbs of Perth.
Australia Wide First Aid also provides streamlined First Aid courses in training centres along the east coast of Australia, in New South Wales, Victoria, and Queensland.
Find our Belmont First Aid training venue
Find our Joondalup First Aid training centre
BELMONT
Belmont Sports and Recreation Club, 400 Abernethy Road Cloverdale, WA 6105
The Belmont Sports and Recreation Club is only a 20-minute drive from the Perth CBD. The entrance to the Belmont Sports and Recreation facility is via Keane Street.
You'll find our First Aid training room by turning left down the hall (before the bar area) after passing through the entry area of the building. The training room will be on your left.
JOONDALUP
Australia Wide First Aid Training Room, Quest Joondalup, 83 Boas Ave, Joondalup, WA 6027
Students coming from Kinross, Neerabup, Carramar, Currambine, Connolly, Lake Joondalup, Heathridge, and Edgewater can easily reach our First Aid training venue at Quest Joondalup.
Getting Here
BELMONT
CAR – FREE on-site street parking
PUBLIC TRANSPORT – (JOURNEY PLANNER)
BUS – 1 minute walk – stops on Abernethy road (288, 38)
JOONDALUP
PUBLIC TRANSPORT – (JOURNEY PLANNER)
BUS – 7 minute walk (465)
Joondalup's free CAT bus stops directly in front of Quest Joondalup.
Car parking (paid) is available onsite (limited), as well as at Reid Promenade Car Park and Central Walk Car Park.
Food & Refreshments
Water is available throughout the day.
A 30-minute lunch break is scheduled for courses running over 4 hours. Bringing your own food into the Belmont Sports & Recreation Club is not allowed. There are also very few options for lunch nearby to the Club. At Quest Joondalup, you are welcome to bring your own lunch.
NOTE: Plan to arrive 15 minutes prior to course commencement, so that signing in and being seated, especially with health and safety precautions, goes smoothly. Respecting that everyone has busy schedules, late arrivals cannot expect to be admitted.
Perth First Aid Courses at Belmont
Perth First Aid Courses at Joondalup
Types of First Aid
Different situations call for different types of First Aid, as well as for specific, targeted knowledge and skills.
Australia Wide First Aid training courses cover a host of health emergency scenarios. These First Aid courses vary in duration, according to whether they cover basic emergency life support, or whether they include administering life-saving cardio pulmonary resuscitation.
All of our First Aid courses are fully accredited and teach you the techniques of First Aid professionals.
Following are the First Aid courses we offer together with the units of competency covered.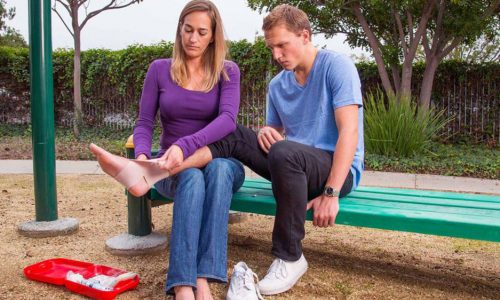 Provide First Aid (HLTAID003) – in this course, you will learn the skills needed to provide First Aid to a sick or injured person. Included are the techniques for responding to typical medical emergencies in homes, workplaces, and in community settings. It is recommended that this certification is renewed every 3 years. The CPR component should be refreshed every year.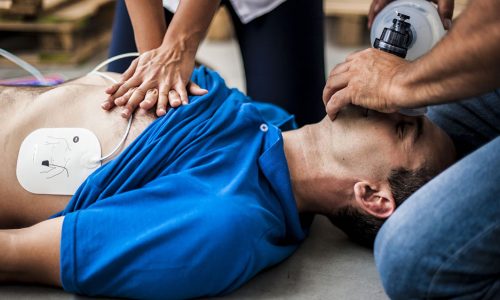 Provide Basic Life Support (HLTAID002) – This course covers the skills and knowledge necessary to identify a life-threatening situation and how to respond to it. Information provided in this course follows the guidelines established by the Australian Resuscitation Council (ARC). Renewal of this certification is recommended every 3 years.
Provide CPR (HLTAID001) – this training module teaches you how to perform Cardio Pulmonary Resuscitation, as well as how to use an AED (Automatic External Defibrillator). The Australian Resuscitation Council recommends renewing training for this particular qualification every 12 months.
Childcare First Aid (HLTAID004) – Provide an Emergency First Aid response in an Education and Care Setting. Includes the units HLTAID001, HLTAID002, HLTAID003, HLTAID004.
What Is First Aid?
First Aid provides immediate medical assistance to a sick or injured person until professional medical help becomes available. It aims to prevent the patient's conditioning worsening and ultimately saves lives.
First Aid can be as simple as dressing minor wounds, helping a person who is experiencing a serious asthma attack, or involve more advanced First Aid procedures, such as cardiopulmonary resuscitation.
Aside from first responder medical attention, First Aid can also provide much needed reassurance, until professional medical personnel arrive. The importance of reassurance to a distressed casualty cannot be overstated.
HLTAID003 Provide First Aid is by far the most popular First Aid training course taught at Australia Wide First Aid. Formerly known as Senior First Aid, this is the minimum course requirement to qualify as a workplace First Aider.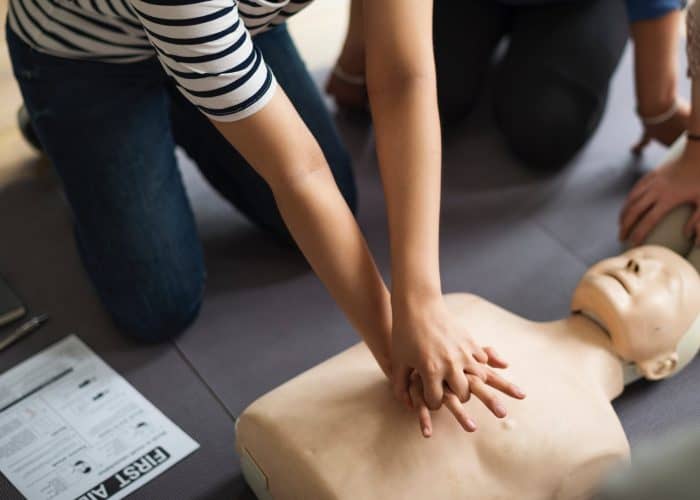 Difference between Standard First Aid and Emergency First Aid
Our Perth First Aid courses share common competencies, with each course teaching the basics in terms of providing First Aid and basic life support, and both include CPR. And all courses meet the requirements of our regulator and peak industry bodies.
However, the courses differ in their duration and the scope of situations they handle. In particular, Childcare First Aid has an additional focus on providing specialised First Aid for infants and children in emergency situations.
The HLTAID004 Childcare First Aid course is specifically designed for staff employed in Education and Care settings. As with the Provide First Aid HLTAID003 certification, you would need to refresh your training and renew your qualification every 3 years.
HLTAID004 Childcare First Aid can be taught to groups at your premises. At our public training venues at Belmont and Joondalup, we stick to delivering HLTAID003 Provide First Aid and HLTAID001 CPR.
Whether delivered at our location or yours, our Perth First Aid courses are fully accredited and a streamlined way to acquire First Aid knowledge and skill — ideal when you need a First Aid certificate for work.
Australia Wide First Aid specialises in streamlined First Aid training of the highest quality. It is our goal to make valuable First Aid skills widely available to as many people as possible throughout the Australia and help keep people in our homes and workplaces as safe as possible.
Don't hesitate to call our hotline on 1300 336 613or leave a message via our contact page.