Find a cheaper price we'll beat it by 10%
HLTAID004 - Provide an Emergency First Aid Response in an Education and Care Setting
    RTO: 31961
First Aid Course North Lakes
Find a Cheaper Price, We'll Beat it by 10%
Flexible Online Learning & Assessment
Same-Day Certificate
Accredited Certification, Nationally Recognised
Training at Your Site by Arrangement
Courses 7 Days
Royal Australian College of General Practitioners – endorsed
Australian College of Nursing – endorsed
Book Online or by Phone
Choosing a First Aid course trainer
Same-Day First Aid Certificate
Your First Aid certification (PDF) can be emailed the same day you complete your North Lakes First Aid training.
Choose from:
HLTAID003 Provide First Aid
HLTAID001 CPR only
HLTAID004 Provide an Emergency First Aid Response in an Education and Care Setting (Child Care First Aid)
Australia Wide First Aid is a nationally recognised training organisation (RTO 31961) providing individual, as well as group bookings. Our experienced trainer is available for on-site First Aid instruction customised for your location and work environment.
Our courses are conducted in accordance with guidelines set by the Australian and New Zealand Committee on Resuscitation (ANZCOR).
We ensure all our students receive the highest quality training possible within the VET Quality Framework.
Your First Aid Instructor
Jason, your First Aid instructor at Australia Wide First Aid North Lakes, is an active Australian Defence Force member with the Australian Army. He is enthusiastic and engaging.
With 15 years of experience in training and instructing in a diverse range of industries, including physical training, transport operations, and leadership management, Jason won't hesitate to go the extra mile to help people, from all walks of life, reach their potential.
Qualified in human resources, training and assessment, and transport and logistics, Jason is based in Brisbane and lives by Travis Rice's credo, "We'll never know our full potential unless we push ourselves to find it."
Getting Here
CAR – Free parking is available at the Norwinn Centre and on Discovery Drive. The training venue is easily accessible from Anzac Avenue and the Bruce Highway.
PUBLIC TRANSPORT  (MAP)
BUS – 1 min walk – Endeavour Blvd bus stops  (676, 679, 681, 682, 687, 688, 689)
Food & Refreshments
A 30 minute lunch break is scheduled for courses running over 4 hours. You are welcome to bring your own lunch. Alternatively, there are many lunch options within 5 minute walk from the venue.
NOTE: Please arrive 15 minutes prior to your course commencement. Late arrivals will generally be refused entry due to health measures and disruption to the First Aid training in progress.
Available North Lakes First Aid Courses
The First Aid courses offered by Australia Wide First Aid in North Lakes include: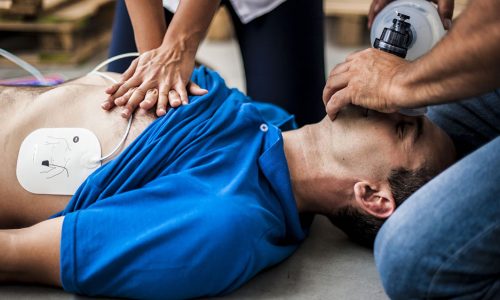 Those who want to learn cardiopulmonary resuscitation and those who want to renew their Statement of Attainment for this unit of competancy should enrol in this course. Key learning outcomes include perfecting proper practical techniques and applications of CPR. Face-to-face class duration lasts 2 hours, plus pre-course reading and online assessment.
Includes: Provide Cardiopulmonary Resuscitation (HLTAID001)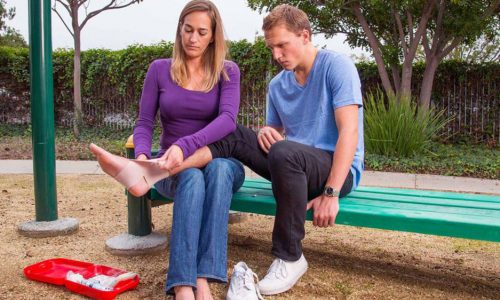 This course consists of 4-hours face-to-face First Aid training, plus pre-course reading and online assessment.
In this course, you learn the basic applications, skills, and techniques needed to administer First Aid.
Key topics include identifying emergency situations and responding to them, providing life support, and applying First Aid.
Includes: Provide Cardiopulmonary Resuscitation (HLTAID001), Provide Basic Emergency Life Support (HLTAID002), and Provide First Aid (HLTAID003)
Recommended for those who work in the childcare and education sectors, this course consists of 5-hours of face-to-face First Aid training, plus pre-course reading and online assessment.
This course covers all the units in our other courses with an additional focus on providing First Aid and CPR to infants and children.
Includes: Provide Cardiopulmonary Resuscitation (HLTAID001), Provide Basic Emergency Life Support (HLTAID002), Provide First Aid (HLTAID003), and Provide an Emergency Response in an Education and Care Setting (HLTAID004)
Who Needs First Aid?
It takes more than goodwill alone to respond to an emergency situation. You'll be able to offer proper help once you have learned best practice First Aid skills and knowledge.
With your First Aid training, you'll be able to respond effectively to emergency situations, identify risks, administer First Aid, and prevent the victim's condition from worsening.
You will helping your fellow human being in the time of need until emergency services arrive at the scene.
With your First Aid course under your belt, the right decisions will come to you effortlessly and without hesitation. This is the mindset needed in an emergency.
This is why Australia Wide First Aid is making First Aid training more accessible for everyone, with First Aid training locations all around Australia.
What Are the Benefits of Learning First Aid?
Acquiring First Aid skills and knowledge is beneficial not only to you but also to people around you. Your family, friends and colleagues will appreciate your willingness to take charge should an emergency medical situation eventuate. Respect.
You will feel more confident, knowing you have the skills to respond when needed. You'll acquire a keen eye for spotting risks and hazards. And your decision-making ability in times of emergency will be spot-on — efficient, effective, and appropriate.
If you happen to be sharing a space with a person who's at risk because of underlying health conditions, your First Aid training will be reassuring, if not vital.
What's more, First Aid certification is a decisive advantage when applying for jobs in certain industries. As a professional, completing accredited First Aid courses contributes to your continuing professional development (CPD points).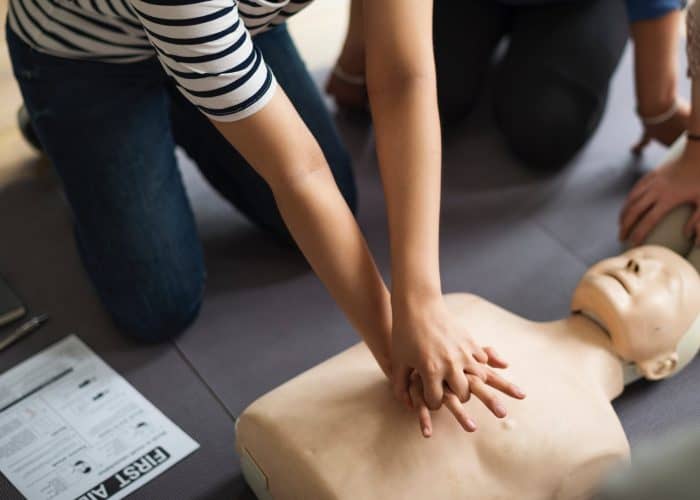 What Does It Take to Become a First Aider?
Anyone can be taught First Aid. However, to attend an Australia Wide First Aid course, you need to be at least 14 years old. If you're under 18 years, you would need consent from a parent or guardian.
Once you complete your pre-course reading and e-Learning assessment, you simply submit it online before 11:59 PM, the night before your scheduled face-to-face First Aid training.
Successful completion of your First Aid course earns you a Statement of Attainment. This First Aid certificate will be emailed to you the same day as you complete your course.
The only things that stand in the way of you receiving your First Aid certificate would be failing to a valid USI (Unique Student Identifier), failing to complete payment for your course, or failing to complete your First Aid assessment.
If you've satisfied those easy requirements, your First Aid certificate is yours the same day as your course.
Time to enrol in a North Lakes First Aid Course
Australia Wide First Aid courses are perfect for newbies who have never completed a First Aid course before.
<Equally, these First Aid courses are ideal for health professionals who have completed countless First Aid courses over the years and simply need to renew their First Aid certification.
For First Aid certification to remain current, Statements of Attainment must be renewed periodically. The certificate for CPR, for example, should be renewed annually. The same would apply to the CPR component of the Provide First Aid certificate, whereas that certificate as a whole, should be renewed every 3 years.
Enrolling is as simple as selecting your preferred date from the First Aid course selector on our website, or calling our friendly customer service team to find out more about the range of streamlined First Aid courses on offer at North Lakes.
Call today on 07 3437 7500 or email info@australiawidefirstaid.com.au