BOOK ONLINE HERE
First Aid Course Selector
Your Trusted First Aid Training Provider
To make first aid training more accessible to everyone, Australia Wide First Aid offers first aid training in 20 locations across the country. Our nationally recognised training organisation (RTO 31961) offers individual and group bookings, and we can also send our trainers and assessors to your location for on-site training. This way, you'll receive instructions that is contextualised to the specific nature of your work environment.
Our courses are conducted according to the guidelines set by the Australian and New Zealand Committee on Resuscitation (ANZCOR). We adhere to the VET Quality Framework to ensure that all our students consistently receive the highest possible quality training.
In Queensland our North Lakes training venue is located in Brisbane's Northside just off the Bruce Highway, 26 kilometres away from Brisbane central business district.
Your Statement of Attainment (PDF) will be emailed within 48 hours upon successful completion of the course.
HLTAID003 Provide First Aid
HLTAID001 CPR only
HLTAID004 Provide an emergency first aid response in an education and care setting (Childcare First Aid)

Why Choose Us?
Best Price Guarantee (find a cheaper price and we'll beat it by 10%)
Reduced Face to Face Duration
Same-Day Certificate
Nationally Recognised Certification
Accredited Training
Come to us – or we come to you
Courses 7 Days
Endorsed by the Australian College of Nursing
Endorsed by Australian Acupuncture and Chinese Medicine Association
Book Online or by Phone
Getting Here
CAR – FREE parking is available at the Norwinn Centre and on Discovery Drive. The training venue is easily accessible from Anzac Avenue and the Bruce Highway.
PUBLIC TRANSPORT  (MAP)
BUS – 1 MINS walk – Endeavour Blvd bus stops  (676, 679, 681, 682, 687, 688, 689)
Food & Refreshments
Water is provided throughout the day.
There is a 30 minute lunch break for courses running over 4 hours. You are welcome to bring your own lunch. Alternatively, there is many lunch options across the road on weekdays, and within a five minute walk on weekends.
NOTE: To make sure you have enough time to comfortably sign in and complete enrolment documents, please arrive 15 minutes prior to your course commencement. You will need your USI number with you at the time of enrolment.
Location
Our training venue in North Lakes is easily accessible to students coming from the following suburbs: Narangba, Deception Bay, Rothwell, Dakabin, Mango Hill, Kallangur and central to those commuting between the Sunshine Coast and Brisbane.
Norwinn Centre, Level 1, Suite 1.2,  15 Discovery Drive North Lakes, QLD 4509
Once you have arrived at our premises to access our training room you can use the steps or lift on the right-hand side of the entrance to the Norwinn Centre. Suite 1.2 is located on level 1, on the left towards the end of the corridor. There's ample free parking on Discovery Drive and within the Norwinn Centre itself. Discovery drive is accessible via Anzac Avenue and the Bruce Highway, and a bus route passes by it. Students need to arrive at the training venue 15 minutes ahead of their scheduled course so they can complete the attendance sheet and settle in so the class gets underway right on schedule.
It takes more than goodwill alone to respond to an emergency situation. To ensure that you'll be able to extend proper help while at the same time not causing injury to yourself, you need to learn best practice first aid skills and knowledge. This is where first aid training comes in. With it, you'll be able to identify risks and emergency situations, administer first aid, and prevent the victim's condition from worsening until emergency services arrive at the scene.
What Are the Advantages of Learning First Aid?
Acquiring first aid skills and knowledge presents plenty of advantages not only to prospective first aiders but also to the people around them. Your family and work mates will feel safer and more secure because of the presence of a first aider nearby. They know that someone has the skills and knowledge to offer them help in emergency situations.
Certified first aiders also stand to gain from their first aid skills. They'll feel more confident responding to various situations, acquire a keen eye for spotting risks and hazards, and hone their decision-making skills in times of emergency. This can also provide added assurance if they're living or working with a person who is at risk of various health emergencies due to underlying health conditions. What's more, first aid certification can be an advantage when applying for certain jobs or in some industries, and professionals can gain continual professional development (CPD) points by completing accredited first aid training courses.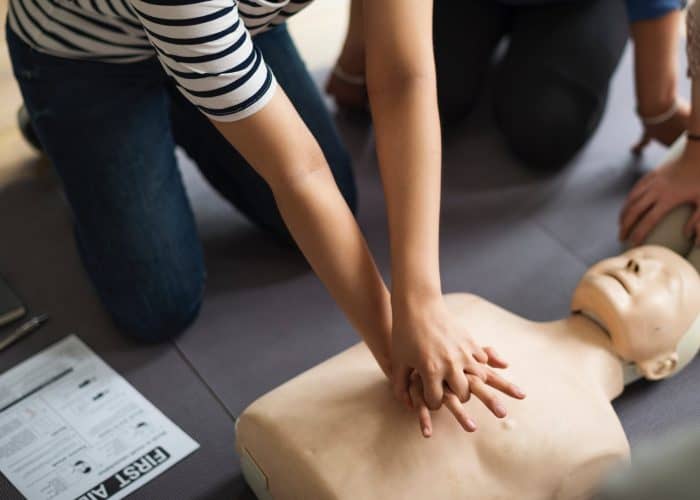 What Does It Take to Become a First Aider?
Anyone can be taught the value of first aid at any age, but students need to be at least 14 years old in order to attend an Australia Wide First Aid first aid training course. Successful participants are issued with a Statement of Attainment. Each student is required to complete their pre-course reading and online assessment by 11:59 PM, the night before the scheduled face-to-face training. At the same time, they should also provide a valid USI, settle their payment for the course, and complete the assessment needed for the training. They'll receive their Statement of Attainment via email on the same day as the course or at the latest within 24 hours of passing all assessments and completing all requirements of the course.
List of First Aid Courses
Here is the list of first aid courses that Australia Wide First Aid Offers: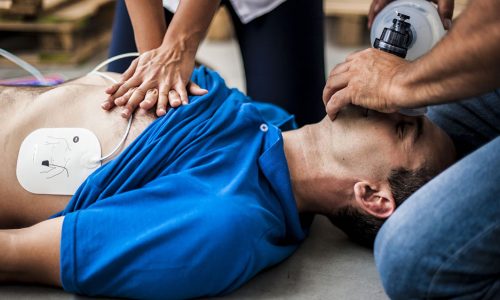 Those who want to learn cardiopulmonary resuscitation and those who want to renew their Statement of Attainment for this unit of competancy should enrol in this course. Key learning outcomes include perfecting proper practical techniques and applications of CPR. Face to face class duration lasts 2 hours plus pre-course reading and online assessment.
Includes: Provide Cardiopulmonary Resuscitation (HLTAID001)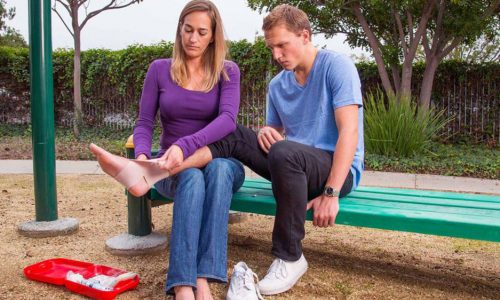 This course consists of 4-hours face to face, and pre-course reading and online assessment. It teaches students the basic applications, skills, and techniques needed to administer first aid. Key topics include identifying emergency situations and responding to them, providing life support, and applying first aid.
Includes: Provide Cardiopulmonary Resuscitation (HLTAID001), Provide Basic Emergency Life Support (HLTAID002), and Provide First Aid (HLTAID003)
Recommended for those who work in the child care and education sector, this course consists of 5-hours face to face, pre-course reading and online assessment. It covers all the units in our other courses but also has an additional focus on providing first aid and CPR to infants and children.
Includes: Provide Cardiopulmonary Resuscitation (HLTAID001), Provide Basic Emergency Life Support (HLTAID002), Provide First Aid (HLTAID003), and Provide an Emergency Response in an Education and Care Setting (HLTAID004)
Time to enrol in a North Lakes First Aid Course
Australia Wide First Aid courses are perfect for newbies who have never completed a first aid course before as well as health professionals who have completed countless first aid courses over many years and are simply needing to renew their certification. For your first aid certification to remain current, Statements of Attainment must be renewed periodically. The certificate for CPR, for example, should be renewed every 12 months, and Provide First Aid certificates requires renewal every three years.
Enrolling is as simple as selecting your preferred date from our first aid course selector on our website, or giving our friendly customer service team a call to find out more about the range of our industry leading first aid courses on offer at North Lakes, call us today on 1300 336 613 or email info@australiawidefirstaid.com.au