CPR First Aid Course North Lakes
CPR & First Aid Courses Fast-Tracked

Online First Aid Course + Face-to-Face Training

Same-Day First Aid Certificate – Nationally Recognised

Group First Aid Courses at Your Site

Royal Australian College of General Practitioners – endorsed

Australian College of Nursing – endorsed

Registered Training Organisation #31961

Check Course Availability in Selector above

Find a Cheaper Price, We'll Beat it by 10%
Your Australia Wide First Aid North Lakes Trainer
Jason, your first aid instructor at Australia Wide First Aid North Lakes, is enthusiastic and engaging.
He is an active Australian Defence Force member with the Australian Army and  is based in Brisbane. But he won't hesitate to go the extra mile to help people, from all walks of life, reach their potential..
Jason lives by Travis Rice's credo, "We'll never know our full potential unless we push ourselves to find it."
Qualified in human resources, and training and assessment, and transport and logistics, Jason has more than 15 years' experience in training and instructing in a diverse range of industries. This includes physical training instruction and leadership management.
Choosing a First Aid course trainer
Getting Here
CAR – Free parking is available at the Norwinn Centre and on Discovery Drive. The training venue is easily accessible from Anzac Avenue and the Bruce Highway.
PUBLIC TRANSPORT  (MAP)
BUS – 1 min walk – Endeavour Blvd bus stops  (676, 679, 681, 682, 687, 688, 689)
Food & Refreshments
A 30 minute lunch break is scheduled for courses running over 4 hours. You are welcome to bring your own lunch. Alternatively, there are many lunch options within 5 minute walk from the venue.
NOTE: Please arrive 15 minutes prior to your course commencement. Late arrivals will generally be refused entry due to health measures and disruption to the first aid training in progress.
Frequently Asked Questions
How long does first aid qualification take?
A first aid course can be done in one day, provided you complete the required e-Learning prior to the day of your course.
The online first aid course module comprises e-Learning — reading material (First Aid eBook) plus a multiple-choice questionnaire you can do in your own time.
Just be sure to submit your completed e-Learning by 11:59pm the day before your scheduled face-to-face training and assessment. This practical session is also streamlined, taking 2 to 5 hours, depending on which course you take.
How long does my first aid certificate last for?
The validity period for the Provide CPR certificate is 12 months from date of issue. The official recommendation for Provide First Aid and Child Care First Aid, is to renew your certification every 3 years
How much does a first aid course cost?
Costs for our first aid courses are cheaper than you'll find anywhere else — whether for Provide CPR, Provide First Aid, or Child Care First Aid.
The drop-down selector at the top of our web pages shows up-to-the-minute prices and availability for all our first aid courses.
Our Best Price Guarantee gives you a 10% advantage over any competing first aid courses.
Where are first aid courses held?
We provide first aid training in
See all of our branches listed here: Find a First Aid course near me.
Group first aid training can also be conducted, by arrangement, at your site. The booking arrangements are easier to manage and, more importantly, the training can be tailored to suit the specific health and safety concerns at your workplace.
Are school first aid courses available?
Our trainers are available for Group First Aid courses. The minimum age for first aid certification is 14 years.
What Are the Benefits of Learning First Aid?
Acquiring first aid skills and knowledge is beneficial not only to you but also to people around you. Your family, friends and colleagues will appreciate your willingness to take charge should an emergency medical situation eventuate. Respect.
You will feel more confident, knowing you have the skills to respond when needed. You'll acquire a keen eye for spotting risks and hazards. And your decision-making ability in times of emergency will be spot-on — efficient, effective, and appropriate.
If you happen to be sharing a space with a person who's at risk because of underlying health conditions, your first aid training will be reassuring, if not vital.
What's more, first aid certification is a decisive advantage when applying for jobs in certain industries. As a professional, completing accredited first aid courses contributes to your continuing professional development (CPD points).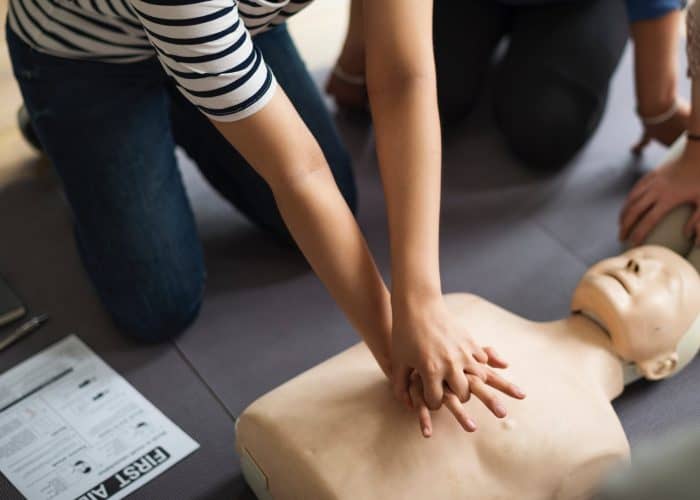 What Does It Take to Become a First Aider?
Anyone can be taught first aid. However, to attend an Australia Wide First Aid course, you need to be at least 14 years old.
Once you complete your pre-course reading and e-Learning assessment, you simply submit it online before 11:59 PM, the night before your scheduled face-to-face first aid training.
Successful completion of your first aid course earns you a Statement of Attainment. This first aid certificate will be emailed to you the same day as you complete your course.
The only things that stand in the way of you receiving your first aid certificate would be failing to a valid USI (Unique Student Identifier), failing to complete payment for your course, or failing to complete your first aid assessment.
If you've satisfied those easy requirements, your first aid certificate is yours the same day as your course.
Time to enrol in a North Lakes First Aid Course
Australia Wide First Aid courses are perfect for newbies who have never completed a first aid course before.
Equally, these first aid courses are ideal for health professionals who have completed countless first aid courses over the years and simply need to renew their first aid certification.
For first aid skills and knowledge to remain current, your first aid certification should be renewed periodically. The certificate for HLTAID001 Provide cardiopulmonary resuscitation should be renewed annually.
The same would apply to the CPR component of the HLTAID Provide first aid certificate, whereas that certificate as a whole — likewise for HLTAID004 Provide an emergency first aid response in an education and care setting — should be renewed every 3 years.
Enrolling is as simple as selecting your preferred date from the Course Selector on this web page, or calling our friendly team to find out more about the first aid courses on offer at North Lakes.
Call today on 07 3437 7500 or email info@australiawidefirstaid.com.au