Find a cheaper price we'll beat it by 10%
Our New South Wales First Aid training centres
Our NSW First Aid training centres in Sydney CBD and Blacktown are ideal for fast First Aid certification. We also have a training centre at Wollongong.
Up-to-the-minute information about course availability can be found in the selector above.
Tapping on the images below will take you indepth information about the training centre and the courses available there.
The Dymocks Building
Suite 17, Level 5, 428 George St
Sydney CBD, NSW 2000
Training Room at
2nd Kings Langley Scout Group Hall
Venn Ave, Lalor Park NSW 2147
Training Room at
Café Essay & Conference event space
11-13 Burelli St, Wollongong NSW 2500
OPERATING HOURS
Times and days for our First Aid Course training varies from location to location. Be sure to check your booking details carefully.
REGIONAL BOOKINGS
If you are based regionally and cannot attend the venues listed above, we may still be able to help. An onsite First Aid course could be arranged for you, depending on your requirements. See more information about this option.
Our Training Locations in New South Wales
Sydney is the most populous area in in New South Wales, as well as Australia, and the city centre serves as the workplace for around 13% of Sydney's workforce.
Australia Wide First Aid's Sydney CBD training venue conveniently serves the city's commercial centre.
Blacktown, on the other hand, is the largest suburb in New South Wales and our Blacktown training location is right in the middle of Sydney's heartland.
South of Sydney, our Wollongong training centre will provide First Aid courses for this important NSW coastal area.
By offering First Aid training in convenient venues, Australia Wide First Aid makes it easier for professionals to attend basic and advanced First Aid courses in New South Wales.
Same Day First Aid Certificate
You will appreciate being able to get your First Aid certificate in NSW, the same day as your course.
Along with fast-tracked First Aid courses that take only 1 day, Australia Wide First Aid can also arrange for our highly experienced trainers to come to your home or workplace for face-to-face First Aid training and assessments.
Australia Wide First Aid makes learning First Aid easier, more flexible and more convenient for everyone. This is why we have First Aid training locations across Australia with courses available for booking 7 days a week.
Why Learning First Aid is a Necessity
Injuries and illnesses occur all too frequently… at home and in the workplace. Learning First Aid enables you to respond immediately to emergency medical situations.
Proper First Aid training also gives you the confidence to step in and help the moment someone needs medical assistance.
Aside from enabling you to act effectively in emergency situations, First Aid knowledge also enable you to identify potential hazards in your home, office, or facility. This allows you to take steps to minimise risks and develop emergency response plans for your home or place of work.
First Aid training is also good for your career. Aside from adding to your professional development with CPD (Continuing Professional Development) points, First Aid knowledge is a requirement in many lines of work. Employers will appreciate your motivation, resourcefulness, and value to their business.
Earning a Statement of Attainment from Australia Wide First Aid — a nationally recognised training organisation — can jumpstart your career and improve your employability.
What Does It Mean to Provide First Aid?
First Aid aims to preserve life, reduce pain, and prevent the worsening of a patient's condition. This is immediate care, given to sick or injured patients until full medical help becomes available.
When you know how to administer First Aid, you are in the position to help save a life or promote a patient's recovery.
Being a First Aider goes beyond just having a set of skills and basic medical knowledge. Your mindset will be enhanced. Your decision-making will be quick and precise. You'll be able to make a quick and accurate assessment of the situation in front of you.
Your calm and compassionate manner will reassure the patient and you will waste no time when it comes to providing immediate medical assistance through First Aid.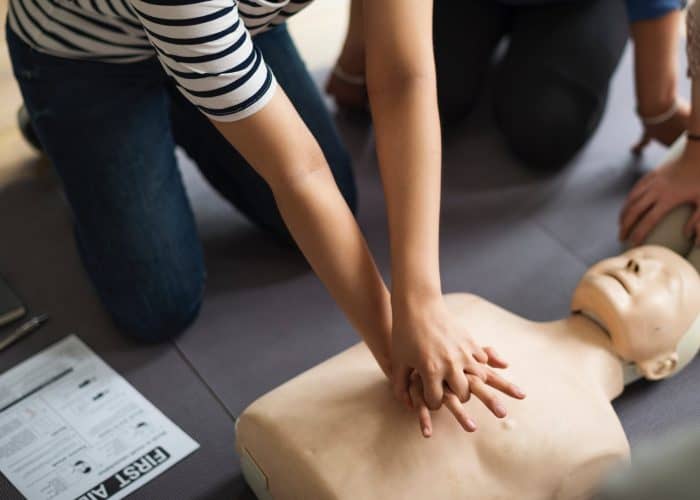 What Does It Take to Be a First Aider?
Australia Wide First Aid offers various training courses that cover everything from Provide CPR to career-specific modules, such as Provide an Emergency Response in an Education and Care Setting.
Earning your Statement of Attainment is something you can achieve in one day.
After paying for your course and getting your USI (Unique Student Identifier), you can get stuck into the pre-course reading and submit your e-Learning assessment. You'll then enjoy your face-to-face First Aid training and when you've successfully completed it, your First Aid certificate will be emailed direct to your inbox.
Important Notes About Your First Aid Qualification
After completing the booking process, you will receive your First Aid e-Manual from Australia Wide First Aid.
You need to read you e-Manual and complete your e-Learning assessment, submitting it before 11:59PM the night before your scheduled face-to-face First Aid training.
After successfully completing your course, your First Aid certificate will be emailed in PDF form to your inbox.
CPR certification is valid for 12 months, so should be renewed annually. Provide First Aid certificates are valid for 3 years.
Book your First Aid training now. If there's anything else you'd like to ask about Australia Wide First Aid's training courses in New South Wales, please email info@australiawidefirstaid.com.au.