Find a cheaper price we'll beat it by 10%
Our New South Wales First Aid training centres
Our NSW First Aid training centres in the Sydney CBD, Bankstown, Blacktown, Campbelltown, Penrith, and St Ives are ideal for fast First Aid certification. We also have a training centre at Wollongong and another in the pipeline for Newcastle.
Up-to-the-minute information about course availability can be found in the selector above.
Tap on the images below for more in-depth information about the training centre and the courses available there.
OPERATING HOURS
Times and days for our First Aid Course training vary from location to location. Be sure to check your booking details carefully.
REGIONAL BOOKINGS
If you are based regionally and cannot attend the venues listed above, we may still be able to help. An onsite First Aid course could be arranged for you, depending on your requirements. See more information about this option.
Our Training Locations in New South Wales
Sydney is the most populous area in in New South Wales, as well as Australia, and the CBD serves as the workplace for around 13% of Sydney's workforce.
Australia Wide First Aid's Sydney CBD training venue conveniently serves the city's commercial centre.
Blacktown, on the other hand, is the largest suburb in NSW. Our Blacktown training location is at the centre of Sydney's heartland.
In Sydney's south-west, we have training centres at Bankstown and Campbelltown. Further west, there is our Penrith training centre.
To the north, we have a training centre at St Ives. Another is soon to be established in Newcastle.
South of Sydney, we have a Wollongong training centre and another at Shellharbour.
With convenient training centres for First Aid courses in Sydney and NSW, Australia Wide First Aid makes it easier for you to take accredited First Aid training at cheaper prices.
Same Day First Aid Certificate
You can now get your First Aid certificate in NSW, the same day as your course.
Along with fast-tracked First Aid certification that takes as little as one day, Australia Wide First Aid can also arrange for highly experienced trainers to come to you for group First Aid training conducted onsite at your home or workplace.
Australia Wide First Aid makes learning First Aid easier, more flexible and more convenient for everyone. We have First Aid training centres across Australia with courses 7 days a week.
First Aid is Essential
At home and in the workplace, injuries and illnesses occur all too frequently. First Aid enables an immediate and often, life-saving response to emergency medical situations.
First Aid training gives you the confidence to step in and help when someone is in need of medical assistance. Calm and assured action is vital at moments like this.
Empowering you to act effectively in an emergency is not all. First Aid knowledge also allows you to see your surroundings in a new light. Scanning your environment, you will easily identify potential hazards and know how to minimise risks and develop emergency response plans for the home or workplace.
A First Aid certificate is also good for your career. First Aid knowledge is a requirement in many lines of work. It can add CPD (Continuing Professional Development) points, and employers will acknowledge your motivation, resourcefulness, and value to their business.
Jumpstart your career while learning how to save lives by taking a course with Australia Wide First Aid — a nationally recognised training organisation.
What it means to provide First Aid
The aim of First Aid is to preserve life, reduce pain, and prevent a patient's condition from worsening.
Immediate First Aid care for a sick or injured person fills the critical gap in time until full medical help becomes available.
When you administer First Aid, you are in a position to promote a patient's recovery or help save a life.
First Aid knowledge and skills will change your mindset. You will make decisions more efficiently and assuredly. That's a benefit of being able to assess situations more quickly and accurately.
This leads to confidence and calm. With a compassionate manner, you will be able to reassure a person who may be fearing the worst, not to mention onlookers who may be anxious as well. But seeing you provide immediate medical assistance through First Aid will avert any panic.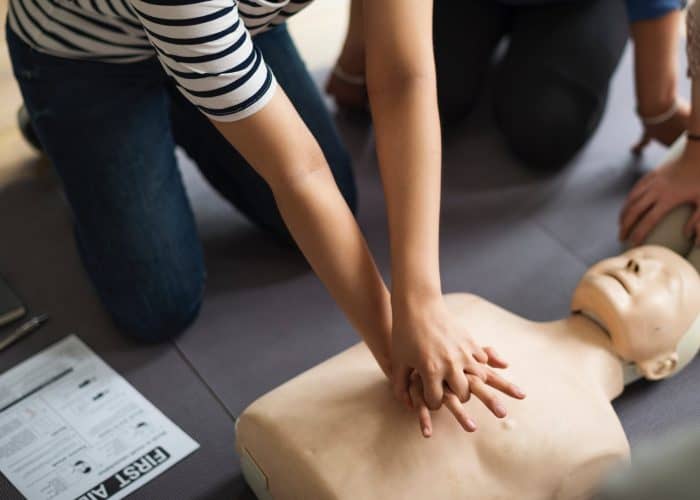 Easy path to becoming a First Aider
Australia Wide First Aid provides accredited training in Provide CPR and career-specific courses, such as Provide First Aid and Provide an Emergency Response in an Education and Care Setting.
Earning your First Aid certificate is something you can even achieve in one day.
After your enrolment, you can get a quick start on the pre-course reading, then submit your e-Learning. You're then ready for your face-to-face First Aid training and assessment. Once you've successfully completed this, your First Aid certificate will be emailed to you the same day.
Important notes about First Aid qualification
Once you book in, you'll receive your First Aid eBook from Australia Wide First Aid.
The eBook will be handy to help you answer the multiple-choice e-Learning. You'll need to submit it by 11:59PM the day before your scheduled face-to-face First Aid training.
After completing both the online First Aid course and your practical training and assessment, your First Aid certificate will be emailed in PDF form, ready to print or send on to employers.
CPR certification should be renewed annually. Provide First Aid and Child Care First Aid certificates should be renewed every 3 years.
If you need help with choosing or booking any Australia Wide First Aid training course in New South Wales, please don't hesitate to call 07 34377500 or email info@australiawidefirstaid.com.au.