1,113,511
Students Certified
BOOK NOW!
FIND A CHEAPER COURSE
WE'LL BEAT IT BY 10%
HLTAID004 - Provide an Emergency First Aid Response in an Education and Care Setting
    RTO: 31961
First Aid Course Mount Gravatt
Our First Aid course training venue at Mount Gravatt is easily reached by car and by public transport.
A pivotal Brisbane Southside suburb, Mount Gravatt is convenient if you're coming from:
Holland Park West
Holland Park
Mansfield
Nathan
Mount Gravatt East
MacGregor
Upper Mount Gravatt
Wishart
In Conference Room 1 at the Newnham Hotel, 516 Newnham Rd, Upper Mount Gravatt, you'll be a stone's throw from the Newham Road Stop and no more than 10-minutes' walk from Westfield Garden City Shopping Centre.
There is free parking on site. Whether you arrive by car or bus, don't forget to plan your arrival for 15 minutes prior to course commencement. Our streamlined First Aid courses run like clockwork.
Your First Aid Trainer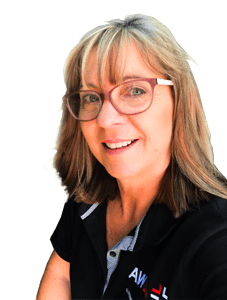 Meet Fiona — Fee to her many admirers. Second to none when it comes to First Aid training, Fee is one of our most popular First Aid instructors.
When she's not passing on her extensive knowledge to our Ipswich and Mount Gravatt First Aid students, Fee is a Training and Assessment Officer and a Deputy Group Leader for the State Emergency Service (SES).
An accomplished Senior Field Operations Member, she has earned  2 Stripes and attends call-outs, partnering with the Queensland Fire and Emergency Services (QFES) and Queensland Police Services (QPS).
Fee teaches at a few of our South East Queensland First Aid training locations, for the most part, at Ipswich and Mount Gravatt. As you'll see from our Google reviews, our  students are universal in their praise for her First Aid training.
Same Day First Aid Certificate
– Recognised Australia-wide
You get your First Aid certificate the same day you successfully complete your course with Australia Wide First Aid.
What's more, your First Aid certification is industry standard, in full compliance with strict guidelines set by the Australian and New Zealand Committee on Resuscitation (ANZCOR). We comply with the VET Quality Framework and are a nationally recognised training organisation (RTO 31961).
We also make sure our trainers and assessors are second to none. Our First Aid training is endorsed by the Royal College of General Practitioners and the Australian College of Nursing.
Your First Aid qualification will be recognised Australia-wide
On top of that, our Best Price Guarantee means you won't find an equivalent First Aid course cheaper.
Brisbane Southside First Aid Courses at Mount Gravatt include:
HLTAID003 Provide First Aid
HLTAID001 CPR only
HLTAID004 Provide an Emergency First Aid Response in an Education and Care Setting (Childcare First Aid)
Location
The Newnham Hotel
Conference Room 1
516 Newnham Rd, Upper Mount Gravatt
QLD 4122 Australia
Getting Here
CAR – FREE parking available onsite.
WALK – 10 min walk from Westfield Garden City Shopping Centre
PUBLIC TRANSPORT (MAP)
BUS – 1 minute walk from Newnham Road bus stop (170, 174, 590)
Food & Refreshment
Water, coffee and tea is available throughout the day.
A 30 minute lunch-break is scheduled for courses running over 4 hours. No external food is allowed. Lunch can be ordered at the hotel. Westfield Garden City Shopping Centre also has many options for lunch.
NOTE: Please arrive 15 minutes prior to course commencement. Late arrivals are likely to be refused entry due to disruption to our streamlined First Aid training schedules.
What You'll Learn in Your First Aid Course
You'll gain a wide range of new skills when you learn First Aid at our Brisbane Southside training venues. These skills  will enable you to respond to an injured or ill person in an emergency.
AED and CPR training
You'll learn what to do when a person has stopped breathing. In many emergency situations, CPR — cardiopulmonary resuscitation — is the game changer. It is of such vital importance, it's a wonder learning it isn't part of every school-kid's education.
You'll also learn how to use an automatic external defibrillator (AED). This is the heart-starter that paramedics regularly use to deliver a shock to a person undergoing cardiac arrest.
Treating wounds and bodily injuries
You'll also learn another important facet of First Aid — wound care. Cuts, sprains, burns and bites all need correct bandaging. Along with techniques to manage injury to bones, muscles and joints, you'll be shown the best treatment for injuries to the neck, spine, or head.
Breathing and choking emergencies
There are First Aid techniques for checking the breathing of a casualty and clearing the airway if called for. You'll learn those techniques, as well as what to do when someone is choking, from infants to adults. You'll understand and be able to provide First Aid responses that are appropriate for managing an asthma or anaphylaxis attack.
Poison training
Knowing how to deliver First Aid to a person who has been poisoned is a critical aspect of your training. You'll learn how to safely treat a victim who has been poisoned whether the toxin was inhaled, ingested, or injected by needle or fang.
Unexpected medical emergencies
Your First Aid course will also prepare you for responding to unexpected medical emergencies — from epileptic seizures to strokes and heart attacks. Your training will allow you to think quickly and act confidently. You'll be ready to make decisions and take steps that will help avoid disastrous outcomes.
Emergencies can occur in the home, the workplace, or while you're out and about. But with your First Aid training, you'll be able to take the kind of action that saves lives.
Our First Aid classes teach you not only appropriate emergency responses, but also what to look for, and how to stay safe yourself.
On a day-to-day level, your First Aid training will strengthen your resolve, lift your attitude, and enhance your career.
How Australia Wide First Aid Delivers
Our First Aid training is COVID-safe. Hygiene and social distancing are maintained at all times.
We provide one-on-one, as well as group First Aid classes. The group classes can be held at your site, which means that the First Aid training can be customised to suit your specific environment.
Our industry-experienced, fully certified trainers are available in Melbourne, Sydney, Perth and Brisbane.
First Aid Training Simplified
We make it our priority to not only provide access to accredited First Aid training, but also to blend online e-Learning with the minimum of face-to-face training.
From the outset, you choose the time and place for your practical assessment. And while the days click over until your scheduled face-to-face session, you simply complete the theory component online and at your convenience.
Once you book your course, you'll have immediate online access to a PDF First Aid manual. You'll find it full of important information and well-explained from start to finish.
However, depending on the course you selected, only a portion of the manual might be needed for your e-Learning questionnaire.
If you're running short on time, you can simply refer to the manual as you're answering the questionnaire. You can have as many attempts as you need to choose True or False, check the correct multiple-choice answers, and complete the handful of drag-and-drop puzzles.
If it takes a few attempts to arrive at the correct answer, it pays to consider why it's correct. That way, you'll gain a better insight into First Aid.
You have until 11:59pm the night before your face-to-face First Aid class to submit your e-Learning assessment. Of course, it's better if you get started sooner rather than later.
Our trainers keep things light-hearted and entertaining in class. You'll enjoy it more if you're not sleep-deprived! And you want to arrive with time to spare, relaxed.
Your First Aid Course Completed
Completing your First Aid class is not a difficult process. We make sure it runs like clockwork because we appreciate the time constraints most of us are under.
Your First Aid certificate will be emailed to you, like clockwork too, shortly after you've completed the course. Yes. Same-day certification!
You'll be pleased to know that your First Aid certificate from Australia Wide First Aid will be recognised the length and breadth of Australia. You'll be ready for career advancement, workplace compliance, and saving lives.
In time, your First Aid certificate will need a refresher. For example, HLTAID001 CPR needs to be renewed annually, including the CPR component within HLTAID003 Provide First Aid, the balance of which needs a refresher course only after 3 years. This is simply so First Aiders can align their skills with updated training methodology.
Safety First at our Mount Gravatt First Aid Courses
Australia Wide First Aid provides accredited First Aid training, ranging from basic CPR to courses that will benefit people in specific industries. You'll see these listed below.
Our most popular First Aid course and the one that First Aid-compliant workplaces insist on, is HLTAID-003 — Provide First Aid. This course will teach you the all-important DRSABCD stategy that is a foundation for providing safe First Aid.
What is DRSABCD?
D

anger
– be alert to any probable threats
R

esponse
– seek response from the injured person
S

end for help
– call emergency services
A

irway
– make sure the person's airways are unobstructed
B

reathing
– monitor the person's breathing
C

ardiopulmonary resuscitation (CPR)
– if breathing stops, try to resuscitate
D

efibrillation
– restarting the heart may require a defibrillator
Danger
Assess the scene for broken glass, overturned furniture, or sharp objects — anything that could endanger you, the victim, or bystanders, while you are trying to deliver medical assistance.
It is crucial too, that the perpetrator of the violence is not present while you're providing First Aid. Both you and the victim would otherwise be in harm's way should the perpetrator have another violent turn.
You will be in a position to safely assist the victim when there are no potential hazards.
Response
Assess whether the victim is conscious and responsive by asking them:
Can you hear me?
Open your eyes
What's your name?
Squeeze my hand
Send for help
Call emergency services — an ambulance for paramedic assistance and report the assault to the police.
Airway
The victim may be unconscious or having trouble breathing. Check to see whether their airways are clear. If not, roll the person onto their side carefully, so their spine, neck and head are aligned. Then clear out the contents of their mouth.
Breathing
Look for chest movements, feel the lower part of their chest, to assess whether the victim is breathing. Listen closely at their nose and mouth. Assuming they are breathing, continue to monitor their breathing until paramedics arrive.
Cardiopulmonary resuscitation (CPR)
If the victim is unconscious and not breathing, perform CPR. Roll the victim onto their back, place the heel of one hand on the centre of their chest with your other hand on top. Press your hands down firmly to a third of the depth of their chest and release. Repeat 30 times, then pinch their nose and place your mouth over theirs, before administering 2 breaths.
Continue with 30 compressions and 2 breaths until the victim responds or paramedics arrive to take over. If you're uncomfortable about the risk of infection, do not apply the breaths.
Defibrillator
When the paramedics arrive, they will decide if the use of an automated external defibrillator (AED) is going to be necessary.
This DRSABCD strategy is focused on basic life support. If the body is deprived of oxygen or the heart stops pumping, death follows quickly.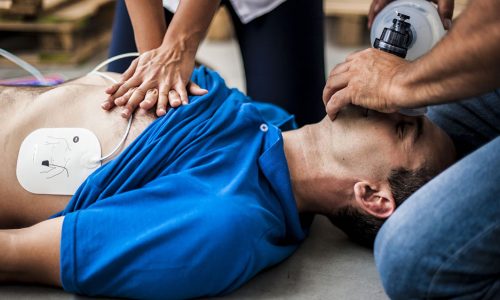 Performing CPR or cardiopulmonary resuscitation is at the centre of this 2-hour course. Enrol in this class to gain the skills and knowledge you need to be of help during cardiac emergencies.
Includes: Provide Cardiopulmonary Resuscitation (HLTAID001)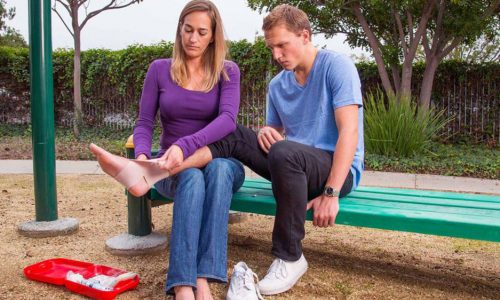 Basic First Aid skills and knowledge is the focus of this 4-hour course. Pass this course and you will be able to identify and respond to emergency situations, apply First Aid procedures, and provide life support. You'll also be taught how to communicate details of the incident to emergency responders.
Includes: Provide Cardiopulmonary Resuscitation (HLTAID001), Provide Basic Emergency Life Support (HLTAID002), and Provide First Aid (HLTAID003)
This course is specifically designed for people who will be working with children. It covers the same units as our Provide CPR and our Provide First Aid courses but contains an additional unit that focuses on First Aid treatment for infants and children.
First Aid skills are crucial in creating safer, healthier communities. When you know First Aid, you are empowered to confidently deal with situations that involve medical emergencies.
If you are considering First Aid training for yourself or for your organisation, don't worry or hesitate.
Call Australia Wide First Aid at 1300 336 613 or send us a message via our contact page. One of our friendly team will be happy to assist you.
Frequently Asked Questions
How long will it take me to complete a First Aid Course?
Our First Aid Courses will take 2 to 4 hours of face-to-face learning depending on which First Aid course you take.
| | |
| --- | --- |
| Course Title | Course Duration |
| CPR (HLTAID001) | 2 hours |
| Provide First Aid (HLTAID003) | 4 hours |
| Child Care First Aid (HLTAID004) | 5 Hours |
How much does a First Aid Course cost?
Our First Aid Courses cost between $45 to $148. Costs vary depending on the location and the First Aid Course selected.
Where are First Aid Courses held?
We provide First Aid training in locations throughout Australia, capital cities included. Find the nearest location to you. We can also provide training onsite at your location.
Is Learning First Aid Difficult?
Qualifying is not difficult because our First Aid training is something you can do from home, either by computer or using your smart device.
The balance of your First Aid course is done face-to-face. Our instructors are skilled at making this part of the course enjoyable.
You can see from our Reviews, most people breeze through. There's no reason why you won't breeze through too!
Learning First Aid is common sense if you live with a person who is at risk for medical emergencies, such as cardiac arrest or severe allergic reactions.
The skills and knowledge you'll gain from a First Aid course will prepare you for emergencies — potentially being able to help friends, family members, and anyone else in need, possibly saving a life and promoting recovery.
First Aid skills will improve your job prospects. In addition, the presence of a First Aider in a workplace also gives colleagues greater peace of mind.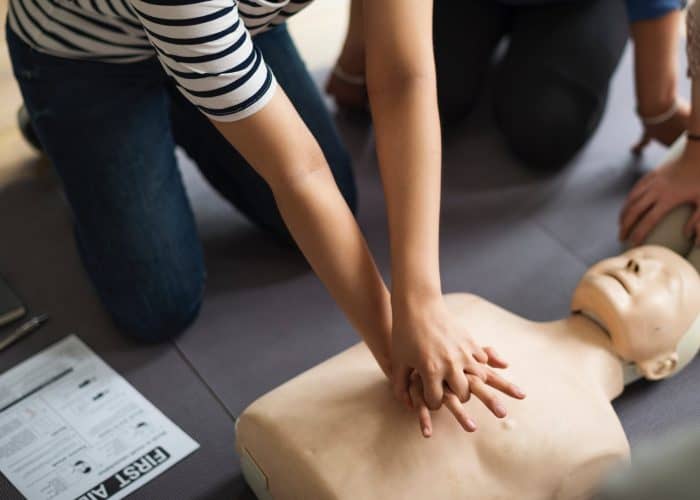 How Do I Become a Certified First Aider?
You can be as young as 14 years old to join a First Aid training course. All courses have an online assessment part, and you'd need to complete this the night before your face-to-face training.
You will need to submit a valid USI, complete your online and face-to-face training, and provide full payment for the course.
The same day as you complete all these requirements and pass your assessments, you will receive a digital copy of your Statement of Attainment via email.
Same Day First Aid Certificate. Brisbane Southside Convenience.
It's now easy to get your First Aid certification. Hit the Book Now button above and gain access to your First Aid course straight away.
Complete the online portion of your First Aid course and send it in for assessment — you have until the stroke of midnight to submit it, the day before your fact-to-face First Aid practical work starts.
This in-person instruction takes place at our Mount Gravatt First Aid training venue. It's streamlined too. The face-to-face time is kept to a minimum so you can get back to your day as quickly as possible.
When you arrive at our Mount Gravatt First Aid training venue, your trainer will check that you've complete your e-Learning assessment before your instruction begins. Then you'll see why our First Aid trainers always get such glowing reviews for their work.
You'll find the face-to-face practical First Aid work, like the online portion of your First Aid course, will be a breeze. Our First Aid classes are known for being information-packed and also for being entertaining and enjoyable.
Most of our students sail through their First Aid course. There's no reason why you won't do likewise. Later that same day, you'll find your Statement of Attainment (in PDF form) in your email InBox. Easy!
Receive your PDF of your Statement of Attainment on the same day as you complete your First Aid course. Become an asset to your community and workplace and use your First Aid qualification to support your career anywhere you go in Australia.
Likewise, update your First Aid skills and renew your First Aid certificate with Australia Wide First Aid.
Book your First Aid course in Mount Gravatt now. Or make an enquiry about any of our First Aid courses at training locations around Australia. Call 1300 336 613 or email info@australiawidefirstaid.com.au.