BOOK ONLINE HERE
First Aid Course Selector
First Aid Courses Melbourne
Despite Stage 4 Restrictions in Victoria our courses are still running in Melbourne!
We are an essential service still operating
First Aid Training In Melbourne Just Got Easier
Your First Aid training in Melbourne can be done when you need it. With Australia Wide First Aid's one-day First Aid courses, you can get your certificate the same day.
Yes, your certification will be recognised everywhere throughout Australia. You won't find a better price either.
Check out our Price Guarantee. We'll not only match any price for an equivalent First Aid course in Melbourne, we'll better it by 10%.
We're making nationally-recognised First Aid training easier and more accessible not just for individuals, but for companies in Melbourne too.
As a fully accredited training organisation (RTO no. 31961), we bring industry-leading first aid courses to Melbourne, as well as throughout the State of Victoria. Our First Aid training courses are available at many locations around Australia.
After updating your First Aid certification, skills and knowledge, you'll be well-prepared for your role in the workforce. Your clear thinking and confident action can make a valuable contribution in situations requiring an emergency medical response.
Anaphylactic shock, heart attacks, respiratory failure, snake bite… the list goes on — First Aid training is often the difference between life and death.
First Aid courses — available without hassle — are helping those in need and saving lives. You can be part of helping to ensure the safety and wellbeing of our communities.
See what some of our students are saying about our Melbourne First Aid course.
Don't Hesitate
If you're in Melbourne and wish to take a First Aid course for yourself, you can book online with just a few clicks.
If you're in business and need First Aid training for your workers, get in touch and find out how Australia Wide First Aid can help.
Call one of our friendly team members on 1300 336 613 or message us from our contact page.
Following are the First Aid courses we offer:
HLTAID003 Provide First Aid
HLTAID001 CPR only
HLTAID004 Provide an emergency first aid

Why Choose Us?
Price Beat Guarantee (find a cheaper price and we'll beat it by 10%)
Flexible Online Learning & Assessment
Same-Day Certificate
Nationally Recognised/Accredited Certification
Come to us. Or, we can come to You
Courses 7 Days
Endorsed by the Australian College of Nursing
Endorsed by Australian Acupuncture and Chinese Medicine Association
Book Online or by Phone
4.4

Based on 88 reviews
Getting Here
PUBLIC TRANSPORT (JOURNEY PLANNER)
Public transport is the easiest and quickest way to reach our Melbourne CBD training venue. BUS, TRAM and TRAIN are all close by.
NOTE: You'll need time to sign in and complete your enrolment. Please have your USI number with you and arrive 15 minutes prior to course commencement.
Food & Refreshments
Water is provided throughout the day.
There is a 30 minute lunch break for courses running over 4 hours. You are welcome to bring your own lunch. Alternatively, there are a multitude of places offering food in the area.
We are proud to be leading the Melbourne First Aid training scene. Our training rooms in Melbourne CBD are super convenient for students coming from North Melbourne, Carlton, Parkville, Fitzroy, Docklands, East Melbourne, Port Melbourne, Southbank, South Wharf, St. Kilda Rd, and South Yarra.
With iconic landmarks, such as St. Kilda Beach and Federation Square, a vibrant art and music scene, and a thriving coffee and dining culture, Melbourne is one of the most liveable cities in the world.
But even in Melbourne, accidents do happen. Recent statistics shed light on the fact that fewer than 5% of Australians are prepared for emergency situations, or know how to manage emergency first aid response — all the more reasons for Melburnians to undertake first aid training!
What Is First Aid?
First aid can be defined as the emergency management of another person's injury or illness until such time advanced first aid, or professional medical help becomes available.
First aid is necessary for many reasons. For one thing, first aid is often carried out in order to alleviate the pain or discomfort being experienced by an affected individual. For another, first aid can also be given to prevent a person's condition from further deteriorating until they can be brought to a proper medical facility or until paramedics or doctors can see them.
Most importantly, first aid is given to preserve the life of an individual. Cardiopulmonary resuscitation, for example, is a first aid technique that can be performed on someone whose heartbeat or breathing has stopped, a manual intervention which supplies the casualties brain and major organs with life-giving oxygenated blood.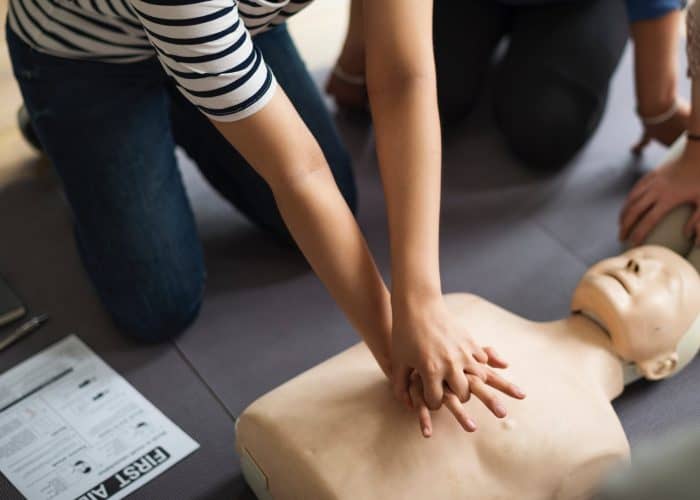 Why Do I Need a Melbourne First Aid Course
Knowing how to administer first aid can spell difference between life and death for someone in need of help.
Considering that there are almost 8 million admissions to Australian public hospital emergency departments every year, an accident or illness is always just around the corner.
Taking a First Aid course will empower you to confidently handle emergencies in both the workplace and at home.
You'll be able to help improve the chances of survival for individuals in need. You could also help prevent a person from suffering dangerous complications or even life-long problems caused by injury or illness. These could include anything from a major infection to permanent deformities and disabilities.
When you learn First Aid, you're arming yourself with critical skills and knowledge that will allow you to render quick and efficient care — including how to manage asthma and anaphylaxis — that not only can preserve life but also preserve quality of life.
What Do I Need Before Starting a First Aid Course in Melbourne?
To become a qualified First Aider, you must first obtain a Statement of Attainment for specific units of competencies from a nationally recognised training organisation, such as Australia Wide First Aid.
Businesses and organisations should conduct a thorough assessment of the actual hazards in their workplace and gain a full understanding of their legal obligations. They will then be in a position to decide how many of their workers need a First Aid certificate and which First Aid courses to book.
To attend any First Aid course with Australia Wide First Aid, the requirements for prospective students are few and simple. You must be at least 14 years of age. If you're under 18, you'll need prior signed consent from a parent or guardian.
For First Aid classes that involve cardiopulmonary resuscitation, you would need to be physically capable of carrying out 2 minutes of uninterrupted CPR while kneeling on the floor.
Types of First Aid
When people talk about "first aid" they are referring to a set of first responses that could be performed in a wide range of emergency situations. In Australia, these different types of medical responses are catalogued by the National Register of Vocational and Education Training as units of competencies, for which learners can earn Statements of Attainment.
At Australia Wide First Aid, we provide First Aid courses that cover these units of competencies, sometimes as a standalone unit, e.g. CPR Only, which has the course code HLTAID001.
Our most popular course — Provide First Aid — bundles together 3 of these units: HLTAID001, HLTAID002, and HLTAID003.
This Provide First Aid course is designed to holistically prepare you for hazards and emergencies that you may encounter in the workplace or in everyday situations in the real world. It includes how to use first aid kits in emergency and non-emergency settings.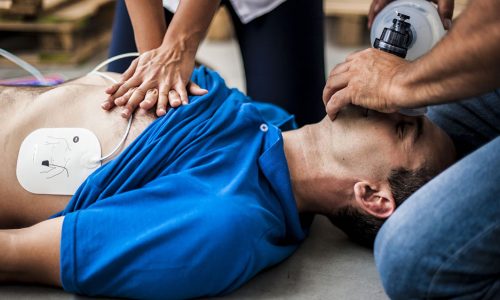 Cardiopulmonary Resuscitation – A first aid technique covered under the Provide Cardiopulmonary Resuscitation (HLTAID001) unit of competency, cardiopulmonary resuscitation or CPR, is a lifesaving procedure that is helpful in many types of emergencies, including in cases of cardiac arrest and near drowning. By combining methods, such as chest compressions and breaths, an individual trained in CPR can prevent a casualty from dying or suffering permanent brain damage due to the brain and other major organs being deprived of oxygenated blood.
Basic Emergency Life Support – Provide Basic Emergency Life Support (HLTAID002) is an Australian first aid training unit of competency that aims to provide students with the fundamental skills and knowledge necessary to respond to various emergency situations. In this course, you would be taught how to follow the DRSABCD (Danger, Response, Send for Help, Airway, Breathing, CPR, and Defibrillation) action plan, and you will likewise learn how to manage a range of conditions, including shock, bleeding, burns airway obstruction, anaphylaxis, asthma, other forms of respiratory distress, as well as bites and stings.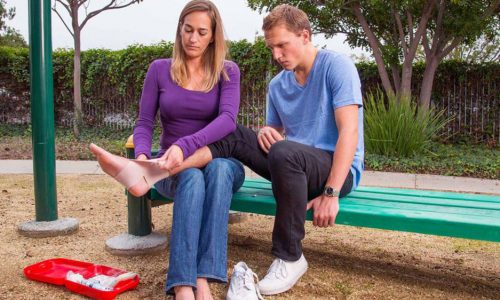 First Aid (General) – Provide First Aid (HLTAID003) is a unit of competency that used to be known in Australia as Apply First Aid or Senior First Aid. This comprehensive training unit will equip you with the skills and knowledge to be able to provide appropriate first aid response, life support, and casualty management in a range of settings — be it in your own residence, in your place of work, or out in the community. Aside from basic life support (DRSABCD), you will learn a variety of first aid techniques, such as fracture, sprain, and strain management, allergy and anaphylaxis management, envenomation management, control of bleeding emergencies, as well as choking and airway obstruction response.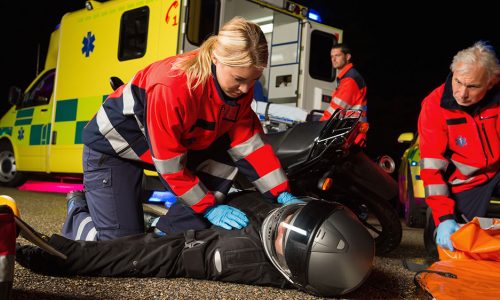 Childcare First Aid– Provide an Emergency Response in an Education and Care Setting (HLTAID004) is a first aid unit of competency specifically designed for teachers and carers. If you're a parent, you'll learn how to deliver first aid response and basic life support, and benefit from this child-focused training in incident and casualty management.