Why Choose Our First Aid Course?
Find a Cheaper Price, We'll Beat it by 10%
Flexible Online Learning & Assessment
Same-Day Certificate
Accredited Certification, Nationally Recognised
Training at Your Site by Arrangement
Courses 7 Days
Royal Australian College of General Practitioners – endorsed
Australian College of Nursing – endorsed
Book Online or by Phone
Choosing a First Aid course trainer
First Aid Course Loganholme
First aid training will prepare you for emergencies. You'll be ready to play a significant role in the community in Loganholme — helping to keep your home, workplace, and suburb safer.
If you live in Loganholme or work in a company based here, and you want to learn first aid, Australia Wide First Aid will make it easier and quicker.
You can qualify in one day, getting your first aid certificate emailed to you the same day as you complete your first aid course in Loganholme.
If you're ready to book, simply enrol online or phone 07 3437 7500 between 8am and 5:30pm on weekdays.
Alternatively, send us a message from our contact page.
Loganholme First Aid Certification
With Australia Wide First Aid, you'll be training with a nationally recognised training organisation that has a reputation for high quality and compliant training practices.
We are a (Registered Training Organisation RTO no. 31961). Our first aid training is endorsed by peak bodies, including the Royal Australian College of General Practitioners (RACGP) and the Australian College of Nursing (ACN).
Our cutting-edge first aid techniques follow guidelines established by the Australian Resuscitation Council (ARC) and the Australian and New Zealand Committee on Resuscitation (ANZCOR).
You can have absolute confidence that what you're being taught is of the highest standard. You'll end up with a first aid certificate that is highly compliant that meets all the standards of our regulator – the Australian Skills Quality Authority (ASQA). It will also be recognised Australia-wide.
Once you've completed your course successfully, your Your Statement of Attainment (PDF) will be emailed direct to your inbox — the same day!
HLTAID003 Provide first aid
HLTAID001 Provide cardiopulmonary resuscitation
HLTAID004 Provide an emergency first aid response in an education and care setting (Childcare First Aid)

Getting Here
CAR – FREE parking is available at the Business Complex or on the surrounding streets.
Turn into Wayne Goss Drive, off Browns Plains Road. Once you enter the Business Complex off Kellar Street, you'll find the Australia Wide First Aid training centre straight ahead.
PUBLIC TRANSPORT (MAP)
BUS – 10 mins walk – Browns Plains Station (545, 550)
Food & Refreshment
Water, coffee and tea is available throughout the day.
A 30 minute lunch break is scheduled for courses running over 4 hours. You are welcome to bring your own lunch. Alternatively, there is a café next door to the training centre (weekdays only).
NOTE: Please make sure you arrive 15 minutes prior to your course commencement. Late arrivals may not be accommodated due to disruption to the first aid course in progress.
Frequently Asked Questions
How long does first aid qualification take?
A first aid course can be done in one day, provided you complete the required e-Learning prior to the day of your course.
The online first aid course module comprises e-Learning — reading material (First Aid eBook) plus a multiple-choice questionnaire you can do in your own time.
Just be sure to submit your completed e-Learning by 11:59pm the day before your scheduled face-to-face training and assessment. This practical session is also streamlined, taking 2 to 5 hours, depending on which course you take.
How long does my first aid certificate last for?
The validity period for the Provide CPR certificate is 12 months from date of issue. The official recommendation for Provide First Aid and Child Care First Aid, is to renew your certification every 3 years
How much does a first aid course cost?
Costs for our first aid courses are cheaper than you'll find anywhere else — whether for Provide CPR, Provide First Aid, or Child Care First Aid.
The drop-down selector at the top of our web pages shows up-to-the-minute prices and availability for all our first aid courses.
Our Best Price Guarantee gives you a 10% advantage over any competing first aid courses.
Where are first aid courses held?
We provide first aid training in
See all of our branches listed here: Find a First Aid course near me.
Group first aid training can also be conducted, by arrangement, at your site. The booking arrangements are easier to manage and, more importantly, the training can be tailored to suit the specific health and safety concerns at your workplace.
Are school first aid courses available?
Our trainers are available for Group First Aid courses. The minimum age for first aid certification is 14 years.
What is first aid?
First aid is used to provide immediate care to people who are sick or injured, helping to stabilise their condition until professional medical help arrives.
First aid can be used to treat minor injuries, but it can also help save lives and reduce the pain felt by the person receiving aid.
In addition, it can also prevent injuries from getting worse and reduce the recovery time needed by the patient.
It's a good idea to attend a first aid course if you want to be prepared for emergency situations.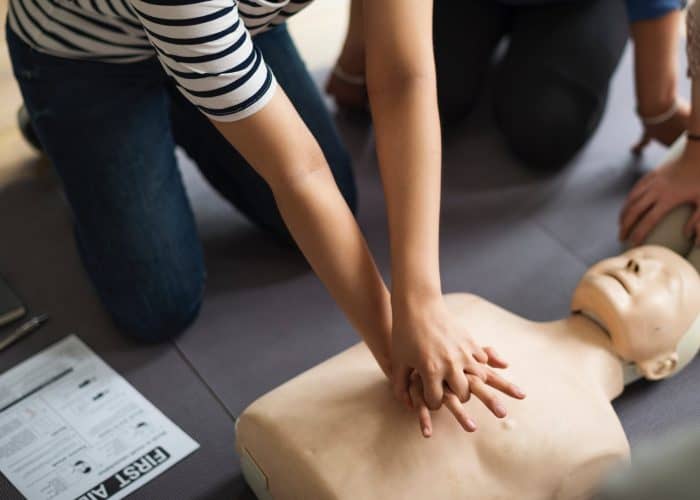 Why do I need to learn first aid?
Injuries, accidents, and medical emergencies happen all the time, and learning first aid is a solid step in ensuring you are prepared for them once they do happen.
What's more, learning first aid can also help you identify the risks in your home, office, or facility and find out how to minimise these risks.
Having a first aider in your home or workplace is also a factor when formulating a proper emergency response plan.
Learning first aid and earning a first aid certificate can also be beneficial to your career. Many workplaces and professions need people who know how to administer first aid.
A first aid certificate definitely won't hurt your employability if you're planning to work as a firefighter, electrician, or lifeguard, just to name a few.
At the same time, completing first aid courses can also gain you Continuing Professional Development (CPD) points.
How do I qualify for first aid in Loganholme?
To become a qualified first aider, you'll need to hold a Statement of Attainment that shows you have completed a first aid training module.
Australia Wide First Aid is a nationally Recognised Training Organisation (RTO 31961), so completing your training and assessment with us will earn you a nationally recognised Statement of Attainment.
Our first aid courses are taught in accordance with guidelines set by the Australian and New Zealand Committee on Resuscitation (ANZCOR). And to ensure that you receive consistently professional training, our trainers and assessors adhere to the VET Quality Framework.
You need to be at least 14 years old to undergo our first aid training.
After booking your first aid course, you will have immediate access to your First Aid eBook. Reading it and referring to it will help you sail through your online assessment.
With this section of your first aid training being online, you'll be free to take breaks and resume to fit in with your busy lifestyle.
When it comes to answering your e-learning questionnaire, you get as many attempts as you need to select the correct answer. You have until 11:59PM the night before your face-to-face training to complete and submit your e-Learning answers.
Loganholme in focus
Loganholme is a suburb in Logan City, Queensland. Located about 29 kilometres from Brisbane, this suburb borders the Logan River and is bisected by the Pacific Motorway and the Logan Motorway.
While houses occupy most of the land in the area, Loganholme has a commercial and industrial section and a park that serves as a venue for large groups and events.
This quiet, easily accessible suburb is also home to one of Australia Wide First Aid's most important first aid training locations in Queensland. Our regular trainings here make first aid skills and knowledge more accessible to residents and businesses based in and around Loganholme. There is also great demand here from those who need to review and refresh their first aid skills.
To take the hassle out of finding convenient first aid training locations and schedules, Australia Wide First Aid has training locations Australia-wide.
Our streamlined first aid courses, which only take up 1 day, can be booked any day of the week. We can also arrange for our experienced first aid trainers to come to your home or workplace for on-site group training. This is first aid training that is tailored to needs of the environment where it is being held.
Your trusted first aid course provider in Loganholme
To complete your first aid training and receive your first aid certificate faster and with less hassle, book now with Australia Wide First Aid.
You can book online or phone us on 07 3437 7500.
Alternatively, send us a message from our contact page.