Find a cheaper price we'll beat it by 10%
First Aid Course Logan
Find a Cheaper Price, We'll Beat it by 10%
Flexible Online Learning & Assessment
Same-Day Certificate
Accredited Certification, Nationally Recognised
Training at Your Site by Arrangement
Courses 7 Days
Royal Australian College of General Practitioners – endorsed
Australian College of Nursing – endorsed
Book Online or by Phone
Choosing a First Aid course trainer
Logan First Aid Course Training Centre
Australia Wide First Aid knows how difficult it is to find time for First Aid training, which is why our company offers First Aid courses in Logan Central in Logan City, Queensland.
This is one of many areas in Queensland, and Australia, where we conduct regular training courses. Logan serves as the central business district of Logan City, making it a convenient venue for First Aid students, particularly those who are coming from a corporate setting.
At Australia Wide First Aid, we specialise in streamlined and flexible First Aid training. With fewer hassles to disrupt your busy schedule, our Logan First Aid courses allow you to choose to attend a course any day of the week and do most of the course work online and at your convenience.
We also provide First Aid training in Logan and surrounding areas for group sessions at homes and workplaces.
About Our Logan First Aid Training
In order to be able to respond to an emergency like a First Aid Pro, and be fully certified, we all really need to get training immediately, and only from a nationally recognised training organisation with a reputation for high quality and compliant training practices.
Australia Wide First Aid (Registered Training Organisation RTO no. 31961), is exactly that. We are endorsed by peak bodies such as the Australian College of Nursing (ACN), we partner with the best known Complementary Health Modalities in the country such as the Australian Acupuncture and Chinese Medicine Association (AACMA), and our cutting edge First Aid techniques are set by the Australian Resuscitation Council (ARC).
So you along with tens of thousands of other Aussies receiving first aid training from us every year have absolute confidence that what your being taught is of the highest industry standard. You will end up with a First Aid Course Certificate that is highly compliant that meets all the standards of our regulator – The Australian Skills Quality Authority (ASQA).
Your Statement of Attainment (PDF) will be emailed within 48 hours upon successful completion of the course.
HLTAID003 Provide First Aid
HLTAID001 CPR only
HLTAID004 Provide an emergency first aid response in an education and care setting (Childcare First Aid)

Getting Here
CAR – FREE parking is available at the Business Complex or on the surrounding streets. Turn into Wayne Goss Drive, off Browns Plains Road. The Australia Wide First Aid training centre is located straight ahead once you enter the Business Complex off Kellar Street.
PUBLIC TRANSPORT (MAP)
BUS – 10 MINS walk – Browns Plains Station (545, 550)
Food & Refreshments
Water, coffee and tea is provided throughout the day.
There is a 30 minute lunch break for courses running over 4 hours. You are welcome to bring your own lunch. Alternatively, there is a cafe located next door to the training centre (weekdays only).
NOTE: To make sure you have enough time to comfortably sign in and complete enrolment documents, please arrive 15 minutes prior to your course commencement. You will need your USI number with you at the time of enrolment.
Types of First Aid
These courses are offered by Australia Wide First Aid: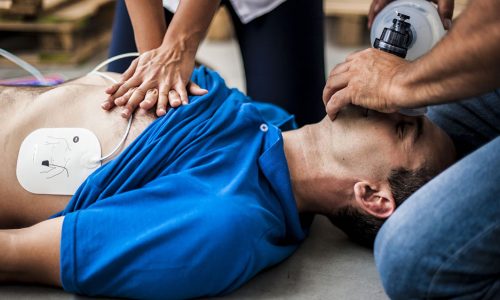 The first component of Provide First Aid, this course imparts skills and knowledge needed to respond properly to breathing and cardiac emergencies. This 3-hour course includes Provide Cardiopulmonary Resuscitation (HLTAID001). We also offer a 2-hour Express CPR course.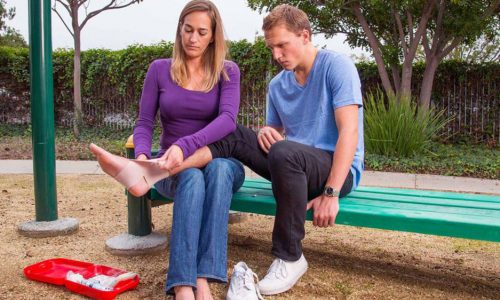 The minimum requirement for first aid compliance in the workplace, this 8-hour course covers first aid response, life support, and casualty management. It includes Provide Cardiopulmonary Resuscitation (HLTAID001), Provide Basic Emergency Life Support (HLTAID002), and Provide First Aid (HLTAID003). We also offer a 5-hour Express Provide First Aid course.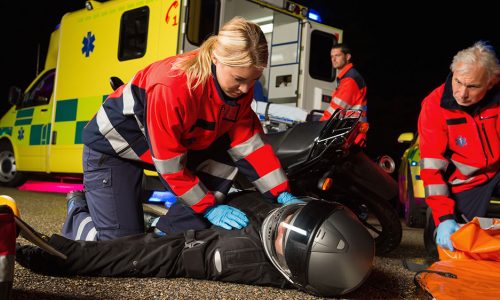 An ideal course for those who work with children, Emergency First Aid equips students with the skills required to provide first aid to an adult, child, or infant. This 9-hour course includes Provide Cardiopulmonary Resuscitation (HLTAID001), Provide Basic Emergency Life Support (HLTAID002), Provide First Aid (HLTAID003), and Provide an Emergency Response in an Education and Care Setting (HLTAID004). We also offer a 6-hour Express Emergency First Aid course.
What Is First Aid?
First aid refers to the immediate care provided to people who are sick, injured, or undergoing a medical emergency. It improves the patient's chances of survival, prevents their condition from worsening, and eases the pain they are experiencing. First aid can be used to treat minor injuries; however, in the face of serious medical emergencies, the proper use of first aid knowledge and tools may save a life.
Different situations require different first aid responses, and first aid training courses can be taken to prepare yourself for each. In cases of emergency, first aid providers must remember these 3 basic steps: first, check the scene for danger and ensure that your safety is not at risk; second, call for medical help if necessary; third, if the scene is safe, provide care to the sick or injured person.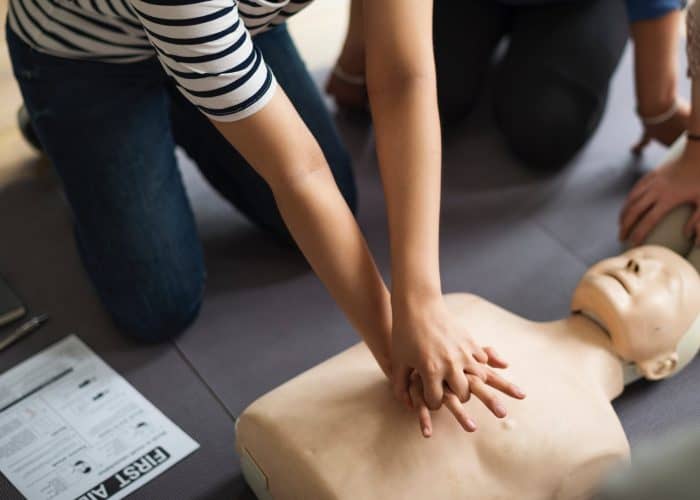 Why Do You Need to Learn First Aid?
Learning first aid is essential for anyone who wants to be ready for emergencies. Injuries, illnesses, and accidents happen all the time, and it's better to prepare yourself for these situations than to be caught unaware once they do happen. Administering first aid in a timely manner can help save a life, alleviate pain, and improve the patient's recovery time.
First aid knowledge can be useful at work. First aid training courses can help people identify workplace hazards and how to respond to them properly. Also, having a first aider in the workplace is essential when developing site- and situation-specific emergency response plans.
What's more, knowing how to properly apply first aid can improve a person's employability. This is because large companies often need to have employees with first aid training in order to comply with work health and safety regulations. In addition, first aid certification is also a prerequisite for lifeguards, firefighters, electricians, construction workers, and in many other professions.
Are You Qualified to Do First Aid?
First aiders must earn a statement of attainment by completing all the required units of a first aid module. You can do this by attending a training course with a nationally recognised training organisation like Australia Wide First Aid. To find the course that will be of most use to you, you need to have a good idea of the risks and threats present in your facility or home. Take note that students need to be at least 14 years of age, and those below 18 years old need to have signed consent from their parents or guardians.
Before and After Attending First Aid Training
There's more to learning first aid than attending a face-to-face training. Before attending a regular or fast-tracked course, students first need to read Australia Wide First Aid's e-manual and complete the online assessment by or before 11:59PM the night before their training takes place. Within 24 hours after completing the course and passing the assessment, you'll receive your statement of attainment. Take note that CPR certifications are only valid for 12 months and Provide First Aid certifications are only valid for 3 years.
For bookings and inquiries about Australia Wide First Aid's training courses in Logan Central, please call 07 3437 7500 or email info@australiawidefirstaid.com.au.