First Aid Course Logan Central
Find a Cheaper Price, We'll Beat it by 10%
Flexible Online Learning & Assessment
Same-Day Certificate
Accredited Certification, Nationally Recognised
Training at Your Site by Arrangement
Student-Focused for Better Training Outcomes
Royal Australian College of General Practitioners – endorsed
Australian College of Nursing – endorsed
Book Online or by Phone
Logan Central first aid training centre
Australia Wide First Aid provides accredited first aid courses in Logan Central, Queensland. This makes first aid certification faster and more accessible for people in the Brisbane Southside area.
This is one of many areas in Queensland, and Australia, where we regularly conduct our streamlined training courses. Logan Central serves as the business district for Logan City. It's also a convenient location for first aid students, particularly those who are coming from a corporate setting.
At Australia Wide First Aid, we specialise in fast-tracking first aid training. With fewer hassles to disrupt your busy schedule, our first aid courses allow you to do course work online and at your convenience, and attend face-to-face training on a day to suit.
We also provide Group First Aid training in Logan Central and surrounding areas. This allows you to have first aid training for you and your colleagues in your own workplace.
Areas serviced by Australia Wide First Aid Logan:
Acacia Ridge
Alberton
Alexandra Hills
Algester
Annerley
Anstead
Archerfield
Ashgrove
Ashgrove West
Auchenflower
Augustine Heights
Bahrs Scrub
Balmoral
Bannockburn
Bardon
Barellan Point
Belivah
Bellbird Park
Bellbowrie
Belmont
Berrinba
Bethania
Birkdale
Blackstone
Boronia Heights
Bowen Hills
Brookfield
Brookwater
Buccan
Bulimba
Bundamba
Buranda
Burbank
Calamvale
Camira
Camp Hill
Capalaba West
About our Logan first aid training
Taking a first aid course with a nationally recognised training organisation is your ticket to becoming fully certified and being able to respond to an emergency like a first aid pro.
Australia Wide First Aid is Registered Training Organisation 31961. We are endorsed by Australia's peak health bodies, such as the Australian College of General Practitioners and the Australian College of Nursing (ACN). We also partner with the Australian Acupuncture and Chinese Medicine Association (AACMA).
Our first aid training adopts the guidelines set by the Australian Resuscitation Council (ARC).
You can have absolute confidence that, along with thousands of other Aussies receiving training from us, you'll be taught only the most current industry standards in first aid.
Your first aid certificate will meet all the standards of our regulator – the Australian Skills Quality Authority (ASQA) — and it will be accepted throughout Australia.
Not only that, your certificate will be emailed to you the day you complete your course.
HLTAID011 Provide First Aid
HLTAID009 Provide cardiopulmonary resuscitation
HLTAID012 Provide First Aid in an education and care setting (Child Care First Aid)

Choosing a First Aid course trainer
Getting Here
Australia Wide First Aid's Logan Central training centre is located in the Helix Business Complex on Kellar Street. (Turn into Wayne Goss Drive, off Browns Plains Road).
CAR – FREE parking is available at the Business Complex or on the surrounding streets.
PUBLIC TRANSPORT (MAP)
BUS – 10 MINS walk – Browns Plains Station (545, 550)
Food & Refreshment
Water, coffee and tea is provided throughout the day.
There is a 30 minute lunch break for courses running over 4 hours. You are welcome to bring your own lunch. Alternatively, there is a cafe located next door to the training centre (weekdays only).
NOTE: Please arrive 15 minutes prior to course commencement. This allows time for signing in and being seated. We respect the busy schedules of all in attendance and, for that reason, late arrivals may be refused admittance.
Frequently Asked Questions
How long does first aid qualification take?
First aid qualification through Australia Wide First Aid is fast-tracked. Provided you complete the required e-Learning before the day of your hands-on training and assessment, you'll get your certificate that very day.
The e-Learning is an online first aid course — a multiple-choice quiz you can do in your own time, logging off and back in as time permits. You also get a comprehensive reference in the form of a First Aid eBook (free download).
Simply complete and submit your e-Learning by 11:59pm the day before your scheduled first aid class. This practical session is streamlined training and assessment. It will take 2 to 5 hours, depending on which course you take.
How long does my certificate last for?
The official recommendation for Provide First Aid and Child Care First Aid, is to renew your certification every 3 years. The validity period for Provide CPR certification is 12 months from date of issue.
How much does a course cost?
Australia Wide First Aid courses — Provide CPR, Provide First Aid, or Child Care First Aid – are cheaper than you'll find anywhere else.
This is our guarantee. We will instantly match the price of any competing course in Australia and then beat it by 10%.
Up-to-the-minute prices and availability for all our courses can be seen in the drop-down selector at the top of our web pages shows.
Are first aid certificates accepted in all Australian states?
Our certificates are recognised and accepted all over Australia, which is extremely advantageous in the job market.
Australia Wide First Aid certificates are fully accredited and comply with national regulatons and standards. Sent to you the day you complete your course (as a PDF), you'll be able to email your first aid certificate to employers, as well as print it out.
Are school first aid courses available?
Our trainers are available by arrangement to deliver group first aid courses. The minimum age for first aid certification is 14 years.
Where are courses held?
Group training can be conducted at your site by arrangement. This makes training and booking easy for you to manage and your people can train in their own workplace.
More importantly, the first aid course itself can be tailored to address the health and safety concerns specific to your workplace.
Our training for both groups and individuals is regularly available at locations throughout
See all of our branches.
What Is First Aid?
First aid refers to the immediate care provided to people who are sick, injured, or undergoing a medical emergency. It improves the patient's chances of survival, prevents their condition from worsening, and eases the pain they are experiencing.
First aid can be used to treat minor injuries, however, in the face of serious medical emergencies, the proper use of first aid knowledge and tools may save a life.
Different situations require different first aid responses, and first aid training courses can be taken to prepare yourself for each.
In cases of emergency, first aid providers must remember these 3 basic steps:
Check the scene for danger and ensure that your safety is not at risk
Call for medical help if necessary
If the scene is safe, provide care to the sick or injured person.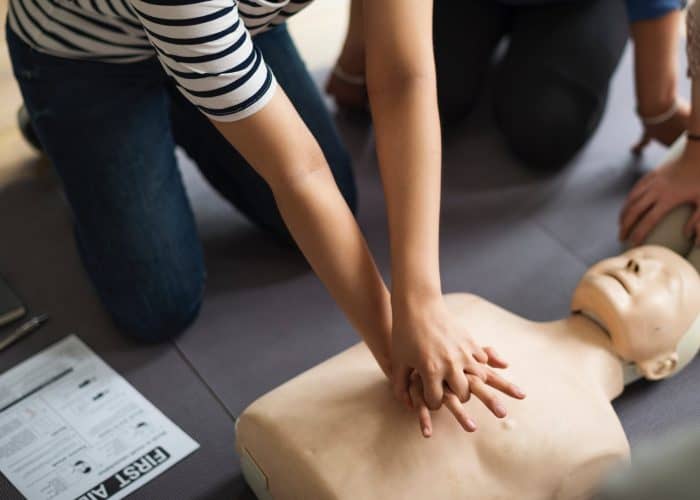 Why Do You Need to Learn First Aid?
Learning first aid is essential for anyone who wants to be ready for emergencies. Injuries, illnesses, and accidents happen all the time, and it's better to prepare yourself for these situations than to be caught unaware once they do happen. Administering first aid in a timely manner can help save a life, alleviate pain, and improve the patient's recovery time.
First aid knowledge can be useful at work. First aid training courses can help people identify workplace hazards and how to respond to them properly. Also, having a first aider in the workplace is essential when developing site- and situation-specific emergency response plans.
What's more, knowing how to properly apply first aid can improve a person's employability. This is because large companies often need to have employees with first aid training in order to comply with work health and safety regulations. In addition, first aid certification is also a prerequisite for lifeguards, firefighters, electricians, construction workers, and in many other professions.
Are You Qualified to Do First Aid?
First aiders must earn a statement of attainment by completing all the required units of a first aid module. You can do this by attending a training course with a nationally recognised training organisation like Australia Wide First Aid.
Note: Minimum age to attend our first aid courses is 14 years of age.
Before and After Attending First Aid Training
There's more to learning first aid than simply turning up for face-to-face training.
Before attending practical first aid training, reading Australia Wide First Aid's eBook is recommended. And you also need to complete the e-Learning by 11:59PM before the day of face-to-face training and assessment.
On successful completion of the course, you'll receive your first aid certification. Take note that CPR certification is valid for 12 months. Certification in Provide First Aid and Child Care First Aid is valid for 3 years.
For further information and bookings for Australia Wide First Aid Logan's training courses, please call 07 3437 7500 or email info@australiawidefirstaid.com.au.