Find a cheaper price we'll beat it by 10%
HLTAID004 - Provide an emergency first aid response in an education and care setting
    RTO: 31961
CPR First Aid Course Ipswich
CPR & First Aid Courses Fast-Tracked

Online First Aid Course + Face-to-Face Training

Same-Day First Aid Certificate – Nationally Recognised

Group First Aid Courses at Your Site

Royal Australian College of General Practitioners – endorsed

Australian College of Nursing – endorsed

Registered Training Organisation #31961

Check Course Availability in Selector above

Find a Cheaper Price, We'll Beat it by 10%
Choosing a First Aid course trainer
Trusted First Aid Training in Ipswich
Getting your First Aid certificate through Australia Wide First Aid is a streamlined process that allows you to do it in one day if you need.
Step 1: You need to provide a valid USI and of course, pay for your First Aid training.
Step 2: Complete the e-Learning — the online First Aid course module. This includes pre-course reading and submitting your online assessment on time (by 11:59pm before the day of your scheduled face-to-face- training).
Step 3: Attend the just-mentioned face-to-face training and assessment.
Once those boxes are ticked, your First Aid certificate  (PDF Statement of Attainment) will be emailed to you the same day.
Australia Wide First Aid certificates are recognised Australia-wide. Our First Aid courses are also a valuable means of accruing continuing professional development (CPD) points.
Renewing your First Aid certification is recommended by regulators. The reason for this is that First Aid is most needed in life or death situations. Updating and refreshing your knowledge and skills makes perfect sense.
HLTAID001 Provide cardiopulmonary resuscitation should be renewed annually. HLTAID003 Provide first aid should be renewed every 3 years, and so too HLTAID004 Provide an emergency first aid response in an education and care setting.
Do your bit for Ipswich — as well as for yourself and your family — by becoming First Aid certified as soon as possible.
Choose from the following Ipswich First Aid courses:
HLTAID003 Provide first aid
HLTAID001 Provide cardiopulmonary resuscitation
HLTAID004 Provide an emergency first aid response in an education and care setting (Child Care First Aid)

Ipswich First Aid Course
– Group or Individual Training
The address of Australia Wide First Aid's Ipswich training centre is:
Ipswich Corporate Centre
Suite 1, Ground Floor
16 East Street
Ipswich, QLD 4305
Students from Ipswich, as well as from any of the areas listed below will find our Ipswich First Aid training venue easy to reach:
Woodend
North Ipswich
East Ipswich
West Ipswich
Tivoli
One Mile
Churchill
Raceview
Streamlined First Aid Certification
Whether you are new to First Aid or simply wishing to refresh your skills and renew your First Aid certification, Australia Wide First Aid's fast-tracked courses are ideal.
We combine streamlined face-to-face First Aid training and assessment with a well-crafted online First Aid course (e-Learning) that you will easily fit in with your busy schedule.
Your First Aid Trainer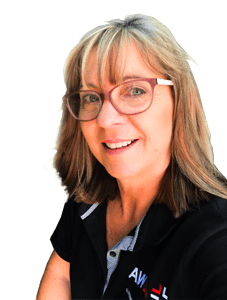 Meet Fiona — Fee to her many admirers. Second to none when it comes to First Aid training, Fee is one of our most popular First Aid instructors.
When she's not passing on her extensive knowledge to our Ipswich and Mount Gravatt First Aid students, Fee is a Training and Assessment Officer and a Deputy Group Leader for the State Emergency Service (SES).
An accomplished Senior Field Operations Member, she has earned  2 Stripes and attends call-outs, partnering with the Queensland Fire and Emergency Services (QFES) and Queensland Police Services (QPS).
Fiona teaches at a few of our South East Queensland First Aid training locations, for the most part, at Ipswich and Mount Gravatt. As you'll see from our Google reviews, our  students are universal in their praise for her First Aid training.
Getting Here
CAR – Parking is available in and around the training venue, including; Ipswich Train Station and Wharf Street.
PUBLIC TRANSPORT (MAP)
RAIL – 1 minute walk – Ipswich train station
BUS – 5 minutes' walk – Bell street Interchange (500, 502, 503, 506, 509, 512, 529)
Food & Refreshments
Water is available.
A 30 minute lunch break is scheduled for courses running over 4 hours. You are welcome to bring your own lunch. Alternatively, there is a number of cafés and coffee shops in the area.
NOTE: Please make sure you arrive 15 minutes prior to your course commencement. Late arrivals are generally unable to gain entry due to health concerns and disruption to the First Aid class in progress.
Making Cutting-edge First Aid Training Accessible
Australia Wide First Aid, as a nationally recognised training organisation (RTO 31961), committed to making cutting-edge First Aid training accessible to all Australians.
We deliver First Aid training to the public, not just in Ipswich, but also in locations right across the country.
Each of our First Aid training venues is within easy reach by public and private transport. More than this, we also provide the option of conducting face-to-face group First Aid training sessions in your home or workplace.
We are endorsed by the Royal Australian College of General Practitioners (RACGP) and the Australian College of Nursing (ACN). Our trainers comply with the VET Quality Framework, and our First Aid techniques are taught in accordance with guidelines set by the Australian and New Zealand Committee on Resuscitation (ANZCOR).
What is First Aid, and How Did It Originate?
The roots of First Aid in Australia reach back more than 200 years ago. And today most would argue that it is even more relevant and vital to our existence than it was then.
With the development of technology and skills continually honed by first responders from the medical profession and beyond, the evolution of First Aid speaks for itself.
First Aid refers to a set of stop-gap measures, before additional medical assistance becomes available, that are applied to someone in a medical emergency.
The term "first aid" (in German, erste hilfe) was first coined in 1870 by a Prussian military surgeon named Friedrich von Esmarch, who formalised its use during the Franco-Prussian War.
Today's First Aiders are meant to replicate the sensibility first demonstrated by soldiers. Bandaging wounds, treating burns, and advanced techniques, such as CPR, are all part of First Aid training.
New students will learn 3 basic principles — or 3Ps — that will govern their First Aid training:
Preserve life
Prevent further injury, and
Promote recovery.
The 3Ps are the driving force behind particular First Aid techniques and in the student's development of mental strength, compassion, and decision-making skills under pressure.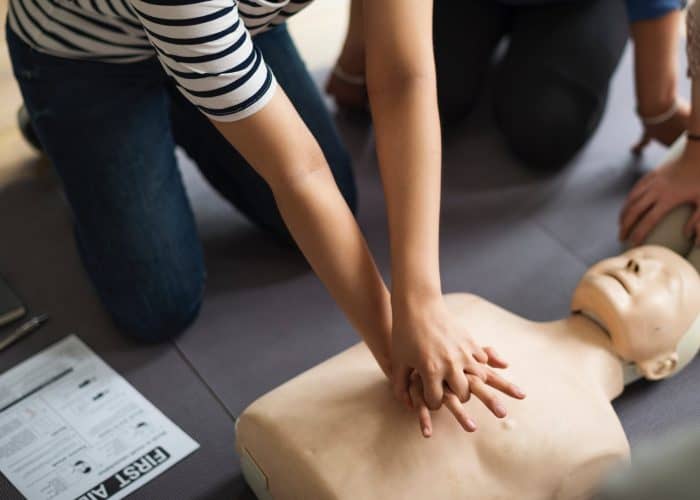 What Are the Benefits of Learning First Aid Now?
Learning first aid, and enhancing your knowledge of it over time, offers plenty of benefits. None are as obvious as when an actual medical emergency unfolds in real-time. If you have a loved one suffering from a health condition and who is vulnerable to sickness or injury, then you will be well-equipped to take care of them. You can also step in and play the part of a Good Samaritan if a stranger falls into cardiac arrest or there is a car accident which can happen anywhere including right in front of you.
Your first aid knowledge can also improve everyone's general quality of life. Your home will be safer for it, and your office, club, or sports team can count on you as an asset. First aid also ensures your own health and wellbeing. For example, you'll have better mental presence and awareness of how to help yourself if you are out and about in Ipswich city by yourself.
There is also the chance that your job prospects will improve. Some of our students enrol in our courses to gain Continuing Professional Development (CPD) points. Still, others attend our career-specific modules, such as anaphylaxis and asthma management for education and child care workers. But even if first aid training is not a prerequisite for your field of work, the credentials will still stand out on your resume. Your potential employers will assume that you have leadership and decision-making skills, and perceive you to be responsible and a very helpful and levelheaded person.
How Does One Become a First Aid Provider?
A student is awarded 'first aider' status when they complete their chosen course and receive a Statement of Attainment. They can choose to attain proficiency in all-around first aid training, in particular techniques like CPR, or in specialised first aid methods like anaphylaxis and asthma management. First-time students or those who have already completed many first aid course over the years are welcome to enrol in Australia Wide First Aid's courses.
There is a minimum age requirement of 14 years old to enrol in our first aid certificate programs. All minors under the age of 18 must submit a form of consent from their parents or guardians. Upon completing all course requirements, students will receive their Statement of Attainment which is recognised anywhere in Australia.
First Aid Courses
Australia Wide First Aid courses on offer at our Ipswich training centre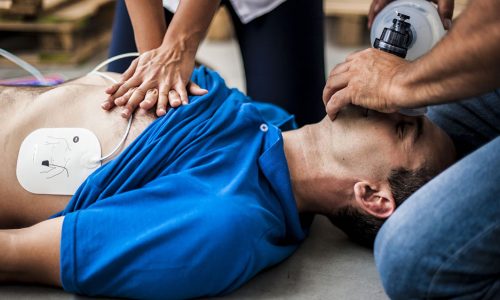 This course involves 2-hours face to face and pre-course reading and assessment. Students are taught basic knowledge and practical CPR techniques, and how to distinguish between cardiac and breathing-related emergencies, and how to use an automatic external defibrillator (AED).
Unit of competency: HLTAID001 Provide cardiopulmonary resuscitation.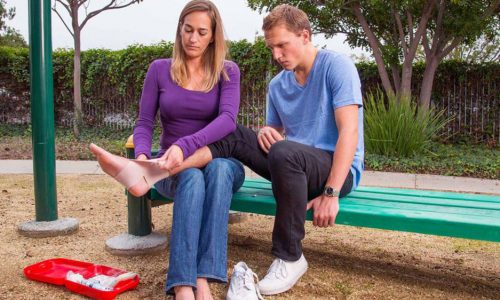 This comprehensive 4-hour face to face course also includes pre-course reading and online assessment. It represents the minimum requirements for workplace First Aid compliance. This course includes knowledge, skills and techniques for First Aid response, CPR, life support, and management of casualties.
Units of competency: HLTAID001 Provide cardiopulmonary resuscitation, HLTAID002 Provide basic emergency life support, and HLTAID003 Provide first aid.
Known also as Child Care First Aid and Emergency First Aid, this course is focussed on emergency response for education and care settings, according to the requirements of the Australian Children's Education and Care Quality Authority (ACECQA). This is a 5-hour face to face training course which also includes pre-course reading and online assessment.
Units of competency: HLTAID001 Provide cardiopulmonary resuscitation, HLTAID002 Provide basic emergency life support, HLTAID003 Provide first aid, and HLTAID004 Provide an emergency first aid response in an education and care setting.
Ipswich Growing Birthplace of Australia Wide First Aid
Ipswich — originally a coal mining town — is home to some amazing character homes and heritage commercial buildings. Ipswich also happens to be where Australia Wide First Aid originated and, to this day, remains one of Australia Wide First Aid's key training locations.
Ipswich is one of the country's fastest growing cities and, over the coming decade, its 200,000-strong population is expected to double.
The city is also home to major railways, such as the Ipswich and Rosewood railways, and cultural treasures, such as the Ipswich Central Library, Ipswich art gallery, and Ipswich Historical Society.
Aspects that animate the city are its coal mining history and its rather humid climate, which sees very hot summers and powerful summer storms. Such conditions, of course, have shaped the city. They are also the conditions in which heat stroke, cardiac arrest, and injury can occur.
Basic First Aid training courses are by far the most popular. These courses are essentially the ones that most employers require their staff to complete to meet workplace health and safety compliance.
Special focus in these First Aid Courses is given to vital life-saving techniques such as cardiopulmonary resuscitation (CPR).
Being able to get your First Aid certificate on the same day as successful completion of your training course has proved a real game changer for the people of Ipswich.