CPR First Aid Course Toowoomba
CPR & First Aid Courses Fast-Tracked

Online First Aid Course + Face-to-Face Training

Same-Day First Aid Certificate – Nationally Recognised

Group First Aid Courses at Your Site

Royal Australian College of General Practitioners – endorsed

Australian College of Nursing – endorsed

Registered Training Organisation #31961

Check Course Availability in Selector above

Find a Cheaper Price, We'll Beat it by 10%
Choosing a First Aid course trainer
Toowoomba Training Centre
Even in the beautiful garden city of Toowoomba, injuries and medical emergencies strike anytime and anywhere.
A fully accredited first aid course will help prepare you for such emergencies.
If you want your certificate cheaper and faster, Australia Wide First Aid — a nationally registered training organisation (RTO 31961) — has a first aid training centre in Toowoomba for you.
With a population of more than 135,000, Toowoomba has earned the attention of sports enthusiasts, particularly those interested in mountain biking and motocross.
This gorgeous garden city, with its many heritage-listed sites, parks and gardens, and academic institutions, attracts visitors from all over the country — especially in September when Toowoomba hosts the annual Carnival of Flowers.
Australia Wide First Aid's Toowoomba training centre services the following areas:
Centenary Heights
East Toowoomba
Harristown
Kearneys Spring
Newtown
Rangeville
South Toowoomba
About our first aid training in Toowoomba
Enrolling in one of our Toowoomba first aid courses is a career booster. It can also prove to be a life-saver.
First aid — in Toowoomba and anywhere else in Australia for that matter — should arguably be a civic duty.
Australia Wide First Aid offers high quality courses conducted by the only best first aid trainers.
We've streamlined our training methods to provide fast, cheap first aid courses and first aid certification refreshers that make it a no-brainer — no matter whether you're refreshing your skills and renewing your certification, or qualifying in first aid for the first time.
The VET Quality Framework is our guide to ensuring consistency and quality in our classes.
Our CPR first aid courses are endorsed by both the Australian College of Nursing (ACN) and the Royal Australian College of General Practitioners (RACGP).
Along with getting your first aid certificate the same day as your course, your Australia Wide First Aid certificate will be recognised and accepted Australia-wide.
Getting Here
PUBLIC TRANSPORT (MAP)
BUS – 3 MINS walk – Ruthven Street nearest stop (905)
CAR – Paid parking is available the Council car park at the rear of the Hotel, corner Neil & Annand Streets. Cost (as at 15/06/2021): $1.90/hour, maximum $9 on weekday; $4.80 on Saturday. Coins or credit card. Street parking for the duration of your course is limited.
Food & Refreshments
Water is available throughout the day.
There is a 30 minute lunch break for courses running over 4 hours. The club offers a hot carvery daily and coffee shop. No external food is allowed.
NOTE: Please arrive 15 minutes prior to your course commencement. Late arrivals may not be accommodated due to health measures and disruption to the First Aid course in progress.
Frequently Asked Questions
How long does first aid qualification take?
A first aid course can be done in one day, provided you complete the required e-Learning prior to the day of your course.
The online first aid course module comprises e-Learning — reading material (First Aid eBook) plus a multiple-choice questionnaire you can do in your own time.
Just be sure to submit your completed e-Learning by 11:59pm the day before your scheduled face-to-face training and assessment. This practical session is also streamlined, taking 2 to 5 hours, depending on which course you take.
How long does my first aid certificate last for?
The validity period for the Provide CPR certificate is 12 months from date of issue. The official recommendation for Provide First Aid and Child Care First Aid, is to renew your certification every 3 years
How much does a first aid course cost?
Costs for our first aid courses are cheaper than you'll find anywhere else — whether for Provide CPR, Provide First Aid, or Child Care First Aid.
The drop-down selector at the top of our web pages shows up-to-the-minute prices and availability for all our first aid courses.
Our Best Price Guarantee gives you a 10% advantage over any competing first aid courses.
Where are first aid courses held?
We provide first aid training in
See all of our branches listed here: Find a First Aid course near me.
Group first aid training can also be conducted, by arrangement, at your site. The booking arrangements are easier to manage and, more importantly, the training can be tailored to suit the specific health and safety concerns at your workplace.
Are school first aid courses available?
Our trainers are available for Group First Aid courses. The minimum age for first aid certification is 14 years.
Benefits of Learning First Aid in Toowoomba
Learning first aid is a worthy endeavour that will benefit not only you but also the people around you.
It will allow you to help family, friends, and workmates in need of immediate medical assistance after getting sick or incurring an injury. Being able to lend a helping hand when they need it not only provided medical care, it is also reassuring for the person.
Your first aid certificate can also improve your prospects for employment opportunities, as it demonstrates your capacity to take responsibility, make sound decisions and maintain a calm demeanour even in times of emergency.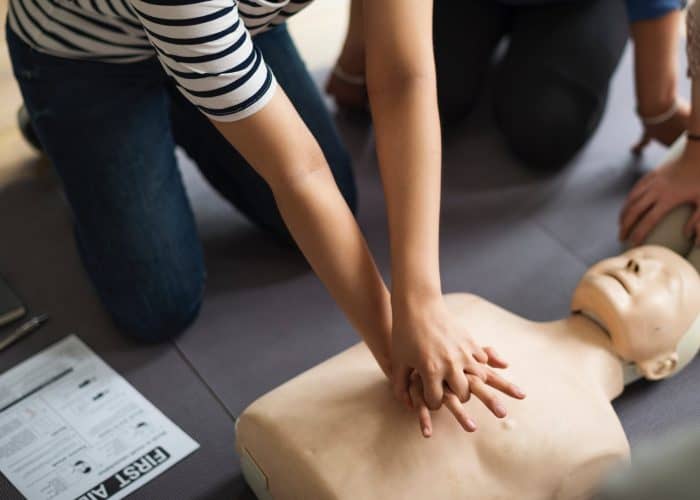 How Do You Enrol in a First Aid Course?
You can book your course as an individual, or you arrange for our trainer to come your office or home for group first aid training on-site.
Each of our first aid courses has at least 2 components: an online first aid course module, and a face-to-face session for training and assessment.
The online assessment — e-Learning — needs to be completed the night before your scheduled face-to-face training session.
You can expect to receive via email, your first aid certificate PDF shortly after completing your course.
These streamlined courses from Australia Wide First Aid are a convenient option for earning Continuing Professional Development (CPD) points.
Group first aid training is ideal for workplace compliance and first aid certification with minimal downtime to yourself or your staff.
Book a course in Toowoomba today! For further information about our first aid classes in Toowoomba, email info@australiawidefirstaid.com.au or call 07 3437 7500.