Find a cheaper price we'll beat it by 10%
CPR First Aid Course Subiaco
STraining Centre
CPR & First Aid Courses Fast-Tracked

Online First Aid Course + Face-to-Face Training

Same-Day First Aid Certificate – Nationally Recognised

Group First Aid Courses at Your Site

Royal Australian College of General Practitioners – endorsed

Australian College of Nursing – endorsed

Registered Training Organisation #31961

Check Course Availability in Selector above

Find a Cheaper Price, We'll Beat it by 10%
Claremont
Crawley
Daglish
East Perth
Floreat
Highgate
Jolimont
Mount Claremont
Nedlands
North Perth
Shenton Park
Wembley
West Leederville
West Perth and more
Choosing a First Aid course trainer
First Aid Course Subiaco Training Centre
Same-Day Certificates at Best Prices
This is a First Aid course designed to fit in with your busy Subiaco lifestyle. And you are guaranteed the course will be accredited and cheaper than a First Aid course from anyone else.
With our streamlined approach to training, you do your First Aid course online and at your convenience. And you schedule the practical part of your First Aid training for a day that best suits you.
The practical training and assessment is streamlined too. We've kept it to an absolute minimum in terms of face-to-face time.
First Aid certificate the same day? Yes!
Shortly after your face-to-face First Aid training and assessment, your First Aid certificate will be emailed direct to your InBox.
Our Subiaco First Aid courses include:
HLTAID003 Provide first aid (includes CPR)
HLTAID001 Provide cardiopulmonary resuscitation
When there's a medical emergency in Subiaco — or anywhere else for that matter — every second counts. This is where First Aid comes into its own. Early First Aid intervention can be the difference between life and death.
Your Australia Wide First Aid certificate will be recognised all over Australia. You'll be ready for career advancement, workplace compliance, as well as being better prepared for the unexpected.
Group First Aid Training in Subiaco
We also provide Group First Aid courses. This is geared to business owners who need First Aid training for their staff.
Not only can the training be conducted on-site at your premises, it can be tailored to your specific workplace health and safety needs.
And of course, this is accredited First Aid training provided by experienced, fully qualified instructors.
First Aid Refresher Courses
You'll need a refresher course at some point. Renewing your First Aid certification will freshen your memory on the details and keep up to date with First Aid training advancements.
HLTAID001 Provide cardiopulmonary resuscitation needs to be renewed annually. HLTAID003 Provide first aid remains valid for 3 years, although its CPR component should be updated annually.
Parking & Access to our training centre:
BUS – Subiaco PCYC is close to the bustop for #24, #25, #97 buses.
Plan your journey using TransPerth.
CAR – free parking may be available nearby.
Food & Refreshment
Water is readily available so you stay hydrated throughout the day.
A 30-minute lunch break is scheduled for First Aid courses running longer than 4 hours.
NOTE: Please plan to arrive 15 minutes prior to course commencement. Late arrivals cannot always be accommodated, as this can cause courses to run late, inconveniencing everyone in attendance.
First Aid Training in Subiaco
With an accredited First Aid certficate, you'll be ready to help your Subiaco neighbours in an emergency! Your First Aid and CPR training will prepare you and enable to help in any medical emergency.
Choose from the following courses held at our Subiaco training centre: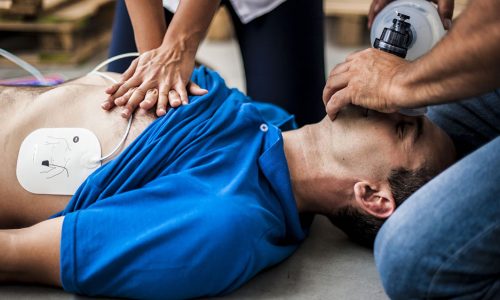 HLTAID001 Provide Cardiopulmonary Resuscitation (CPR)
CPR is a lifesaving procedure, especially in cases of cardiac arrest and near drowning. It can prevent a casualty dying or suffering permanent injury due to the brain and other major organs being deprived of oxygenated blood.
Unit of competency: HLTAID001 Provide cardiopulmonary resuscitation.
HLTAID003 Provide first aid
This unit of competency — formerly known as Apply First Aid or Senior First Aid — will prepare you to provide an appropriate First Aid response, including life support and casualty management.
You'll learn basic life support (DRSABCD) and First Aid techniques to manage emergencies such as fractures, sprains, strains, allergic reactions, anaphylaxis, envenomation, bleeding, and more.
Units of competency: HLTAID001 Provide cardiopulmonary resuscitation, HLTAID002 Provide basic emergency life support, and HLTAID003 Provide first aid.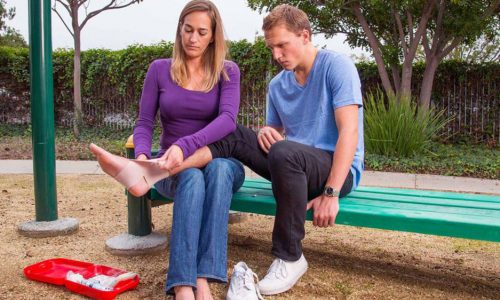 Streamlined First Aid Courses Subiaco
The Online First Aid Course
The first part of your training is an online First Aid course. This e-Learning gives you the freedom to go online and study at your convenience.
Download your First Aid eBook. You can read all the great information in it, or read only the sections relevant to the course you selected. Instructions for the relevant reading are stated in your Welcome email.
With your eBook alongside, simply refer to it freely while you complete the True or False and multiple-choice questionnaire. Take as many attempts as you need to answer correctly.
Your e-Learning assessment needs to be completed and submitted by 11:59pm before the day of your face-to-face First Aid class.
Stress less by starting sooner rather than later.
First Aid Training In-Person
With your e-Learning assignment done and dusted, you're then right for face-to-face training and assessment. You would have already pre-booked your session to fit in with your schedule.
This face-to-face session is when your trainer unpacks all aspects of your First Aid course. It's all about clarity and understanding.
It's also when you learn to perfect your First Aid techniques for CPR, bandaging, and so on. Being able to interact with your trainer,  your techniques will be fine-tuned and your confidence will be high.
At Your Australia Wide First Aid Subiaco Course
You will learn to act quickly and decisively in an emergency medical situation.
AED & CPR training
A core component of your First Aid training is CPR. Cardiopulmonary resuscitation is a game changer when a person has been deprived of oxygen.
Countless lives have been saved thanks to CPR. And timely use of an AED — automatic external defibrillator — has added to this.
An AED is the device paramedics use to shock a person back to life and, in your Subiaco First Aid course, you too will learn how to use this revolutionary heart-starter.
Breathing & Choking
You'll learn not only  how to check the breathing of a casualty, but to clear a blocked airway, if called for. You'll be shown techniques to help a person who is choking — infant or adult. You'll also learn how anaphylaxis and asthma is managed by First Aiders.
Treating Wounds
You'll learn First Aid management of injuries to bones, muscles and joints, including to the neck, spine, or head. This includes correct bandaging techniques for cuts, sprains, burns, and bites.
Poisons
You'll learn safe treatment for a person who has inhaled, ingested, or injected a toxin.
Unexpected Medical Emergency
Your First Aid course will prepare you to think quickly and act confidently in response to fainting, a stroke, a heart attack, an epileptic seizure, or due to a cause you may be unable to identify at first.
You'll learn the steps to take in order to help avert disastrous outcomes, to be alert to what to look for, and how to remain safe yourself.