Choose Your First Aid Course
We are an Essential Service maintaining effective safeguards against Coronavirus.
Why Choose Us?
Best Price Guarantee (find a cheaper price, we'll beat it by 10%)
Flexible Online Learning & Assessment
Same-Day Certificate
Nationally Recognised/Accredited Certification
Come to us. Or, we can come to You
Courses 7 Days
Royal Australian College of General Practitioners – endorsed
Australian College of Nursing – endorsed
Book Online or by Phone
First Aid Course – 2 Gold Coast Training Venues
Our Robina Town Centre training location presents convenient First Aid training for Varsity Lakes, Nerang, Broadbeach, Mermaid Waters, Mudgeeraba, Miami and Burleigh Heads residents and visitors.
Australia Wide First Aid's Robina training facility can be found here:
Robina Town Centre on Google Maps
Transport Advice
A stone's throw from Varsity Lakes and less than 10 minutes from Robina railway station, Robina Town Centre has plenty of free parking — most of it under cover.
Buses serve both Varsity Lakes and Robina railway station.
Read more about our Robina First Aid courses.
Our Southport training venue presents convenient Gold Coast First Aid training for Main Beach, Surfers Paradise, Sovereign Island, Chevron Island, Labrador, Parkwood, Molendinar, Ashmore, Bundall, and Paradise Point students.
Australia Wide First Aid's Southport training facility can be found here:
Southport Central on Google Maps
Transport Advice
Our Southport location is serviced by the G:link Gold Coast light rail, but has only limited car parking.
Read more about our Southport First Aid courses.
Locations
Robina
Our First Aid training venue in Robina Town Centre is at Shop 5059, on Level 1. This comes as a blessing for thousands of people local to the Robina area, who now have Australia Wide First Aid training in their own backyard!
Southport
Take the lift in Tower 3 to the 8th floor. Turn left as you exit the lift. Our training room is down the hall, on the left hand side.
Getting There
CAR – While there is plenty of parking in the carparks at Robina Town Centre, there is limited parking at the Southport location.
PUBLIC TRANSPORT
Public transport offers easy ways to reach our training venues.
BUS – 3 MINS walk – Bus stop ( 700, 704, 731, 737, 741, 742, 747)
LIGHT RAIL – 7 MINS walk – Southport Station
BUS – 8 mins to Robina Town Ctr – 748, 750, 751, 752, 755, 759, 747)
Walking to and from Robina Station would take around 16 mins.
Food & Refreshments
Water, coffee and tea is aailable throughout the day.
A 30 minute lunch break is scheduled for courses running over 4 hours. You are welcome to bring your own lunch. Both Southport and Robina offer many food options — with Australia Fair Shopping Centre and Robina Town Centre, respectively.
NOTE: Please make sure you arrive 15 minutes prior to your course commencement. Late arrivals will generally be unable to gain entry because of health measures and disruption to the First Aid class in progress.
Frequently Asked Questions
How long does it take to complete a First Aid Course?
A First Aid Courses will take 2 to 4 hours of face-to-face training, in addition to e-Learning modules, depending on which type of First Aid Course.
| | |
| --- | --- |
| Course Title | Course Duration |
| CPR (HLTAID001) | 2 hours |
| Provide First Aid (HLTAID003) | 4 hours |
| Child Care First Aid (HLTAID004) | 5 Hours |
How much is your Gold Coast First Aid Course?
Australia Wide First Aid Courses on the Gold Coast cost between $69 to $148.
Where Can I Take My Course?
Our First Aid training centres in Robina and Southport are convenient for Gold Coast students. However, we also have First Aid training centres right around the country, including in most state capitals. Find a location near you.
We can also arrange to provide training at your onsite location, with First Aid classes to suit the health and safety needs of your workplace.
First Aid Courses
Training courses offered by Australia Wide First Aid, at its Gold Coast locations in Southport and Robina, include: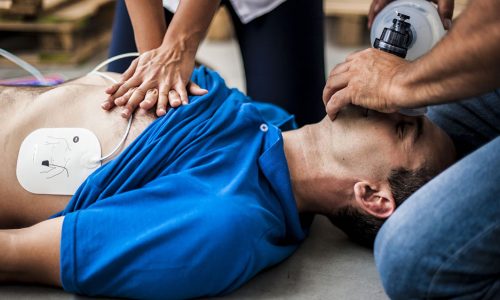 This is a course focused exclusively on cardiopulmonary resuscitation (CPR). It is delivered in 2-hours face-to-face and preceded by pre-course reading and online assessment.
Some key concepts taught in this class are responses to cardiac and breathing-related emergencies, as well as how to use an automatic external defibrillator (AED).
Includes: Provide Cardiopulmonary Resuscitation (HLTAID001).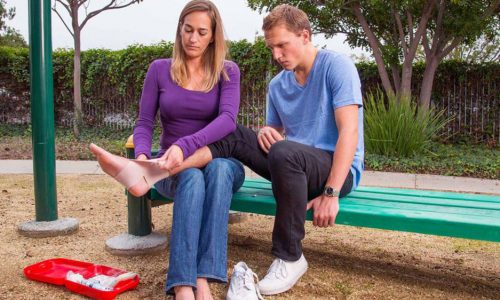 This is a comprehensive 4-hour face-to-face course, preceded by pre-course reading and online assessment.
This course is by far the most popular First Aid course and the minimum requirement of workplace First Aid compliance.
Among the concepts thoroughly covered in this course are First Aid response, CPR, life support, and management of casualties.
Includes: Provide Cardiopulmonary Resuscitation (HLTAID001), Provide Basic Emergency Life Support (HLTAID002), and Provide First Aid (HLTAID003).
The Emergency First Aid course teaches everything covered in our other 2 courses, plus specific first response for education and care settings, such as early education and childcare facilities where staff are required to have completed this course.
This course closely follows the guidelines of the Australian Children's Education and Care Quality Authority (ACECQA).
Course duration is 5 hours face-to-face preceded by pre-course reading and online assessment.
Includes: Provide Cardiopulmonary Resuscitation (HLTAID001), Provide Basic Emergency Life Support (HLTAID002), Provide First Aid (HLTAID003), and Provide an Emergency Response in an Education and Care Setting (HLTAID004).
First Aid Training – Our Place or Yours
Along with providing Gold Coast First Aid training at Robina and Southport, Australia Wide First Aid also provides group session bookings that can be held at your home or workplace.
All First Aid modules are taught by experienced trainers who make face-to-face learning engaging and entertaining.
Face-to-face practical assessment is streamlined and thorough, but kept as brief as possible. This is possible thanks to our e-Learning component, which students submit prior to their face-to-face First Aid training.
Not only does this answer the needs of time-poor students by providing the fastest means to acquire or renew First Aid certification, it is also First Aid training that is endorsed by the Royal Australian College of General Practitioners (RACGP) and the Australian College of Nursing (ACN).
The scope of each of our First Aid course varies — from basic First Aid courses to stand alone single unit courses focussed on certain techniques (such as for the CPR courses).
At the end of the day — the same day that you successfully complete your course — your Statement of Attainment is emailed direct to your Inbox. We're making First Aid come first!
Best Priced First Aid Certificates
Australia Wide First Aid is on a mission to make First Aid courses more accessible for everyone.
This means prices for First Aid training that can't be beaten and certification that is accepted Australia-wide.
With your new First Aid certificate, not only will your job prospects be enhanced, you'll also feel empowered by knowing how to respond effectively in medical emergencies.
Where human life hangs in the balance, First Aid skills are priceless.
Australia Wide First Aid, a nationally recognised training organisation (RTO No. 31961), offers a streamlined method of First Aid training. You'll be able to complete your training with unparalleled convenience.
Your e-Learning assessment gives you the flexibility to complete the theory side of your training online — at the times you choose, regardless of disruptions, and with as many attempts as you need to answer the questions in your assessment. You'll see when your answer is correct and your understanding of the topic will then become clear.
Along with thousands of other Aussies doing their First Aid training with us, you can have absolute confidence that what you're being taught is of the highest industry standard.
You will end up with a First Aid Course Certificate that fully complies with the strict parameters set by our regulator – the Australian Skills Quality Authority (ASQA).
What's more, your Statement of Attainment (PDF) will be emailed to you the same day as you successfully complete your First Aid course.
How to Become a First Aider?
Choosing to do your First Aid course with Australia Wide First Aid — a nationally recognised training organisation — means you'll be awarded a Statement of Attainment upon successfully completing of the course.
We present modules that focus on basic First Aid, and modules that cover single techniques, such as CPR. In addition, we also provide training that is geared toward workplace compliance for First Aid, as well as providing training in the First Aid management of anaphylaxis and asthma.
You can also train in First Aid for childcare and education settings.
If you are time-poor, you'll find our streamlined courses are ideal, whether you're just now taking up First Aid or wanting to renew your first aid skills and get your certification as quickly as possible.
Upon completing all your First Aid course requirements, we'll email your Statement of Attainment that same day. Your certification will be fully accredited and recognised Australia-wide.
Are You Old Enough?
First Aid should be encouraged as early as possible in life. Its basic concepts can be understood by young children. However, the minimum age of First Aid course participants is 14 years of age. Students under the age of 18, must submit a form of consent from their parents or guardians.
More Information about First Aid Certification
In order to receive your Statement of Attainment, you need to:
Complete the required coursework, including completing pre-course reading and online assessment
Provide a valid USI
Pay in full for the module
Your First Aid certificate (PDF) will be emailed to you the same day as you successfully complete your First Aid course.
As a nationally recognised training organisation, Australia Wide First Aid guarantees that your certificate will be honoured anywhere in the country.
Note that each certification is valid for a certain period. The Provide First Aid certificate is valid for 3 years, for example, while the CPR certificate is valid for 12 months.
Completing First Aid training with Australia Wide First Aid also helps you accrue continuing professional development (CPD) points.
Book your First Aid course at our Gold Coast location today. When you become a qualified First Aider, you help safeguard the lives of your friends, family, and neighbours on the Gold Coast.
For more information about our First Aid courses on the Gold Coast, simply call us on 1300 336 613 or send an email to info@australiawidefirstaid.com.au.
Resources
What is First Aid and the 3Ps?
First Aid refers to a set of interventions for a person in need of immediate medical care, applied before medical assistance becomes available.
First Aid awareness can be developed at any age, however 14 years is the starting point. Formal First Aid training, which comes with certification, involves learning complex techniques, such as cardiopulmonary resuscitation, so under-14s are deemed too young for such demanding responsibilities.
The 3 basic principles of First Aid, or 3Ps are: Preserve life, Prevent further injury, and Promote recovery.
Students in training will constantly revisit these, strengthening their foundation in cutting edge First Aid techniques, as well as their abilities to make tough calls, act quickly under pressure, and exercise compassion.
The more people who understand the 3Ps and the actions behind them, the safer and healthier our home communities will become.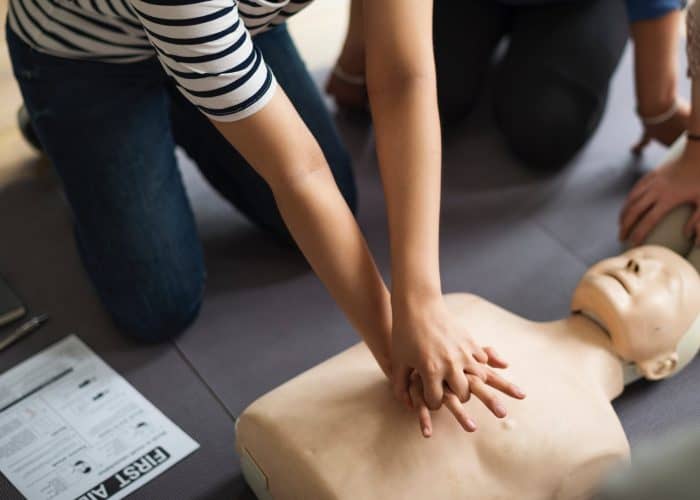 How Will First Aid Benefit Me?
First Aid knowledge is invaluable in times of medical emergency. This really hits home if you picture a family member falling victim to a life threatening accident, such as collapsing from a stroke or a heart attack.
With First Aid training under your belt, you'd have the chance to turn things around for the better… the chance of a lifetime.
Being able to intervene in a matter of life and death is what First Aid training is all about. And these are not skills reserved for medical professionals only. You can do this.
Your First Aid training will impact positively on you, your family, and your colleagues. You'll feel calm and composed about the prospect of being called for medical assistance.
First Aid certification also improves your employability. You are more likely to get the job you're after because you've demonstrated your willingness to take responsibility. Prospective employers can see this.
In addition, First Aid certification is a means of accruing Continuing Professional Development (CPD) points, satisfying the requirements for career advancement in many industries.
About the Gold Coast
The Gold Coast is where the city meets the surf. It's home to some of Australia's most famous beaches and it's been dubbed the "Adventure Lover's Playground."
There's something for everyone at the Gold Coast — from the eye candy of Surfers Paradise to the pristine nature reserves of the Gold Coast hinterland, from the boho charms of Burleigh Heads and white-knuckle rides at one of the many theme parks, to catching fish, catching rays and catching waves at points along the coast.
All that glitters is not immune from danger, however. With all this excitement, accidents do happen — anywhere and anytime. People are always getting banged up abroad. But it's not just visitors. Locals too, suffer heat stroke. There are stingers, in the water and out. In the surf and in the pool, drowning continues to be an all-too frequent occurrence.
The Gold Coast's attractions can be explored and enjoyed safely when we all do our part by learning life-saving First Aid skills.
Getting your First Aid certification helps make any community a safer place for all.