BOOK ONLINE HERE
First Aid Course Selector
Your Trusted First Aid Training Provider
Australia Wide First Aid is a nationally recognised training organisation, and we guarantee that your certificate will be accepted anywhere in the country. Each course certification is valid for a specific duration; for example, the Provide First Aid certificate is valid for 3 years, while the CPR certificate is valid for 12 months. Australia Wide First Aid courses are also a viable source for continual professional development (CPD) points.
Australia Wide First Aid deliver first aid training from 20 public training facilities across the country, all of which are easily accessible and come with ample space for parking. There is also the option of having us come to you to book group sessions at a conducive location of your choosing. Our team can train you in the convenience of your home or workplace.
Let's take good care of our fellow citizens in the Darra community by becoming a certified first aider. Book a slot in our Darra location today. For more information about our training courses in Darra, don't hesitate to call us at 1300 336 613 or send an email to info@australiawidefirstaid.com.au.
HLTAID003 Provide First Aid
HLTAID001 CPR only
HLTAID004 Provide an emergency first aid response in an education and care setting (Childcare First Aid)

Why Choose Us?
Best Price Guarantee (find a cheaper price and we'll beat it by 10%)
Reduced Face to Face Duration
Same-Day Certificate
Nationally Recognised Certification
Accredited Training
Come to us – or we come to you
Courses 7 Days
Endorsed by the Australian College of Nursing
Endorsed by Australian Acupuncture and Chinese Medicine Association
Book Online or by Phone
Getting Here
CAR – FREE parking is located at the soccer field opposite the training venue.
PUBLIC TRANSPORT
There is limited public transport servicing this area.
Food & Refreshments
Water, coffee and tea is provided throughout the day.
There is a 30 minute lunch break for courses running over 4 hours. You are welcome to bring your own lunch. Alternatively, there is a number of cafes and coffee shops in the area.
NOTE: To make sure you have enough time to comfortably sign in and complete enrolment documents, please arrive 15 minutes prior to your course commencement. You will need your USI number with you at the time of enrolment.
What are the things you need to learn in order to save a life? What differentiates a life-threatening situation where quick intervention is vital, verses less serious incidents? First aid seeks to answer these questions and many more, and it is a foundation that strengthens with time, training, and experience. As a nationally recognised training organisation (RTO 31961), these are the questions that Australia Wide First Aid is all about answering. We seek to impart first aid knowledge to every Australian at the time, place, and level of training that is right for them.
We have a variety of course offerings open to anyone looking for a first aid course in Darra. There are regular modules for our basic first aid and CPR courses. Our courses suit people returning to renew their certification, as well as those who have never done a first aid course before. Certificates are issued on the same day as the course. We are endorsed by the Australian College of Nursing (ACN), so all of our students have the peace of mind that our courses are delivered to the highest quality training standard.
Darra, which is the Aboriginal word for "stones," is a true working class suburb and a true building block of Queensland's urban life. According to the Australian Bureau of Statistics' 2016 census, the population in this suburb has grown to more than 4,000 citizens. Darra is known as a predominantly industrial suburb, but also boasts cultural diversity. Many homes here retain the traditional Queenslander style of the 1950s, and many of these households are occupied by newly welcomed immigrants. Why not work in the service of this exceptional community and protect the many people who call Darra home by becoming a certified first aider.
Our Location
Darra is a southwestern suburb of Brisbane and is surrounded by the following suburbs: Jamboree Heights, Forest Lake, Seventeen Mile Rocks, Oxley, Sumner, Richlands, Inala, Mount Ommaney, Rocklea, Acacia Ridge, Coopers Plains, Corinda, Graceville, Moorooka and Salisbury
Australia Wide First Aid's training venue in Darra is located southwest of the Brisbane Central Business District, and within easy access to Ipswich Motorway, Logan Motorway, and the Western Freeway. This is the address of our Darra training location:
1st Floor – Unit 7, 20 Archerfield Road Darra, QLD 4000
What is First Aid, and Why Does It Matter?
There are many vast skills and knowledge covered under the banner of first aid. For many first aiders it means this: first aid is the very first set of stopgap measures applied to a sick or injured person until full medical assistance arrives at the scene. Common first aid techniques that can be learned by everyone are: providing reassurance to the casualty, dressing and bandaging wounds, relieving pain, treating burns, and looking after sprains or fractures. More advanced techniques include cardiopulmonary resuscitation (CPR) and treatment for anaphylactic shock. In some cases, learning how to apply these techniques is a prerequisite for specialised employment, such as in the child care services sector.
Regardless of where we are in our first aid journey, be it as first-timers or health professionals returning to renew first aid certification, first aiders focus is always around 3 basic yet broad principles known as the (3Ps) of first aid: preserve life, prevent further injury, and promote recovery. Alongside proficiency in the techniques themselves, first aiders will learn to develop mental strength and fortitude, calmness, and the confidence to act when someone is in trouble. The more people who are trained and confident in administering the 3Ps, the more our entire community benefits. That is why Australia Wide First Aid is on a mission to get everyone in Australia trained and certified in first aid.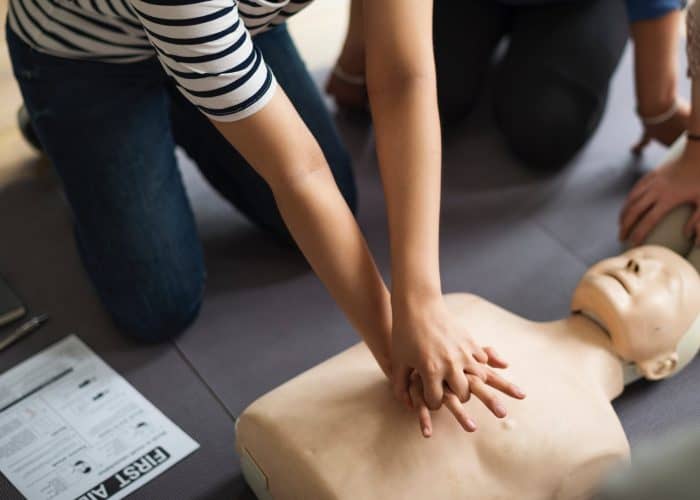 What are the Key Advantages of Learning First Aid?
Being proficient in first aid has many advantages. Top of the list is that by being trained in first aid means that we can confidently be a first line of defence when someone needs us. Whether it be a stranger we encounter in public, a work colleague, or a loved one at home. If you know first aid, you will be equipped with the knowledge, techniques and the frame of mind to step in and give them the very best chance of survival.
First aid knowledge is also useful outside of medical emergencies. If your family members, schoolmates, or officemates are aware that you can apply first aid, they'll feel safe, protected, and relaxed in your presence. As a whole, that can make vacations and outings even more enjoyable for the group.
Lastly, first aid will gives us an edge when it comes to building our careers, regardless of whether it is a prerequisite for a position. Proper first aid certification can factor into a pay raise, and it can also contribute to Continuing Professional Development (CPD) points that Australian professionals accrue. In other words, there are many valuable advantages to be had from first aid proficiency, which all add up to making it more than worth our while to enrol in an accredited first aid training course.
How Can I Acquire and Retain My Status as a First Aid Provider?
It's as simple as registering for a unique student identifier (USI), if you don't already have one, then enrol with Australia Wide First Aid either via our website or over the phone through one of our friendly customer service team.
To be eligible to enrol and be issued with a Statement of Attainment, a student must first meet the minimum age requirement, which is set at 14 years of age. All minors under the age of 18 must provide parental consent. Students graduate and receive first aider status once having successfully completed all pre-course reading and online assessment, as well as face to face training and assessment. It is then that students receive their Australia Wide First Aid nationally recognised Statement of Attainment, which is emailed to them on the day of the course.
First Aid Courses
Australia Wide First Aid offer the following courses at it's Darra training venue: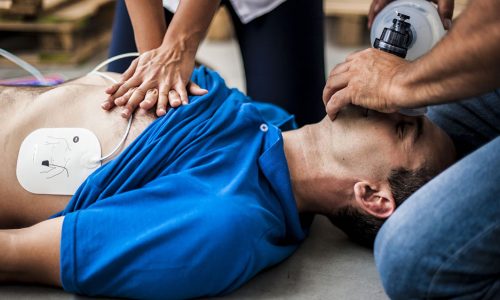 The CPR course includes 2-hours of face to face plus pre-course reading and online assessment. This course focusses primarily on the application of cardiopulmonary resuscitation (CPR). In this course, students will be taught how to confront cardiac and breathing-related emergencies, as well as how to use an automatic external defibrillator (AED).
Includes: Provide cardiopulmonary resuscitation (HLTAID001).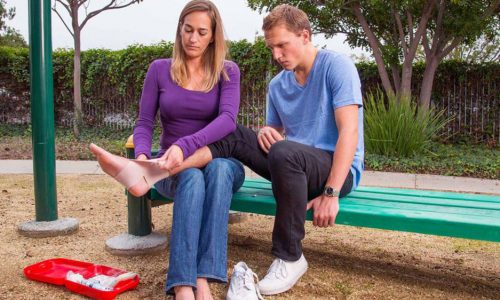 Australia Wide First Aid's Provide First Aid course is a comprehensive 4-hour face to face course. Pre-course reading and online assessment is also required. The certification from this course meets the minimum requirement of workplace first aid compliance. You may also remember the time when this same course was known as Senior First Aid, Level Two First Aid, and Apply First Aid. Among the areas addressed in this course are first aid response, CPR, casualty management, and life support.
Includes:  Provide cardiopulmonary resuscitation (HLTAID001), Provide basic emergency life support (HLTAID002), and Provide first aid (HLTAID003).   
This course covers everything covered in Provide First Aid (HLTAID001), and Provide First Aid (HLTAID003), plus an additional unit which focusses on child and infant first aid. This course is in high demand from child care workers, and early childhood educators and a requirement of their employment.
Includes: Provide cardiopulmonary resuscitation (HLTAID001), Provide basic emergency life support (HLTAID002), and Provide first aid (HLTAID003), Provide an emergency first aid response in an education and care setting (HLTAID004)
More Information about First Aid Certification
In order to receive their Statement of Attainment, students must complete the required coursework, finish the e-learning assessment, provide a valid USI, and pay for the modules in full. A PDF copy of the Statement of Attainment from Australia Wide First Aid will then be sent to the student's given email address. When all these conditions have been fulfilled, the first aid certificate is issued to the student the same day as the course.