Find a cheaper price we'll beat it by 10%
HLTAID004 - Provide an Emergency First Aid Response in an Education and Care Setting
    RTO: 31961
First Aid Course Darra
Find a Cheaper Price, We'll Beat it by 10%
Flexible Online Learning & Assessment
Same-Day Certificate
Accredited Certification, Nationally Recognised
Training at Your Site by Arrangement
Courses 7 Days
Royal Australian College of General Practitioners – endorsed
Australian College of Nursing – endorsed
Book Online or by Phone
First Aid Check-List
1. Acquire (or access) your Unique Student Identifier (USI) at https://www.usi.gov.au/.
With your USI, you are ready to enrol with Australia Wide First Aid — either via this website or by phoning one of our friendly customer service team.
2. You need to be over 14 years of age to enrol.
If you're under the age of 18, you'll need to provide parental consent.
3. You'll get access to your First Aid eBook as soon as you're enrolled. Refer to it to complete your e-Learning assessment, which you simply submit before midnight the day before your face-to-face training and assessment.
When you've done your e-Learning and face-to-face assessments, your First Aid certificate will be emailed to you the same day.
Choosing a First Aid course trainer
Darra First Aid Course Training
The address of our Darra First Aid training location is:
Unit 7, 20 Archerfield Road, Darra  [1st Floor]
Darra is south-west of the Brisbane CBD, with easy access to the Ipswich Motorway, Logan Motorway, and the Western Freeway.
Our Darra First Aid training venue is handy if you're coming from the following suburbs:
• Acacia Ridge
• Coopers Plains
• Corinda
• Forest Lake
• Graceville
• Inala
• Jamboree Heights
• Moorooka
• Mount Ommaney
• Oxley
• Richlands
• Rocklea
• Salisbury
• Seventeen Mile Rocks
• Sumner
First Aid Courses
Book for any of the following Darra First Aid courses:
The CPR course includes 2-hours of face to face plus pre-course reading and online assessment. This course focusses primarily on the application of cardiopulmonary resuscitation (CPR). In this course, students will be taught how to confront cardiac and breathing-related emergencies, as well as how to use an automatic external defibrillator (AED).
Includes: Provide cardiopulmonary resuscitation (HLTAID001). 
Australia Wide First Aid's Provide First Aid course is a comprehensive 4-hour face to face course. Pre-course reading and online assessment is also required. The certification from this course meets the minimum requirement of workplace first aid compliance. You may also remember the time when this same course was known as Senior First Aid, Level Two First Aid, and Apply First Aid. Among the areas addressed in this course are first aid response, CPR, casualty management, and life support.
Includes:  Provide cardiopulmonary resuscitation (HLTAID001), Provide basic emergency life support (HLTAID002), and Provide first aid (HLTAID003).   
This course covers everything covered in Provide First Aid (HLTAID001), and Provide First Aid (HLTAID003), plus an additional unit which focusses on child and infant first aid. This course is in high demand from child care workers, and early childhood educators and a requirement of their employment.
Includes: Provide cardiopulmonary resuscitation (HLTAID001), Provide basic emergency life support (HLTAID002), and Provide first aid (HLTAID003), Provide an emergency first aid response in an education and care setting (HLTAID004)
Your First Aid Trainer in Darra
If your schedules align, 'Woody' — aka Mark — will be your First Aid instructor at our Darra First Aid. You'll be in for a treat with Woody.
Known for his spirited, uplifting training style, Woody's humour and his ability to deliver crystal clear First Aid instruction is a winning combination.
With vast safety and emergency experience in Australia, Asia, Europe and America, his knowledge and practical advice will provide you with some of the best First Aid training time you could enjoy anywhere.
Woody has been a firefighter. He's been in the mines. He has worked at heights and in confined spaces. He's been a surf lifesaver. He's trained in rope rescues.
When he's not training at Darra, Woody also delivers First Aid instruction at our Ipswich and Springfield Lakes training locations.
COVID-19 Advice
Australia Wide First Aid training is classified as an Essential Service.
Getting Here
CAR – FREE parking is located at the soccer field opposite the training venue.
PUBLIC TRANSPORT
There is limited public transport servicing this area.
Food & Refreshments
Water is available.
A 30 minute lunch break is scheduled for courses running over 4 hours. You are welcome to bring your own lunch. Alternatively, there is a number of cafés and coffee shops in the area.
NOTE: Please arrive 15 minutes prior to your course commencement. It takes a while to sign in and be seated, and accommodating late arrivals is a disruption to the busy schedules of other First Aid students.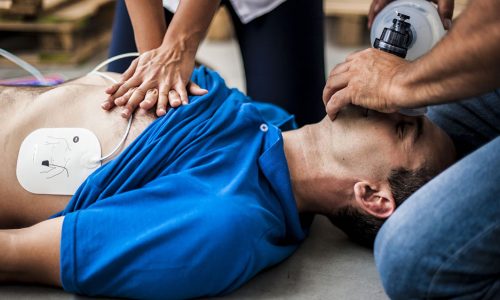 What To Learn in Order to Save a Life
Life-threatening situations require quick intervention. And knowing what to do is vital.
First Aid answers this call. It is a foundation that strengthens with time, training, and experience.
As a nationally registered training organisation (RTO 31961), Australia Wide First Aid makes this important First Aid knowledge available to Australians in Queensland, NSW, Victoria, and Western Australia.
What is First Aid, and Why Does It Matter?
First Aid is a set of game-changing measures for early responders to apply to a sick or injured person until full medical assistance arrives at the scene.
Common First Aid techniques that can be learned by almost anyone include:
Providing reassurance to the casualty
Dressing & bandaging wounds
Relieving pain
Treating burns
Treating sprains & fractures
More advanced techniques include cardiopulmonary resuscitation (CPR) and treatment for anaphylactic shock.
Learning how to apply these techniques is a prerequisite for specialised employment, such as in the childcare sector.
Regardless of where you are in your First Aid journey, whether you are a first-timer or renewing your First Aid certification again, your focus will always be on the 3Ps of First Aid:
• Preserve life,
• Prevent further injury, and
• Promote recovery.
Alongside proficiency in the techniques themselves, as a First Aider, you'll develop mental strength and fortitude, calmness, and the confidence to act when someone is in trouble.
Australia Wide First Aid is on a mission to give everyone in Australia access to training and certification in First Aid.
When more people become confident in administering the 3Ps, the more the wider Australian community benefits.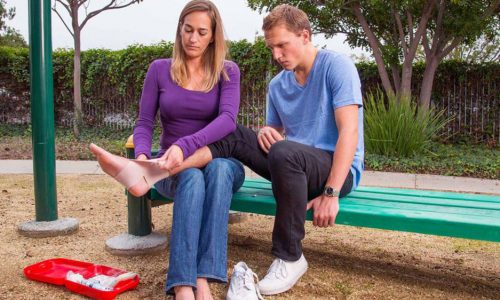 What are the Key Benefits of Learning First Aid?
Being proficient in First Aid has many benefits. Top of the list is that being trained in First Aid means you'll have the confidence to be a first responder when someone is in need of quick medical intervention. While this might involve a stranger, it could likely involve a work colleague, or a loved one at home.
If you're trained in First Aid, you'll be equipped with the knowledge and techniques, as well as being relatively calm in the situation, to step in and give the victim the very best chance of survival.
First Aid knowledge also has benefits outside of medical emergencies. People who know that you have First Aid expertise — your family members, schoolmates, officemates, etc — will automatically feel more relaxed in your presence. Feeling safer will do that. As a consequence, you will have a great opportunity to make your case for safer and more enjoyable vacations and outings for the group.
When it comes to building your career, First Aid will give you an edge, regardless of whether it's a prerequisite for a position or not. It says a lot about a person who would acquire the skills to help others.
First Aid certification can factor into a pay raise. It can also contribute to Continuing Professional Development (CPD) points that many Australian professionals accrue.
If you're not already convinced about the many benefits to be had from First Aid proficiency, wait until you see the faces looking at you in gratitude when you step up to help…
First Aid Training in Darra
Darra is the Aboriginal word for "stones". A working class suburb and predominantly industrial, it is a true building block of Queensland's urban life.
According to the Australian Bureau of Statistics' 2016 census, Darra's population has grown to more than 4,000 citizens.
Darra also boasts cultural diversity. In the traditional Queenslanders of the 1950s, many recently welcomed immigrants are now calling Darra home.
These are locals who are never slow to work in service of this exceptional community and protect their neighbours by becoming a certified first aider.
Show your spirit by taking action and booking your slot in our Darra First Aid course today.
If you need more information, just call 07 3437 7500 or send an email to info@australiawidefirstaid.com.au.
Our Darra First Aid courses include:
HLTAID003 Provide First Aid
HLTAID001 CPR only
HLTAID004 Childcare First Aid (Provide an Emergency First Aid Response in an Education and Care Setting)