1,113,621
Students Certified
BOOK NOW!
FIND A CHEAPER COURSE
WE'LL BEAT IT BY 10%
HLTAID004 - Provide an Emergency First Aid Response in an Education and Care Setting
    RTO: 31961
Why Choose Our First Aid Course?
Find a Cheaper Price, We'll Beat it by 10%
Flexible Online Learning & Assessment
Same-Day Certificate
Accredited Certification, Nationally Recognised
Training at Your Site by Arrangement
Courses 7 Days
Royal Australian College of General Practitioners – endorsed
Australian College of Nursing – endorsed
Book Online or by Phone
Choosing a First Aid trainer
Clayton First Aid Course Training Venue
Our First Aid training venue in Clayton is within easy reach for students coming from Oakleigh East, Mount Waverley, Notting Hill, Oakleigh South, Mulgrave, Clarinda, Clayton South, and Springvale.
Clayton is one of the largest centres of scientific, technological, and research activities in the country and serves as home to well-known schools, hospitals, and research centres. Australia Wide First Aid holds regular courses in this suburb, making First Aid training more accessible to the people based in the area.
While Clayton is 19 km from Melbourne's central business district, we also provide First Aid courses at our Melbourne CBD training venue.
Streamlined First Aid Training in Clayton
Completing your First Aid course can now be done online, with only the minimum of face-to-face instruction at our Clayton First Aid training location. It's easier with Australia Wide First Aid — the country's leader in innovative First Aid training.
Your Statement of Attainment will come through to your email, the same day as you successfully complete your First Aid course.
Your First Aid certificate will be recognised Australia-wide — just like our name. Australia Wide First Aid is an official training organisation (RTO No. 31961) and your training by qualified First Aid trainers follows the guidelines established by the Australian and New Zealand Committee on Resuscitation (ANZCOR).
We consult regularly with industry experts and implement best practice management procedures to maintain compliance with the VET Quality Framework.
You'll be able to work anywhere in Australia with your First Aid certification.
Along with streamlined First Aid courses, we make it easier for you to attend First Aid training, either at our Clayton training venue or any of the other locations we have Australia-wide, 7 days a week.
Group First Aid training is also available. We can arrange training at your workplace, customising instruction to suit your specific First Aid needs.
Following are our most in-demand First Aid courses at Clayton:
HLTAID003 Provide First Aid
HLTAID001 CPR only
HLTAID004 Provide an Emergency First Aid Response in an Education and Care Setting (Childcare First Aid)

Your First Aid Trainer
Roger, as you can see from the photo, is ready for danger.
When our  First Aid students are not thanking him for sharing the benefits of his vast experience, he's out in the field responding to incidents at warehousing sites that involve fires, chemicals, and other hazards.
He's also a certified snake handler.
Your First Aid training with Roger is certain to be interesting, educational, enjoyable, and memorable.
Location
The Clayton Hotel – 319 Clayton Road, Clayton, VIC 3168
Getting Here
CAR – FREE parking is located along Haughton Road, between Clayton Road & Prince Charles Street.
PUBLIC TRANSPORT  (JOURNEY PLANNER)
BUS – Clayton Bus Interchange – routes 704, 821, 824, 631, 703, 733
RAIL – 2 Mins walk – Clayton Railway Station (servicing the Cranbourne & Pakenham Lines)
Food & Refreshments
Water is available throughout the day.
A 30-minute lunch break is scheduled for courses running over 4 hours. There is a restaurant onsite, which is convenient although it means no external food is allowed.
NOTE: Please make sure you arrive 15 minutes prior to your course commencement. With health measures in place, late arrivals cannot be permitted entry due to the disruption it would cause.
Types of First Aid Offered by Australia Wide First Aid
Our organisation understands that companies and individuals have different needs when it comes to first aid training. To accommodate those needs and to make learning first aid more accessible to everyone, Australia Wide First Aid offers a variety of training courses in various locations and schedules. These are: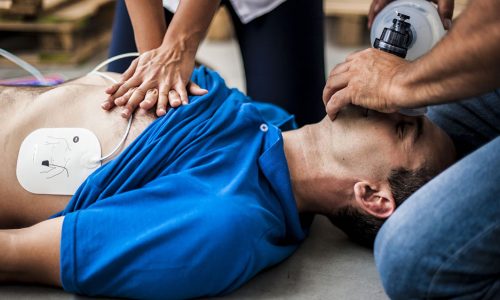 This 2-hour course equips First Aiders with the skills and knowledge to provide CPR — as approved by the Australian and New Zealand Committee on Resuscitation (ANZCOR). CPR is invaluable when responding to cardiac and breathing emergencies.
Includes: Provide Cardiopulmonary Resuscitation (HLTAID001)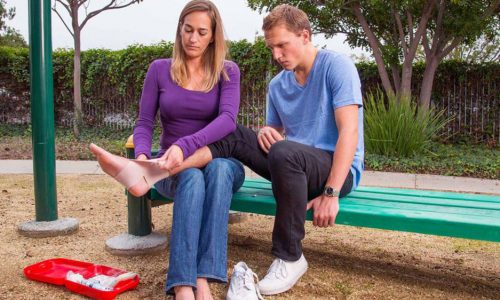 This course focuses on emergency response, casualty management, and life support and entails a total of 4 hours of face-to-face First Aid training.

Includes: Provide Cardiopulmonary Resuscitation (HLTAID001), Provide Basic Emergency Life Support (HLTAID002), and Provide First Aid (HLTAID003)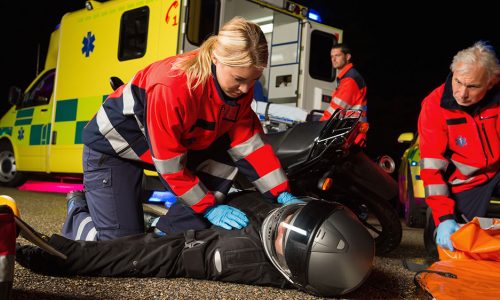 This comprehensive 5-hour course focuses on CPR techniques on infants, children, and adults. It also teaches students how to assess emergency situations, administer first aid procedures for various injuries, control infection, and manage shock and other medical emergencies.
Includes: Provide Cardiopulmonary Resuscitation (HLTAID001), Provide Basic Emergency Life Support (HLTAID002), Provide First Aid (HLTAID003), and Provide an Emergency Response in an Education and Care Setting (HLTAID004)
What's First Aid?
First Aid is a stopgap measure provided to sick or injured people before the professionals arrive to administer advanced medical care.
While sometimes it can be enough for minor injuries, First Aid treatment can make a big difference for more serious situations. It also goes beyond simply knowing how to alleviate pain or dress up wounds.
First Aid covers basic hygiene and wound care, as well as more complex actions, such as conducting proper Cardiopulmonary Resuscitation (CPR).
With the knowledge to help people in times of emergency, First Aid training also allows you to do that without putting your own life or safety at risk.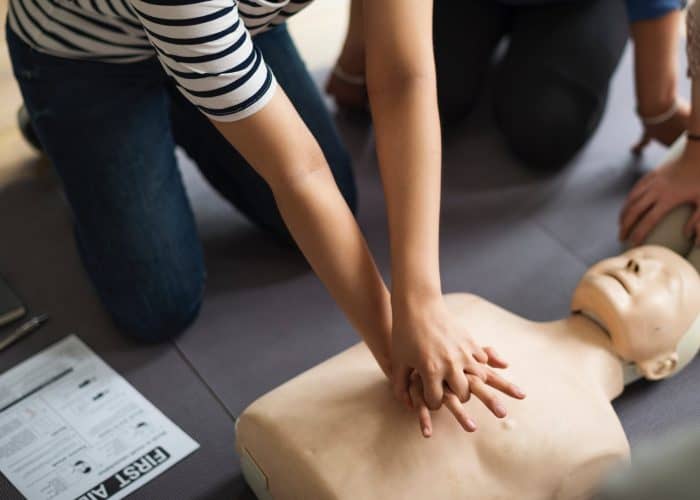 Why Do You Need to Learn First Aid
No matter where you are, it's always best to know what to do when someone near you gets injured or suffers a medical emergency like a heart attack or seizure. After all, a person's life might just be saved by a Good Samaritan with first aid training or knowledge of CPR.
Training with Australia Wide First Aid offers additional benefits that others may not have, besides a guarantee of the best pricing possible. This includes nationally recognised training, option for 1-day courses and same-day certification. And if you're registering for a group of 8 people or more, you can also take advantage of on-site first aid training.
Are You Qualified to Do First Aid?
Remember that having first aid knowledge isn't just for coping with unexpected emergencies. It can be described as an unavoidable aspect of any Australian workplace, as many businesses and facilities are required to have at least 1 person who can provide first aid in times of emergency.
Students need to be at least 14 years old to take an accredited first aid course that will earn them a Statement of Attainment. Those younger than 18 years old need to present parental consent prior to attending a course. After completing the assessment and attending the face-to-face training, all successful students will be able to receive a digital copy of their Statement of Attainment, which proves that they are trained to provide first aid.
Frequently Asked Questions
Provide First Aid certificates are valid for 3 years after the date of issue. Note, however, that the CPR component is valid for a shorter duration — 12 months. You should renew your CPR training once a year.
You would need to read through your Australia Wide First Aid e-manual. You would have access to this document immediately after you book your First Aid course. Reading it is essential in order to pass the First Aid e-Learning assessment.
If you are renewing your First Aid certification, you would become eligible for a fast-tracked course by providing proof of your prior First Aid certification.
Yes. Either of the 2 courses would earn you the same qualification and would educate you with the same First Aid knowledge and skills.
Australia Wide First Aid's 1-day course is a more streamlined program. It is designed specifically to enable busy people to get their First Aid qualification with minimal disruption to their home and work lives.