BOOK ONLINE HERE
First Aid Course Selector
Your Trusted First Aid Training Provider
Australia Wide First Aid hosts regular first aid training courses in Capalaba. Students coming from Brisbane and surrounding suburbs also find our training venue within easy reach of their home or place of work. As a Recognised Training Organisation, Australia Wide First Aid (RTO No. 31961) is all about making quality first aid training available to everyone. That's our mission actually. We do this by offering the most streamlined 1-day first aid course on the market, which makes use of blended online and face-to-face training and assessment.
All our classes are conducted by highly skilled and experienced trainers and assessors, and we also comply with the VET Quality Framework to ensure that our students receive the highest possible standard of first aid training. After completing a course and passing the assessment, our students will get a nationally recognised Statement of Attainment and earn Continuing Professional Development (CPD) points that they can use to improve their career options.
We are endorsed by peak bodies such as the Australian College of Nursing (ACN), we partner with the best known Complementary Health Modalities in the country such as the Australian Acupuncture and Chinese Medicine Association (AACMA), and our cutting edge First Aid techniques are set by the Australian Resuscitation Council (ARC).
Your Statement of Attainment (PDF) will be emailed within 48 hours upon successful completion of the course.
HLTAID003 Provide First Aid
HLTAID001 CPR only
HLTAID004 Provide an emergency first aid response in an education and care setting (Childcare First Aid)

Why Choose Us?
Best Price Guarantee (find a cheaper price and we'll beat it by 10%)
Reduced Face to Face Duration
Same-Day Certificate
Nationally Recognised Certification
Accredited Training
Come to us – or we come to you
Courses 7 Days
Endorsed by the Australian College of Nursing
Endorsed by Australian Acupuncture and Chinese Medicine Association
Book Online or by Phone
Getting Here
CAR – FREE parking available onsite
PUBLIC TRANSPORT (MAP)
BUS – Closest bus stop: Morton Bay Road at Dan Street (right out the front of our premises).
Morton Bay Road Park 'n' Ride 375 metres (4 min walk)
Food & Refreshments
There is a 30 minute lunch break for courses running over 4 hours. You are welcome to bring your own lunch. Alternatively, there is a number of cafes and coffee shops in the area.
Capalaba is easily accessible from these suburbs: Chandler, Birkdale, Alexandra Hills, Burbank, Sheldon, and Thornlands.
Capalaba is the second most populous suburb in the City of Redlands, Queensland. The suburb shares a border with the city of Brisbane, and many Brisbane folk consider it a gateway to the coastal Redlands region. Its residents also enjoy quick access to many conveniences as the suburb has a major bus station, large shopping malls, and industrial zones. Because of its location and ease of access to both commercial and residential areas, Capalaba's demographic is one that makes it a likely place that people in this suburb will need first aid skills and be certified in first aid for their work.
What is First Aid?
In the event of injury, illness, or medical emergency, conducting first aid has 3 major goals: preserve life, prevent further injury, and promote recovery. The proper use of first aid knowledge and skills can save a life, alleviate the pain experienced by the patient, and reduce the time needed to recover from the injury or illness. First aid is not limited to providing cardiopulmonary resuscitation (CPR); a first aid course covers many subjects such as using various first aid tools and techniques properly, responding to different types of medical emergencies, and even preventing and addressing workplace-specific injuries.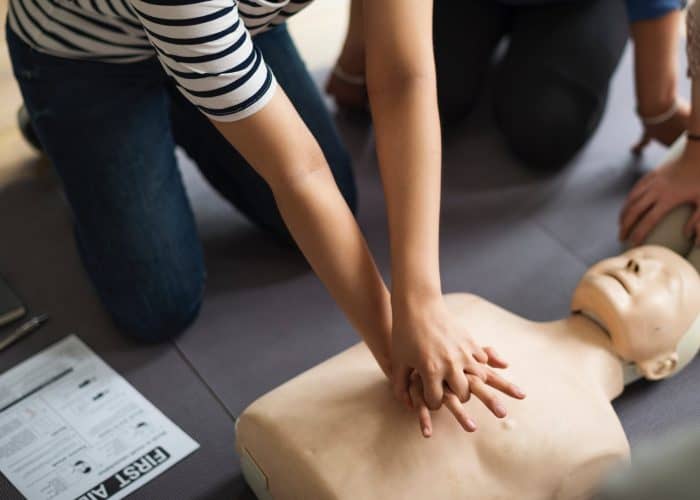 What Are the Key Benefits of Learning First Aid?
There are many personal and professional benefits of learning first aid. Learning first aid allows you to identify the risks in your home or workplace and take steps to reduce the danger they pose. Most injuries and illnesses take place at home or at work, and knowing first aid skills and techniques allows you to help people— family, colleagues, or even strangers— in the event of a medical emergency. What's more, knowing first aid can improve your employability in many industries and workplace settings, and taking a first aid class also earns you points for Continuing Professional Development.
How to Become a First Aider in Capalaba, Queensland
People who are interested in becoming a first aider should attend a training course and pass the assessment, which will earn them their Statement of Attainment. This certificate serves as a proof that they have completed various first aid modules and are equipped with the skills and knowledge needed to properly administer first aid. First Aid Statement of Attainments need to be renewed annually in the case of Provide CPR (HLTAID001), or three yearly in the case of Provide First Aid (HLTAID003).
The first aid training offered by Australia Wide First Aid in Queensland follows the guidelines set by the Australian and New Zealand Committee on Resuscitation (ANZCOR). Our 1-day course delivered at 20 convenient locations around Australia fast track your road to first aid certification. Our courses are specifically designed with the time poor in mind. Our specialty is teaching maximum level of first aid skills and knowledge to our students in the minimum face to face contact time.
What are the First Aid Courses Offered in Capalaba?
Australia Wide First Aid offers the following suite of fast-tracked courses: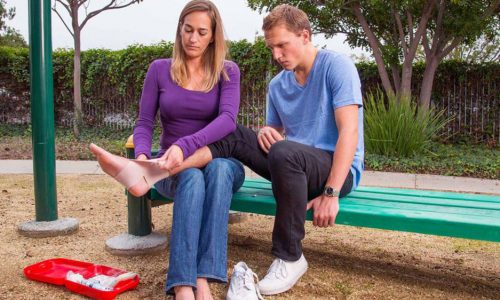 This 4-hour face-to-face course includes first aid response, life support, and casualty management. This course also requires pre-course reading and assessment.
Includes: Provide Cardiopulmonary Resuscitation (HLTAID001), Provide Basic Emergency Life Support (HLTAID002), and Provide First Aid (HLTAID003)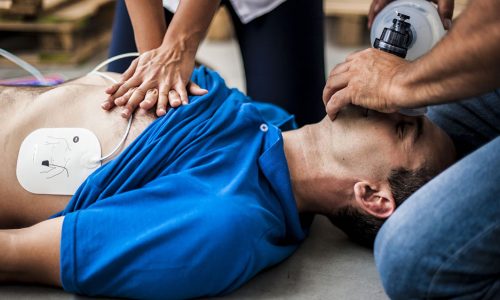 This course focuses on administering cardiopulmonary resuscitation and responding to medical emergencies that require CPR, like cardiac arrest and drowning. Only 2 hours of face to face contact time is required, plus pre-course reading and assessment.
Includes: Provide Cardiopulmonary Resuscitation (HLTAID001)
This course covers everything covered in Provide First Aid plus some additional focus to child and infant specific first aid.
This course is in high demand by parents and those working in childcare and family day care.
Includes: Cardiopulmonary Resuscitation (HLTAID001), Provide Basic Emergency Life Support (HLTAID002), Provide First Aid (HLTAID003), Emergency First Aid in an Education and Care Setting (HLTAID004).
More Information about Australia Wide First Aid's Courses
First aid students need to be at least 14 years old to enrol in our class, and students younger than 18 years of age need to present signed parent/guardian consent before attending the course. Each course is composed of 2 parts: online training and assessment and face-to-face training and assessment. The online assessment must be completed prior to attending the course, and the student must do this by 11:59pm the night before the face-to-face training. Students marked competent receive their Statement of Attainment on the same day they complete the course, meaning there is no waiting around for your first aid certificate.
Acquiring first aid know-how and certification is a great step in improving your career prospects, helping your community, and ensuring the safety of your family and friends. For inquiries about first aid courses in Capalaba or any area near you, get in touch with Australia Wide First Aid through our contact page or by calling 1300 336 613.