First Aid Course Capalaba
Capalaba first aid training
CPR & First Aid Courses Fast-Tracked

Online First Aid Course + Face-to-Face Training

Same-Day First Aid Certificate – Nationally Recognised

Group First Aid Courses at Your Site

Royal Australian College of General Practitioners – endorsed

Australian College of Nursing – endorsed

Registered Training Organisation #31961

Check Course Availability in Selector above

Find a Cheaper Price, We'll Beat it by 10%
Capalaba first aid course prices
We're keeping our Capalaba first aid course prices low. In fact, if you find a first aid course anywhere in Australia at a cheaper price, we'll beat it by 10%.
As Brisbane's gateway to the coastal Redlands region and the second most populous suburb in Redlands, Capalaba is serviced by a network of bus routes and has an extensive shopping precinct.
The demographic in Capalaba is represented in commercial, industrial and residential arenas and includes many people who need first aid certification in their line of work.
Our Capalaba first aid training facility is handy for locals from:
Acacia Ridge
Alberton
Albion
Alderley
Alexandra Hills
Algester
Annerley
Archerfield
Ascot
Ashgrove
Ashgrove West
Auchenflower
Bahrs Scrub
Balmoral
Banyo
Bardon
Belmont
Berrinba
Bethania
Birkdale
Boondall
Bowen Hills
Brisbane Adelaide Street
Brisbane Market
Bulimba
Buranda
Burbank
Calamvale
Camp Hill
Capalaba West
Carbrook
Carina
Carina Heights
Carindale
Chandler
Chapel Hill
Frequently Asked Questions
How long does first aid qualification take?
A first aid course can be done in one day, provided you complete the required e-Learning prior to the day of your course.
The online first aid course module comprises e-Learning — reading material (First Aid eBook) plus a multiple-choice questionnaire you can do in your own time.
Just be sure to submit your completed e-Learning by 11:59pm the day before your scheduled face-to-face training and assessment. This practical session is also streamlined, taking 2 to 5 hours, depending on which course you take.
How long does my first aid certificate last for?
The validity period for the Provide CPR certificate is 12 months from date of issue. The official recommendation for Provide First Aid and Child Care First Aid, is to renew your certification every 3 years
How much does a first aid course cost?
Costs for our first aid courses are cheaper than you'll find anywhere else — whether for Provide CPR, Provide First Aid, or Child Care First Aid.
The drop-down selector at the top of our web pages shows up-to-the-minute prices and availability for all our first aid courses.
Our Best Price Guarantee gives you a 10% advantage over any competing first aid courses.
Where are first aid courses held?
We provide first aid training in
See all of our branches listed here: Find a First Aid course near me.
Group first aid training can also be conducted, by arrangement, at your site. The booking arrangements are easier to manage and, more importantly, the training can be tailored to suit the specific health and safety concerns at your workplace.
Are school first aid courses available?
Our trainers are available for Group First Aid courses. The minimum age for first aid certification is 14 years.
Choosing a First Aid course trainer
Australia Wide First Aid Capalaba's Courses
Australia Wide First Aid, a Registered Training Organisation (RTO No. 31961), is all about making quality first aid training available to everyone. We do this by offering the most streamlined 1-day first aid course on the market — blending online e-Learning with face-to-face training and assessment.
Our Capalaba first aid courses are conducted by experienced trainers and assessors, in full compliance with the VET Quality Framework. This means you receive the highest possible standard of first aid training.
After completing your course and passing the assessment, your nationally-recognised Statement of Attainment is emailed to you the same day!
This first aid certificate is a PDF, so you can print it and email it. You'll be enhancing your career options and earning Continuing Professional Development (CPD) points.
Our first aid courses are endorsed by peak bodies, such as the Royal Australian College of General Practitioners (RACGP) the Australian College of Nursing (ACN).
The first aid techniques are up-to-the-minute, in accordance with guidelines set by the Australian and New Zealand Committee on Resuscitation (ANZCOR).
Our most popular first aid courses are:
HLTAID003 Provide first aid
HLTAID001 Provide cardiopulmonary resuscitation
HLTAID004 Provide an emergency first aid response in an education and care setting (Child Care First Aid)
Your First Aid Instructor at Capalaba
Julie is the trainer's trainer, with a wealth of experience training other trainers at Australian Airlines and Qantas.
She is now one of our star first aid trainers. She knows how to unpack first aid knowledge and share it in easy-to-digest form for everyone in her classroom.
Julie splits her times, training mainly at Capalaba and Mount Gravatt. And, as you'll see from our Google reviews, Julie's students are universal in their praise for her first aid training.
How your first aid certificate is fast-tracked
To get your first aid certificate the same day as your course, you need to:
enrol, paying your course fee in full
provide a valid USI (Unique Student Identifier)
complete the e-Learning + face-to-face first aid assessment
Your first aid certificate will be emailed direct to your inbox, as a PDF, ready for you to send to employers or print out.
Australia Wide First Aid courses can also go toward your CPD (Continuing Professional Development).
Be an asset to the Capalaba community. Book your first aid course today.
Get started with your first aid training
It takes little more than a few clicks to book your Capalaba first aid course online.
Or simply call and have one of our friendly team schedule and confirm your booking over the phone.
If you're in business, get in touch to arrange first aid training for your staff.
Call 07 3437 7500 or message us from our contact page.
Getting Here
Driveway entrance just before National Storage via the slip road. Our training room is at the rear end of the complex.
CAR – FREE parking available onsite
PUBLIC TRANSPORT (MAP)
BUS – Closest bus stop: Moreton Bay Road at Dan Street (right out the front of our training centre).
Moreton Bay Road Park 'n' Ride 375 metres (4 min walk)
Food & Refreshments
There is a 30 minute lunch break for courses running over 4 hours.
What is First Aid?
In the event of injury, illness, or medical emergency, conducting first aid has 3 major goals: preserve life, prevent further injury, and promote recovery.
First aid knowledge and skills can save lives, alleviate the pain experienced by the patient, and reduce the time needed to recover from the injury or illness.
First aid is not limited to providing cardiopulmonary resuscitation (CPR). A first aid course covers many subjects, including the proper use of various first aid tools and techniques, learning the appropriate response to different types of medical emergencies, and how to prevent and address workplace-specific injuries.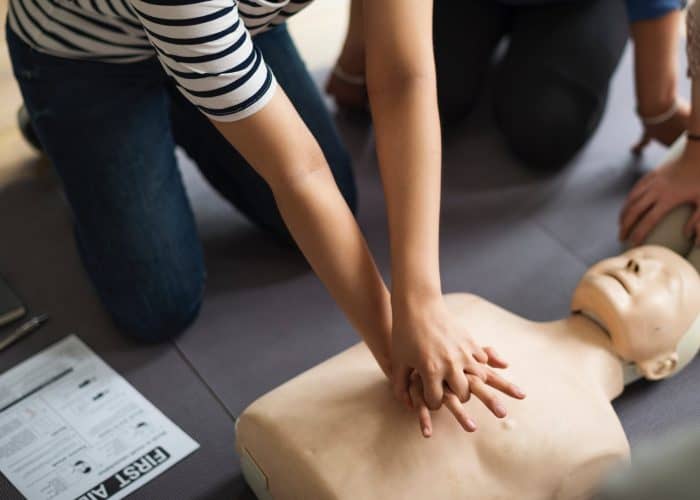 What Are the Key Benefits of Learning First Aid?
There are many personal and professional benefits of learning first aid. Learning first aid allows you to identify dangers in your home or workplace and take steps to reduce the risks they pose.
Most injuries and illnesses take place at home or at work, and knowing first aid skills and techniques allows you to help people — family, colleagues, or even strangers — in the event of a medical emergency.
What's more, knowing first aid can improve your employability in many industries and workplace settings. Taking a first aid class can also earn you points for Continuing Professional Development.
How to Become a First Aider in Capalaba, Queensland
Becoming a first aider, you would attend an accredited training course. Once you have passed the assessment, you will earn your Statement of Attainment.
This certificate serves to prove that you have completed various first aid study modules and that you are equipped with the skills and knowledge needed to properly administer first aid.
Your First Aid Statement of Attainment will need to be renewed annually in the case of HLTAID001 Provide cardiopulmonary resuscitation, or every 3 years, in the case of HLTAID003 Provide first aid. This is to ensure your skills are kept up-to-date.
The first aid training provided by Australia Wide First Aid in Capalaba follows the guidelines set by the Australian and New Zealand Committee on Resuscitation (ANZCOR).
Our one-day course delivered at convenient locations around Australia, will fast-track your first aid certification. Our courses are specifically designed to save you time.
Our specialty is teaching top level first aid skills and knowledge to our students with the minimum face-to-face contact time.
More Information
For inquiries about first aid courses in Capalaba or any area near you, get in touch with Australia Wide First Aid through our contact page or by calling 07 3437 7500.