Find a cheaper price we'll beat it by 10%
HLTAID004 - Provide an Emergency First Aid Response in an Education and Care Setting
    RTO: 31961
First Aid Course Cannon Hill
Find a Cheaper Price, We'll Beat it by 10%
Flexible Online Learning & Assessment
Same-Day Certificate
Accredited Certification, Nationally Recognised
Training at Your Site by Arrangement
Courses 7 Days
Royal Australian College of General Practitioners – endorsed
Australian College of Nursing – endorsed
Book Online or by Phone
First Aid Course Cannon Hill Training Centre
The training venue for our Cannon Hill First Aid course is convenient for many homes and workplaces in the surrounding Brisbane suburbs.
The training room is in the YMCA Cannon Hill Community Centre — formerly known as Cannon Hill Bowls Club. At 18 Lang Street, Cannon Hill, it is within easy to reach for First Aid students from:
Carina
Carindale
Coorparoo
Lytton
Manly
Morningside
Murrarie
Norman Park
Tingalpa
Wynnum
Choosing a First Aid course trainer
Online First Aid Course + Practical Assessment
Australia Wide First Aid is a Recognised Training Organisation (RTO No. 31961), renowned for quality First Aid training delivered in streamlined fashion.
You'll enjoy the low-pressure e-Learning component of your First Aid course. Answering the online questions with the provided e-Manual in-hand could not be more convenient. You can take breaks and resume where you left off.
Simply submit your e-Learning assessment by 11:59pm the night before your scheduled face-to-face First Aid training, which will also be short and sweet. Our trainers convey all the vital knowledge and First Aid skills in entertaining and informative ways.
Our Best Price Guarantee ensures that you get your Cannon Hill First Aid course at the lowest prices available.
Your First Aid certificate is emailed to you the same day as you successfully complete your First Aid course. It's a certificate that is recognised Australia-wide!
Your First Aid training meets the standards set by the VET Quality Framework and will also earn you Continuing Professional Development (CPD) points that you can use to improve your career options.
Australia Wide First Aid is endorsed by peak bodies, such as the Royal Australian College of General Practitioners (RACGP), the Australian College of Nursing (ACN), and the Australian Resuscitation Council (ARC).
Choose from our most popular First Aid courses:
HLTAID003 Provide First Aid
HLTAID001 CPR only
HLTAID004 Provide an Emergency First Aid Response in an Education and Care Setting (Child Care First Aid)
Your First Aid Trainer
Rosemary is your First Aid instructor at Cannon Hill. When she's not teaching at Cannon Hill, Rosemary teaches at other Brisbane locations, including Capalaba and Brisbane CBD. She also volunteers at local sports clubs.
Her optimistic and empowering approach to training is popular with students who, in Rosemary's hands, are spoilt for expertise — she holds qualifications in First Aid for Early Childhood and Care, Community Services, Mental Health, Counselling and Psychotherapy, and Ageing Support.
With a degree in psychology as well, Rosemary enjoys expressive art therapy, mindfulness, evidenced-based EFT, solution-focused therapy, education, training and assessment. She also teaches and practises Trauma-informed Care and Counselling, and Disaster Mental Health Counselling.
COVID-19 Advice
Australia Wide First Aid training is classified as an Essential Service.
Getting Here
CAR – FREE parking available onsite
PUBLIC TRANSPORT (MAP)
BUS – Closest bus stop to YMCA Cannon Hill Community Centre:
Wynnum Road at Morningside Central, about 300 metres from the venue (4 mins walk).
Plan to arrive 15 minutes before the start time for your course. Late arrivals can be refused entry as health precautions and safe seating for participants is our priority.
Food & Refreshments
A 30-minute lunch break is scheduled for courses that run 4 hours or more. You are welcome to bring your own lunch.
First Aid Courses in Cannon Hill
Australia Wide First Aid offers the following suite of fast-tracked courses: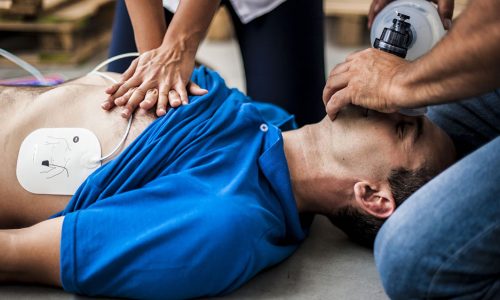 This course focuses on administering cardiopulmonary resuscitation and responding to medical emergencies that require CPR, such as cardiac arrest and drowning. Only 2 hours of face-to-face contact time is required, plus pre-course reading and assessment.
Includes: Provide Cardiopulmonary Resuscitation (HLTAID001)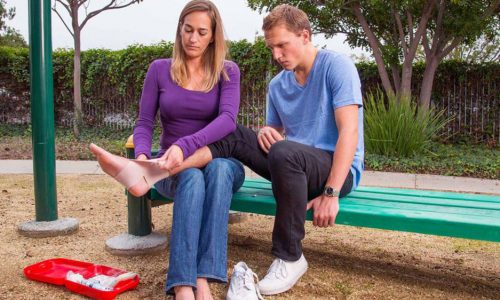 This 4-hour face-to-face course includes First Aid response, life support, and casualty management. This course also requires pre-course reading and assessment.
Includes: Provide Cardiopulmonary Resuscitation (HLTAID001), Provide Basic Emergency Life Support (HLTAID002), and Provide First Aid (HLTAID003)
This course covers everything covered in Provide First Aid plus some additional focus to child and infant specific First Aid.
This course is very popular with parents and people who work in childcare and family day care.
Includes: Cardiopulmonary Resuscitation (HLTAID001), Provide Basic Emergency Life Support (HLTAID002), Provide First Aid (HLTAID003), Emergency First Aid in an Education and Care Setting (HLTAID004).
Becoming a First Aider in Cannon Hill, Queensland
Becoming a First Aider, you would attend an accredited training course. Once you have passed the assessment, you will earn your Statement of Attainment.
This certificate serves to prove that you have completed various First Aid study modules and that you are equipped with the skills and knowledge needed to properly administer First Aid.
Your First Aid Statement of Attainment will need to be renewed annually in the case of Provide CPR (HLTAID001), or every 3 years, in the case of Provide First Aid (HLTAID003). This is to ensure your skills are kept up-to-date.
The First Aid training provided by Australia Wide First Aid in Cannon Hill follows the guidelines set by the Australian and New Zealand Committee on Resuscitation (ANZCOR).
Our one-day course delivered at convenient locations around Australia, will fast-track your First Aid certification. Our courses are specifically designed to save you time.
Our specialty is teaching top level First Aid skills and knowledge to our students with the minimum face-to-face contact time.
Easy Access for Your First Aid Training at Cannon Hill 
Cannon Hill is a bustling suburb, just 5 km east of the Brisbane CBD and ideally situated for people based south of the Brisbane river.
Home to many shopping centres, including the Cannon Hill Shopping Plaza and Urban Village Cannon Hill. Two major roads, Wynnum Road and Creek Road, provide easy access.
For inquiries about First Aid courses in Cannon Hill or any of our other locations, please get in touch with us through our contact page or by calling 07 3437 7500.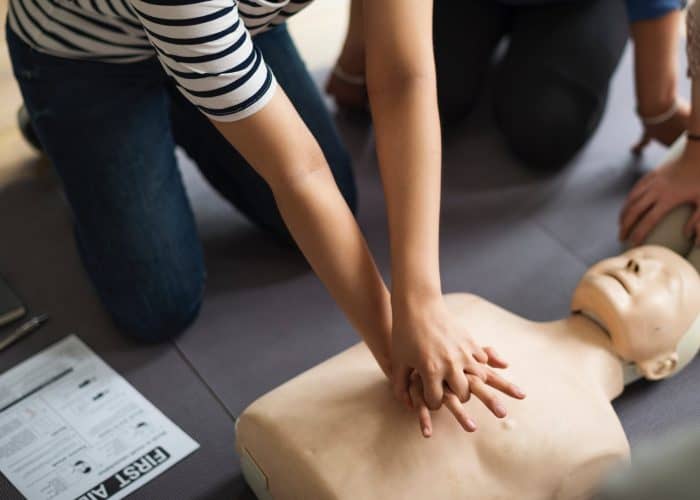 What is First Aid?
In the event of injury, illness, or medical emergency, conducting First Aid has 3 major goals: preserve life, prevent further injury, and promote recovery.
First Aid knowledge and skills can save lives, alleviate the pain experienced by the patient, and reduce the time needed to recover from the injury or illness.
First Aid is not limited to providing cardiopulmonary resuscitation (CPR). A First Aid course covers many subjects, including the proper use of various First Aid tools and techniques, learning the appropriate response to different types of medical emergencies, and how to prevent and address workplace-specific injuries.
What Are the Key Benefits of Learning First Aid?
There are many personal and professional benefits of learning First Aid. Learning First Aid allows you to identify dangers in your home or workplace and take steps to reduce the risks they pose.
Most injuries and illnesses take place at home or at work, and knowing First Aid skills and techniques allows you to help people — family, colleagues, or even strangers — in the event of a medical emergency.
What's more, knowing First Aid can improve your employability in many industries and workplace settings. Taking a First Aid class can also earn you points for Continuing Professional Development.
More Information about Australia Wide First Aid's Courses
First Aid students need to be at least 14 years old to enrol in our classes. If you're under 18, you'll need signed parent/guardian consent before attending the course.
Each course is composed of 2 parts: online training and assessment, and face-to-face training and assessment.
The online assessment need to be completed prior to attending the course. You must have it submitted by 11:59pm the night before the face-to-face training.
Same Day First Aid Certificate
Once you are marked competent, you will receive your Statement of Attainment. This happens the same day as your course is completed, so there is no waiting around for your First Aid certificate.
Acquiring First Aid know-how and certification is a great step in improving your career prospects, helping your community, and ensuring the safety of your family and friends.