First Aid Course Browns Plains
Browns Plains First Aid Training
CPR First Aid Courses Fast-Tracked

Online First Aid Course + Face-to-Face Training

Same-Day First Aid Certificate – Nationally Recognised

Group First Aid Courses at Your Site

Royal Australian College of General Practitioners – endorsed

Australian College of Nursing – endorsed

Registered Training Organisation #31961 – established 1996

Check Course Availability in Selector above

Student-Focused for Better Training Outcomes

Find a Cheaper Price, We'll Beat it by 10%
Brisbane Southside first aid training convenience
Our Browns Plains first aid training centre is convenient to the following Brisbane Southside suburbs:
Acacia Ridge
Alberton
Alexandra Hills
Algester
Annerley
Anstead
Archerfield
Ashgrove
Ashgrove West
Auchenflower
Augustine Heights
Bahrs Scrub
Balmoral
Bannockburn
Bardon
Barellan Point
Belivah
Bellbird Park
Bellbowrie
Belmont
Berrinba
Bethania
Birkdale
Blackstone
Boronia Heights
Bowen Hills
Brisbane Adelaide Street
Brisbane Market
Brookfield
Brookwater
Buccan
Bulimba
Bundamba
Buranda
Burbank
Calamvale
Camira
Browns Plains is an ideal Brisbane Southside first aid training location. An important connection between Brisbane and Logan City, and a terminus for Brisbane city bus routes, Browns Plains is 24 km from the Brisbane CBD.
Australia Wide First Aid Brown Plains makes it possible for you to get your first aid certificate in one day!
Streamlined training – certificate in one day!
Australia Wide First Aid delivers streamlined first aid courses that blend e-Learning and face-to-face training. The online first aid course module can be done at your convenience.
Our streamlined training upholds the standards you would expect from a high quality first aid course. The combination of online and in-person learning provides added flexibility and saves time by minimising face-to-face instruction.
Frequently Asked Questions
How long does first aid qualification take?
A first aid course can be done in one day, provided you complete the required e-Learning prior to the day of your course.
The online first aid course module comprises e-Learning — reading material (First Aid eBook) plus a multiple-choice questionnaire you can do in your own time.
Just be sure to submit your completed e-Learning by 11:59pm the day before your scheduled face-to-face training and assessment. This practical session is also streamlined, taking 2 to 5 hours, depending on which course you take.
How long does my first aid certificate last for?
The validity period for the Provide CPR certificate is 12 months from date of issue. The official recommendation for Provide First Aid and Child Care First Aid, is to renew your certification every 3 years
How much does a first aid course cost?
Costs for our first aid courses are cheaper than you'll find anywhere else — whether for Provide CPR, Provide First Aid, or Child Care First Aid.
The drop-down selector at the top of our web pages shows up-to-the-minute prices and availability for all our first aid courses.
Our Best Price Guarantee gives you a 10% advantage over any competing first aid courses.
Where are first aid courses held?
We provide first aid training in
See all of our branches listed here: Find a First Aid course near me.
Group first aid training can also be conducted, by arrangement, at your site. The booking arrangements are easier to manage and, more importantly, the training can be tailored to suit the specific health and safety concerns at your workplace.
Are school first aid courses available?
Our trainers are available for Group First Aid courses. The minimum age for first aid certification is 14 years.
First aid certificate accreditation
Your certificate can  be emailed to you the same day you complete your Browns Plains first aid course.
You'll be able to email your first aid certificate to employers and know it will be recognised Australia-wide.
Your certificate complies with the standards of the Australian Skills Quality Authority (ASQA) and the first aid techniques taught at your Browns Plains first aid course are those set by the Australian Resuscitation Council (ARC) and endorsed by peak bodies, such as the Royal Australian College of General Practitioners (RACGP) and the Australian College of Nursing (ACN).
Australia Wide First Aid is a nationally recognised training organisation — (Registered Training Organisation RTO no. 31961). We are committed to making first aid more accessible to individuals, employees, and companies in the Brisbane Southside area.
Choosing a First Aid course trainer
Your first aid trainer
Graham is a regular instructor at our Browns Plains first aid training venue. His passion for his work is immediately apparent in his presentation style.
With his laidback, unpretentious approach, Graham brings a quirky sense of humour that keeps his classes up-beat.​
When it comes to teaching how to save lives, his hands-on experience in providing first aid in a range of diverse situations comes to the fore.
Graham has been with Australia Wide First Aid for more than 10 years and he has seen the company rise to become the prominent first aid training provider it is today.
A father of 4, Graham has been involved in both Senior and Junior Soccer most of his life. He also has more than 25 years experience  in the Warehousing and Logistics industry.
Getting Here
CAR – Turn into Wayne Goss Drive, off Browns Plains Road.
Parking is available on the surrounding streets, however, FREE parking is also available at the Business Complex.
Once you enter the Business Complex off Kellar Street, the Australia Wide First Aid training centre is located straight ahead.
PUBLIC TRANSPORT (MAP)
BUS – 10 mins walk from Browns Plains Station.
Food & Refreshments
Water is available.
A 30-minute lunch break is scheduled for courses running over 4 hours. You are welcome to bring your own lunch. Alternatively, there is a café next door to the training centre (weekdays only).
NOTE: Please arrive 15 minutes prior to course commencement. Late arrivals cannot be guaranteed entry as health measures are in place and disruption would inconvenience the class in progress.
Why is It Important to Learn First Aid?
First aid is administered to a sick or injured person with the aim of preserving life, preventing the patient's condition from worsening, and promoting their recovery.
CPR, or cardiopulmonary resuscitation, is a well-known component of first aid, but first aid is also used to respond to injuries, allergic reactions, and other medical emergencies.
First aid knowledge can be used to address and reduce risks in the home or workplace. Many professions require staff who have accredited first aid training certification, while many companies are also required to have at least one currently certified first aider in their office or facility.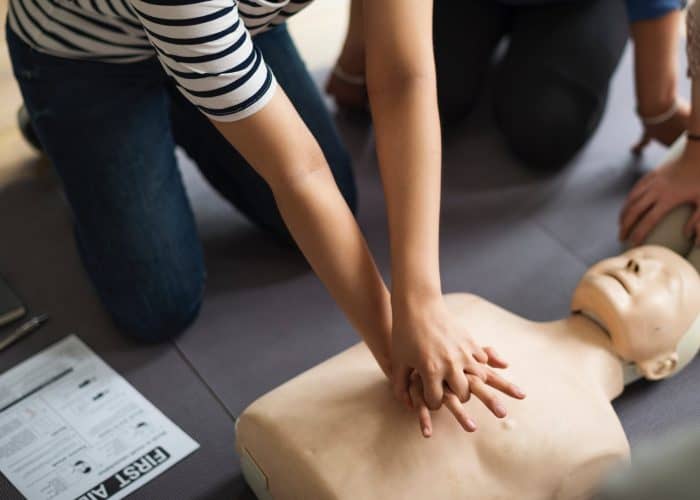 How Will Learning First Aid Benefit Me?
Learning first aid has many benefits. You will gain a more instinctive sense of the risks in your environment. This will enable you to quickly identify and address the potential for harm in places where you typically spend most of your time, such as your home or place of work.
First aid training also prepares you to take action in cases of medical emergency. It helps you adopt the right mindset and use the proper tools and techniques to aid survivors until professional medical help is available.
First aid training can also improve your chances of employment and help you forward your career. In certain professions, it's imperative to learn first aid, and a Statement of Attainment can certainly make your CV more attractive to prospective employers.
How Do I Become a First Aider?
A first aid training course will equip you with the skills, knowledge, and mindset to respond effectively in medical emergencies.
Students in an accredited first aid class can be as young as 14 years old, but if you're under 18, you'll need signed parental consent to enrol in the course.
After successfully completing your first aid course, you will earn a Statement of Attainment. These certificates need to be renewed regularly to ensure your knowledge is up-to-date. A CPR certificate, for example, is valid for 12 months, while a Provide First Aid certificate is valid for 3 years.
Before and After Your First Aid Course
When you enrol in an Australia Wide First Aid course, you'll need to complete the pre-reading and online assessment. The deadline for this is the night before your face-to-face training.
Your Statement of Attainment will be emailed to you the same day as you successfully complete your first aid course.
If you have further questions about our Brisbane Southside first aid courses and training venues, simply give us a call on 07 3437 7500 or email info@australiawidefirstaid.com.au.