1,113,514
Students Certified
BOOK NOW!
FIND A CHEAPER COURSE
WE'LL BEAT IT BY 10%
HLTAID004 - Provide an Emergency First Aid Response in an Education and Care Setting
    RTO: 31961
Getting Here
The easy, cost-effective way to reach our CBD training venue is by public transport.
PUBLIC TRANSPORT (MAP)
BUS – 6 MINS walk – to Queen Street Mall bus station
RAIL – 3 MINS walk – to Central Train Station
Food & Refreshments
Water, coffee and tea is available. There is a 30 minute lunch break for courses running over 4 hours. You are welcome to bring your own lunch. Alternatively, there is a choice of nearby eateries.
NOTE: Please be sure to arrive 15 minutes prior to your course commencement. This allows for everyone to be seated and the course to begin on time. Our First Aid course in Brisbane runs like clockwork. Late arrivals are unlikely to gain entry due as we need to respect the busy schedules of all in attendance.
First Aid Courses Brisbane
Choose from the following First Aid courses: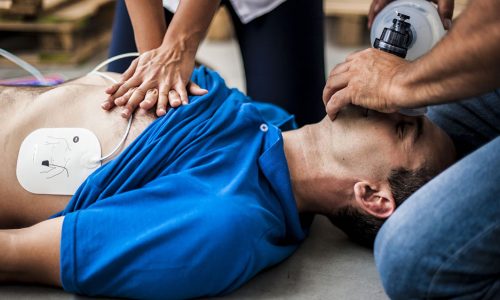 This First Aid course includes 2 hours of face-to-face training during which you'll be guided through the proper application of Cardiopulmonary Resuscitation (CPR). In this course, you will become familiar with how to respond to breathing-related emergencies, including those resulting from cardiac arrest and near drowning.
Includes: Provide Cardiopulmonary Resuscitation (HLTAID001)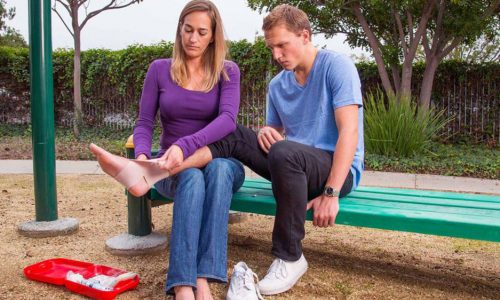 The Provide First Aid course is the minimum requirement for workplace First Aid compliance. It includes 4 hours of face-to-face training and the certification was previously known as Apply First Aid, Senior First Aid, and Workplace First Aid.
You will learn effective First Aid response, life support, and management of casualties.
Includes: Provide Cardiopulmonary Resuscitation (HLTAID001), Provide Basic Emergency Life Support (HLTAID002), and Provide First Aid (HLTAID003)
With a total face-to-face training duration of 5 hours plus pre-course reading and online e-Learning assessment, this Emergency First Aid course has a specific focus on infants and children. The course covers performing CPR techniques on infants, children, and adults; assessing emergency situations; managing medical conditions; and providing First Aid treatment for various types of injuries.
This course is a requirement for staff employed in the childcare sector.
Includes: Provide Cardiopulmonary Resuscitation (HLTAID001), Provide Basic Emergency Life Support (HLTAID002), Provide First Aid (HLTAID003), and Provide an Emergency Response in an Education and Care Setting (HLTAID004)
What You'll Learn in Your First Aid Course
You'll be taught a wide range of skills when you learn First Aid. The most crucial of these is learning how to respond to an injured or ill person in an emergency.
AED and CPR training
You'll learn what to do when a person has stopped breathing. In many emergency situations, CPR — cardiopulmonary resuscitation — is the game changer. It is of such vital importance, it's a wonder learning it isn't part of every school-kid's education.
You'll also learn how to use an automatic external defibrillator (AED). This is the heart-starter that paramedics regularly use to deliver a shock to a person undergoing cardiac arrest.
Treating wounds and bodily injuries
You'll also learn another important facet of First Aid — wound care. Cuts, sprains, burns and bites all need correct bandaging. Along with techniques to manage injury to bones, muscles and joints, you'll be shown the best treatment for injuries to the neck, spine, or head.
Breathing and choking emergencies
There are First Aid techniques for checking the breathing of a casualty and clearing the airway if called for. You'll learn those techniques, as well as what to do when someone is choking, from infants to adults. You'll understand and be able to provide First Aid responses that are appropriate for managing an asthma or anaphylaxis attack.
Poison training
Knowing how to deliver First Aid to a person who has been poisoned is a critical aspect of your training. You'll learn how to safely treat a victim who has been poisoned whether the toxin was inhaled, ingested, or injected by needle or fang.
Unexpected medical emergencies
Your First Aid course will also prepare you for responding to unexpected medical emergencies — from epileptic seizures to strokes and heart attacks. Your training will allow you to think quickly and act confidently. You'll be ready to make decisions and take steps that will help avoid disastrous outcomes.
Emergencies can occur in the home, the workplace, or while you're out and about. But with your First Aid training, you'll be able to take the kind of action that saves lives.
Our First Aid classes teach you not only appropriate emergency responses, but also what to look for, and how to stay safe yourself.
On a day-to-day level, your First Aid training will strengthen your resolve, lift your attitude, and enhance your career.
How Australia Wide First Aid Delivers
Our First Aid training is COVID-safe. Hygiene and social distancing are maintained at all times.
We provide one-on-one, as well as group First Aid classes. The group classes can be held at your site, which means that the First Aid training can be customised to suit your specific environment.
Our industry-experienced, fully certified trainers are available in Melbourne, Sydney, Perth and Brisbane.
First Aid Training Simplified
We make it our priority to not only provide access to accredited First Aid training, but also to blend online e-Learning with the minimum of face-to-face training.
From the outset, you choose the time and place for your practical assessment. And while the days click over until your scheduled face-to-face session, you simply complete the theory component online and at your convenience.
Once you book your course, you'll have immediate online access to a PDF First Aid manual. You'll find it full of important information and well-explained from start to finish.
However, depending on the course you selected, only a portion of the manual might be needed for your e-Learning questionnaire.
If you're running short on time, you can simply refer to the manual as you're answering the questionnaire. You can have as many attempts as you need to choose True or False, check the correct multiple-choice answers, and complete the handful of drag-and-drop puzzles.
If it takes a few attempts to arrive at the correct answer, it pays to consider why it's correct. That way, you'll gain a better insight into First Aid.
You have until 11:59pm the night before your face-to-face First Aid class to submit your e-Learning assessment. Of course, it's better if you get started sooner rather than later.
Our trainers keep things light-hearted and entertaining in class. You'll enjoy it more if you're not sleep-deprived! And you want to arrive with time to spare, relaxed.
Your First Aid Course Completed
Completing your First Aid class is not a difficult process. We make sure it runs like clockwork because we appreciate the time constraints most of us are under.
Your First Aid certificate will be emailed to you, like clockwork too, shortly after you've completed the course. Yes. Same-day certification!
You'll be pleased to know that your First Aid certificate from Australia Wide First Aid will be recognised the length and breadth of Australia. You'll be ready for career advancement, workplace compliance, as well as saving lives.
In time, your First Aid certificate will need a refresher. For example, HLTAID001 CPR needs to be renewed annually, including the CPR component within HLTAID003 Provide First Aid, the balance of which needs a refresher course only after 3 years. This is simply so First Aiders can align their skills with updated training methodology.
What is First Aid?
First Aid can be described as the stopgap measure to help a sick or injured person before full medical assistance becomes available.
The range of commonly taught First Aid procedures includes: immediate treatment of wounds and burns, application of cardiopulmonary resuscitation (CPR), and treatment of asthma and anaphylactic shock.
Aspiring First Aiders will learn the 3 basic principles, or 3 P's of First Aid: • Preserve life • Prevent further injury • Promote recovery.
First Aid training enables you to apply First Aid techniques properly, keep a cool head, think on your feet, and make difficult decisions under pressure.
Cementing this mental strength, First Aid also emphasises the key values of trustworthiness, clarity of mind, and above all, compassion for others.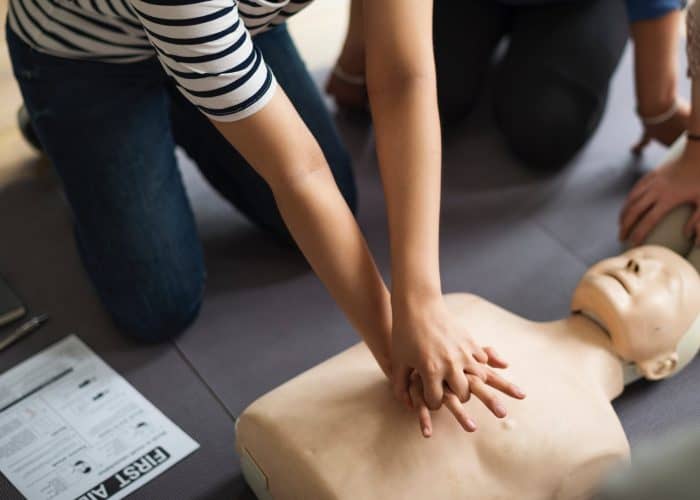 What Are the Benefits of Learning First Aid?
It is empowering to become a certified First Aider. You can be the first line of defence in an medical emergency for a friend, a loved one, or someone who will always be grateful.
Your First Aid skills and knowledge are especially valuable when your desire is to help someone dear to you who is in delicate health or who might be suffering from a chronic illness.
First Aid can also prepare you for the role of a Good Samaritan, ready to help a stranger suffering a heart attack, stroke, or any other conceivable adverse health event.
We may not be able to predict when misfortune might strike, but we can have the foresight to learn how to save someone's life in an emergency.
First Aid knowledge has many benefits. You'll be a much-needed asset for your employer and to your work colleagues, as well as a capable guardian to your family and friends.
What you've learned can even apply to your own personal situation, enabling you to remain calm if you are injured or stricken by illness yourself.
A First Aid certificate will give your employment prospects a significant boost. In many lines of work, First Aid certification from a nationally recognised organisation is a prerequisite. Certification could even mean an increased pay rate.
First Aid certification is also an ideal way to accrue credits in your Continuing Professional Development (CPD) points.
All these benefits truly add up, which is why you should have no hesitation when it comes to enrolling in an accredited First Aid training course.
How Do I Become a First Aider?
The minimum requirement to become an recognised First Aider is a Statement of Attainment in Provide First Aid, HLTAID003.
Gaining this First Aid certificate is a simple matter of completing the required units of competency with Australia Wide First Aid. You could earn you Provide First Aid qualification by successfully completing regular modules, technique-specific modules, or workplace-specific modules.
To enrol in an accredited First Aid training course with Australia Wide First Aid, you need to be at least 14 years of age.
If you're under the age of 18, you would need to provide parental or guardian consent.
HLTAID003 Provide First Aid is valid for a period of 3 years, after which, to remain valid and current, the certification should be renewed with a refresher First Aid course.
First Aid in Brisbane
Known as The River City, Brisbane is known for its beautiful sub tropical climate.
It is a prominent business hub and the third most populated city in Australia.
The Brisbane CBD is surrounded by bustling inner city suburbs, such as Red Hill, Paddington, Spring Hill, Fortitude Valley, Petrie Terrace, New Farm, South Brisbane, Woolloongabba, and Kangaroo Point.
Australia Wide First Aid in Brisbane now gives you the opportunity to refresh your skills and attain advanced First Aid knowledge.
Most of us had our first CPR training at school. But for many, that experience is a distant memory and we have likely forgotten most of it. But with Australia Wide First Aid, you'll gain First Aid certification that will be recognised everywhere else in Australia.