FIRST AID COURSES - BRISBANE CBD
BOOK ONLINE HERE
First Aid Course Selector
First Aid Training
In order to be able to respond to an emergency like a First Aid Pro, and be fully certified, we all really need to get training immediately, and only from a nationally recognised training organisation with a reputation for high quality and compliant training practices.
Australia Wide First Aid is on a mission to get every Australian trained in it's accredited courses, and to empower people to be super confident at administering first aid techniques no matter where they are including remote situations. Australia Wide First Aid is a nationally recognised training organisation (RTO 31961), operating right across Australia, delivering courses to everyone including new first aiders right through to health professionals who need to regularly renew their skills. We are endorsed by the Australian College of Nursing (ACN), and partner with some of the top allied health providers in the country including the Australian Acupuncture and Chinese Medicine Association. We are an accomplished training provider, and trusted by tens of thousands of students annually to deliver first aid training of the highest possible standard.
Australia Wide First Aid deliver nationally recognised training to the public from 20 dedicated venues across the country. We also come to you to deliver our courses wherever is most convenient whether thats at or premises or yours. Our courses are fast tracked to meet an ever increasing market appetite for shorter face to face contact time. Upon successful completion of the course, you will receive your certificate on that same day. You can become a first aider and have your certificate to prove it all in 1 day. Our classes take place in reachable and super convenient venues, but you can also book us for face-to-face group sessions at your home or workplace. We are on a mission to train every Australian in first aid which is why we make first aid training easily accessible to people in all areas and from all walks of life.
HLTAID003 Provide First Aid
HLTAID001 CPR only
HLTAID004 Provide an emergency first aid response in an education and care setting (Childcare First Aid)

Why Choose Us?
Best Price Guarantee (find a cheaper price and we'll beat it by 10%)
Reduced Face to Face Duration
Same-Day Certificate
Nationally Recognised Certification
Accredited Training
Come to us – or we come to you
Courses 7 Days
Endorsed by the Australian College of Nursing
Endorsed by Australian Acupuncture and Chinese Medicine Association
Book Online or by Phone
Getting Here
The easiest and most cost effective way to reach our CBD training venue is by taking public transport.
PUBLIC TRANSPORT (MAP)
BUS – 6 MINS walk – to Queen Street Mall bus station
RAIL – 3 MINS walk – to Central Train Station
Food & Refreshments
Water, coffee and tea is provided throughout the day.
There is a 30 minute lunch break for courses running over 4 hours. You are welcome to bring your own lunch. Alternatively, Queen Street Mall is close by if you wish to purchase lunch.
NOTE: To make sure you have enough time to comfortably sign in and complete enrolment documents, please arrive 15 minutes prior to your course commencement. You will need your USI number with you at the time of enrolment.
Brisbane CBD is a prominent business hub, as Brisbane is the third most populated city in Australia. Known as the river city and surrounded by inner city suburbs such as Red Hill, Paddington, Spring Hill, Fortitude Valley, Petrie Terrace, New Farm, South Brisbane, Woolloongabba, and Kangaroo Point, Brisbane is known for its beautiful sub tropical climate.
Most of us had our first CPR training experience at school, but for many that is a distant memory and we have likely forgotten most of it. But now the Brisbane First Aid scene provides so many options to refresh those skills. attaining advanced knowledge, and first aid training that's tailor-fit to particular careers has never been so easy.
Brisbane is one of our prominent training locations. Queensland's capital city and most populous metropolitan area in the state has beautiful architecture and a booming tourism industry. It is also a popular destination for sporting and cultural events. These characteristics make Brisbane an exceptionally livable city and an ideal place to launch one's career or start a family. The key to integrating into Brisbane's way of life is to gain employment in an industry which its community—and one sure way to do that is to complete an accredited Brisbane first aid course and have the tools to confidently manage any emergency first aid response.
What is First Aid?
First aid can be described as the stopgap measure to help a sick or injured person before full medical assistance becomes available. The range of commonly taught first aid procedures includes: immediate treatment of wounds and burns, application of cardiopulmonary resuscitation (CPR), and treatment of asthma and anaphylactic shock.
Aspiring first aiders will learn what it means to follow the 3 basic principles, or 3 P's of first aid: preserve life, prevent further injury, and promote recovery. First aid training will involve grappling with the challenges of thinking on one's feet, applying first aid techniques properly, keeping a cool head, and making difficult decisions under pressure. It will also impart the key values of mental strength, trustworthiness, clarity of mind, and above all, compassion for others.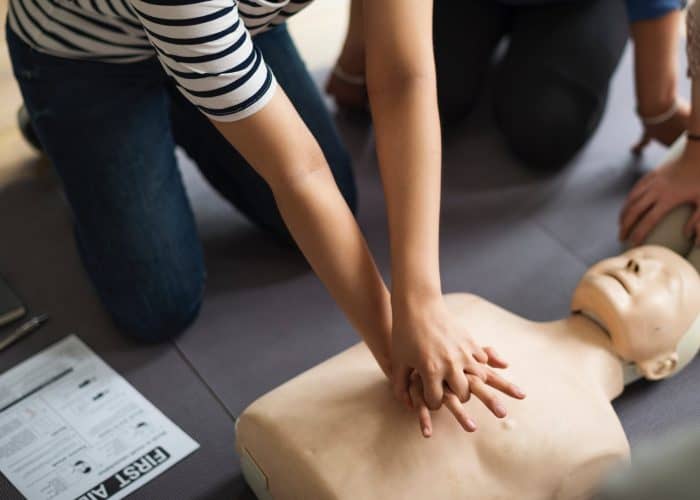 What Are the Benefits of Learning First Aid?
The first big plus of being a certified first aider is: you can be someone's first line of defense in case of emergency. This applies to any loved one of yours who is in delicate health or who might be suffering from a chronic illness. First aid knowledge can also equip you to fill the role of a Good Samaritan, ready to help a stranger who may be in the middle of a heart attack, stroke, or any other conceivable adverse health event. We can't foresee when these things happen—but we can have the foresight to learn to save someone's life.
Even outside of medical emergencies happening in real-time, first aid knowledge has many pluses. You'll be a capable guardian to your family members while you're on vacation, as well as a much-needed asset at your workplace including its social engagements. You can even apply what you've learned to your own personal situation and keep calm in case you yourself suffer an injury or bout of sickness.
First aid certification is a significant plus to your future employment prospects. In many careers, first aid certification from a nationally recognised organisation is a prerequisite. In others, the certification could yield an increase in one's pay rate. Lastly, first aid certification is a good way to accrue credits in your Continuing Professional Development (CPD) points. All these benefits truly add up, which is why you should enrol in an accredited first aid training course.
How Does One Become a First Aider?
The minimum requirement to become an recognised first aider is to posess a Statement of Attainment in Provide First Aid, HLTAID003. Australia Wide First Aid awards this statement of attainment to students who've completed the required units of their module. Statements can be gained from regular modules, technique-specific modules, or workplace-specific modules.
Students need to be at least 14 years of age to enrol in an accredited first aid training course with Australia Wide First Aid. All minors under the age of 18 must first provide parental or guardian consent. They will become bona fide first aider upon completing training and receiving their Statement of Attainment.
First Aid Courses Brisbane
Australia Wide First Aid offers several first aid training courses to help students master basic first aid techniques. Our first aid courses include: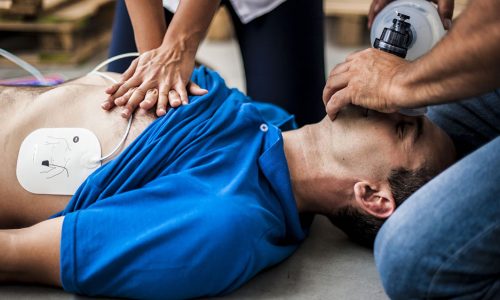 This is a course which includes 2-hours face to face, teaching and assessing students on the proper application of cardiopulmonary resuscitation (CPR). In this course, students will be taught and assessed how to respond to cardiac and breathing-related emergencies.
Includes: Provide cardiopulmonary resuscitation (HLTAID001)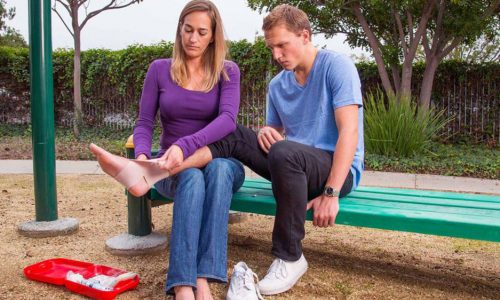 The Provide First Aid course includes 4 hours face to face training and is the minimum requirement for workplace first aid compliance. Previously known as Apply First Aid and Senior First Aid. Some of the things students will learn in this course are first aid response, life support, and management of casualties.
Includes: Provide cardiopulmonary resuscitation (HLTAID001), Provide basic emergency life support (HLTAID002), and Provide first aid (HLTAID003)
With a total face-to-face training duration of 5 hours plus pre-course reading and online assessment, the Emergency First Aid course has a specific focus on infants and children and covers performing CPR techniques on infants, children, and adults; assessing emergency situations; providing first aid to various types of injuries; and managing medical conditions. This course is required by staff employed in the child care industry.
Includes: Provide cardiopulmonary resuscitation (HLTAID001), Provide basic emergency life support (HLTAID002), Provide first aid (HLTAID003), and Provide an Emergency Response in an Education and Care Setting (HLTAID004)
More Information about First Aid Certifications
Students enrolled in Australia Wide First Aid's first aid training courses will receive their Statement of Attainment upon successfully completing their coursework, successfully finishing the e-learning assessment, providing a valid USI, and course fees being paid in full. The Statement of Attainment will be sent to the student's given email address, in PDF format on the same day the course is held.
Australia Wide First Aid is a nationally recognised training organisation, and we guarantee that your certificate will be recognised country-wide. The Provide First Aid certificate is valid for 3 years, while the CPR certificate is valid for 12 months. Australia Wide First Aid courses are also valid for CPD points redemption.
Be an asset to the Brisbane community as a certified first aider. Book a course today with Australia Wide First Aid, the leader in Brisbane's first aid training course scene. For more information, give us a call on 1300 336 613 or send an email at info@australiawidefirstaid.com.au.