BOOK ONLINE HERE
First Aid Course Selector
Your Trusted First Aid Training Provider
Australia Wide First Aid is a leader in quality first aid training throughout the country. We are a recognised Registered Training Organisation (RTO No. 31961) that offers blended online and face-to-face courses. Our face to face training is delivered in convenient training centres across Australia. This structure of blended learning allows us to deliver on-demand training for students looking to acquire the skills and knowledge to provide first aid to those in need and to be certified.
Everything our team of highly professional trainers and assessors teach is backed up by industry experts and peak bodies to ensure that the training we deliver is of the highest quality and meets all the required standards. All our courses are in accordance with the guidelines set by the Australian and New Zealand Committee on Resuscitation (ANZCOR). Our courses are nationally recognised and fully accredited.
Our training facility in Blacktown, is both relaxed and professional. We take our commitment to providing a learning environment conducive to the best possible first aid learning outcomes. You can rest assured that your end to end learning experience will be a great one.
HLTAID003 Provide First Aid
HLTAID001 CPR only
HLTAID004 Provide an emergency first aid response in an education and care setting (Childcare First Aid)

Why Choose Us?
Best Price Guarantee (find a cheaper price and we'll beat it by 10%)
Reduced Face to Face Duration
Same-Day Certificate
Nationally Recognised Certification
Accredited Training
Come to us – or we come to you
Courses 7 Days
Endorsed by the Australian College of Nursing
Endorsed by Australian Acupuncture and Chinese Medicine Association
Book Online or by Phone
Getting Here
CAR – Parking is available onsite.
PUBLIC TRANSPORT (TRIP PLANNER)
BUS – 4 MIN walk – nearest Bus stop on Newton Road
TRAIN – 10 MIN walk – Blacktown Train Station
Food & Refreshments
Water is provided throughout the day.
There is a 30 minute lunch break for courses running over 4 hours. No external food allowed. Alternatively, there is food options available onsite.
NOTE: To make sure you have enough time to comfortably sign in and complete enrolment documents, please arrive 15 minutes prior to your course commencement. You will need your USI number with you at the time of enrolment.
Our training venue in Blacktown is near the following suburbs: Marayong, Kings Park, Kings Langley, Woodcroft, Doonside, Lalor Park, Arndell Park, Huntingwood, Prospect, and Seven Hills.
In a suburb as busy as Blacktown, any number of unexpected incidents can happen within area. With anything from asthma attacks to workplace accidents, it really pays to be prepared for any eventuality. This is why one of the most invaluable skills you can learn while living in Blacktown is first aid.
Training courses are delivered weekly from the Blacktown Workers Club, where one of the friendly receptionists will welcome you with a smile and direct you to our training room. Ample free parking is readily available on the premises and commuting is a breeze, with the Blacktown Train Station an easy 10 minute walk, and the bus stop just 250 meters from the Blacktown Workers Club. We also provide first aid courses at our Sydney CBD location.
What Is First Aid?
First aid is the simple act of providing assistance to a sick or injured individual until professional help can arrive and take the patient to a medical facility that can provide full health care. First aid covers a wide breadth of skills and competencies, with anything from basic hygiene to more complex skills like Cardiopulmonary Resuscitation (CPR). Australia Wide First Aid offers various types of first aid courses, allowing students to be prepared for most emergency situations and know how to handle them when the time comes.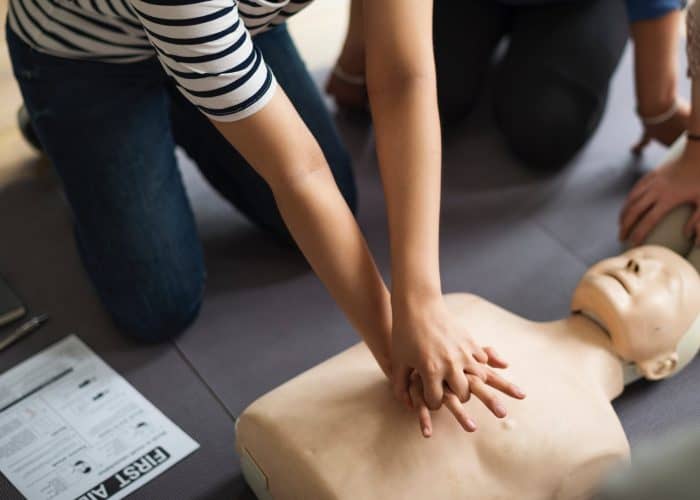 Why Is It Important to Learn First Aid?
The sudden occurrence of a medical situation makes it imperative for people to have the skill to provide first aid at a moment's notice. However, it's important to understand that first aid covers skills that are more than simply dressing a wound or alleviating pain. It can also apply to skills such as the correct way to provide basic life support or how to administer an auto-injector (Epi-Pen) properly when someone is suffering from anaphylactic shock.
Australia Wide First Aid has training classes that cater to a wide variety of situations with its short courses in first aid. These courses only take from 2 to 5 hours to complete an equip students with the knowledge and practical skills to provide first aid confidently. All training received is nationally recognised and can be applied in any workplace or community setting.
Providing First Aid in the Workplace
Industry peak bodies set certain health and safety standards which workplaces representing these industries need to adhere to. Groups like the Australian Children's Education and Care Quality Authority (ACECQA) set standards that are specific to employees working with children for example. Employees working with children will in turn be required to undertake training prescribed by their industries peak body so they are confident in responding to accidents within their place of work.
Another example is those working in the electrical industry will need to be trained and know what to do in case a work colleague has an accident involving power and needs to be rescued from a live LV panel. Similarly, an employee suffering from an asthma attack might need assistance from their fellow co-worker, who can then apply the proper first aid procedures to help that person.
Workplace safety is an issue Australia Wide First Aid take very seriously. That's why our courses focus on specific workplace settings as well as at home. Our training courses such as Provide First Aid and Emergency First Aid specifically cover scenarios within the workplace and examples of what employees are likely to encounter and how to attend to any incident with confidence. Our courses are in full compliance with the guidelines set by our peak bodies and those of each industry which we trust will optimise the safety of all workplaces who's staff have undertaken our training courses, regardless of the organisation or the industry they represent.
First Aid Courses Blacktown
Australia Wide First Aid offers several first aid training courses to help students master basic first aid techniques. Our first aid courses include: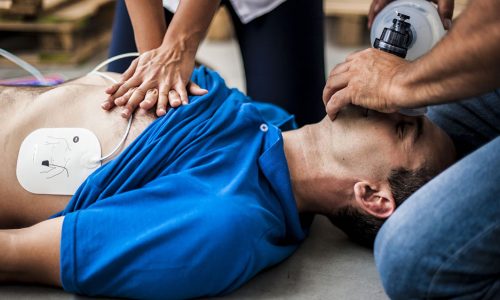 This is a course which includes 2-hours face to face, teaching and assessing students on the proper application of cardiopulmonary resuscitation (CPR). In this course, students will be taught and assessed how to respond to cardiac and breathing-related emergencies.
Includes: Provide cardiopulmonary resuscitation (HLTAID001)
The Provide First Aid course includes 4 hours face to face training and is the minimum requirement for workplace first aid compliance. Previously known as Apply First Aid and Senior First Aid. Some of the things students will learn in this course are first aid response, life support, and management of casualties.
Includes: Provide cardiopulmonary resuscitation (HLTAID001), Provide basic emergency life support (HLTAID002), and Provide first aid (HLTAID003)
With a total face-to-face training duration of 5 hours plus pre-course reading and online assessment, the Emergency First Aid course has a specific focus on infants and children and covers performing CPR techniques on infants, children, and adults; assessing emergency situations; providing first aid to various types of injuries; and managing medical conditions. This course is required by staff employed in the child care industry.
Includes: Provide cardiopulmonary resuscitation (HLTAID001), Provide basic emergency life support (HLTAID002), Provide first aid (HLTAID003), and Provide an Emergency Response in an Education and Care Setting (HLTAID004)
Student Course Requirements
Students who are interested in taking any of the available courses at Australian Wide First Aid are required to adhere to the following guidelines:
Completed enrolment
Agreed to the Terms and Conditions outlined in the Critical Student Information
Have a dedicated Unique Student Identifier (USI), which can be acquired via the student login portal or by contacting customer support
Valid photo ID
Modest clothing and closed shoes for all students attending face to face training
Pen and notepad for note taking purposes
Switching off or placing in silent mode all mobile phones and devices during class
Students enrolled in our Provide First Aid Course which includes CPR, are required to complete pre-course E-learning assessment by 11:59 AEST on the day before the course. Students failing to do so will not be permitted to attend the face-to-face training. Rescheduling as a result of failure to complete e learning assessment prior to the course will result in a $22.00 rebooking fee.
Australia Wide First Aid values human life above all else. This is why it strives to share its knowledge of first aid to everyone, so that those who need it can receive the proper care necessary during an emergency situation. If you want to learn about first aid, feel free to call us at 1300 336 613 or leave us an inquiry on our Contact Us page.
Australia Wide First Aid's Blacktown Courses have been rated 4.5 out of 5 by attendees based on 78 recent reviews.