Find a cheaper price we'll beat it by 10%
Blacktown HLTAID004 - Provide an Emergency First Aid Response in an Education and Care Setting
    RTO: 31961
First Aid Course Blacktown
Find a Cheaper Price, We'll Beat it by 10%
Flexible Online Learning & Assessment
Same-Day Certificate
Accredited Certification, Nationally Recognised
Training at Your Site by Arrangement
Courses 7 Days
Royal Australian College of General Practitioners – endorsed
Australian College of Nursing – endorsed
Book Online or by Phone
Choosing a First Aid course trainer
Your First Aid Certificate in One Day!
Your First Aid certificate will be sent to you the same day after completing the online First Aid course (our streamlined e-learning module), then attending your practical training and assessment!
With Australia Wide First Aid Blacktown, you'll enjoy the empowering knowledge and confidence gained in quick time, training in First Aid at the most competitive rates.
Recognised Throughout Australia
With more than 2 decades in the industry, Australia Wide First Aid is a leader in quality First Aid training.
We are a recognised Registered Training Organisation (RTO No. 31961), offering on-demand courses at locations all around Australia.
Blending online First Aid training with face-to-face sessions conducted by instructors who are second to none, we break down barriers with a Best Price Guarantee to deliver First Aid courses at the best prices anywhere in Australia.
Backed by the industry's peak bodies, our First Aid courses comply with guidelines set by the Australian and New Zealand Committee on Resuscitation (ANZCOR).
Your First Aid certificate will be recognised Australia-wide!
Arndell Park
Blacktown
Doonside
Huntingwood
Kings Langley
Kings Park
Lalor Park
Marayong
Prospect
Seven Hills
Woodcroft
Your First Aid Trainers
Tony is a Registered Paramedic who is passionate about lifesaving and training. He's been a professional lifeguard for 10 years, as well as a volunteer lifesaver since 1994. During that time, he's also had numerous education, training and assessment roles, as well as executive positions with major volunteer organisations.
Tony has been delivering First Aid and emergency training professionally since 1998 and is the author of several widely used manuals and training resources.
Having founded Survival Skills Vietnam in 2014, he divides his time between Australia and Vietnam, bringing First Aid, emergency and survival skills to workplaces, schools, universities and the general public throughout Vietnam.
Tony's practical experience and engaging delivery style instills confidence in students and prepares them well to react unhesitatingly in emergencies.
---
John is an advocate for outdoor adventures. Former a pilot with the RAAF, he then applied his analytical skills to computer logic — coding, training and  manging national help desk support services.
He's now extremely passionate about improving safety for those involved in sport and recreation.
Not surprisingly, First Aid plays a huge role and John knows all about it. He is an excellent First Aid instructor.
Getting Here
CAR – Parking is available onsite.
PUBLIC TRANSPORT (TRIP PLANNER)
BUS – 1 minute walk – nearest Bus stop on Venn Ave before Northcott Rd
TRAIN – 11 minute walk – Blacktown Train Station
Food & Refreshments
Water is provided throughout the day to keep you hydrated.
A 30-minute lunch break is scheduled for courses running longer than 4 hours. You are welcome to bring your lunch or make a quick dash to a local café.
NOTE: Please arrive 15 minutes prior to course commencement, to make sure you have time to comfortably sign in and complete enrolment documents. You will need your USI number with you at the time of enrolment.
First Aid Courses Available at Our Blacktown Branch 
Australia Wide First Aid provides several courses designed to help you master basic First Aid techniques. These courses include: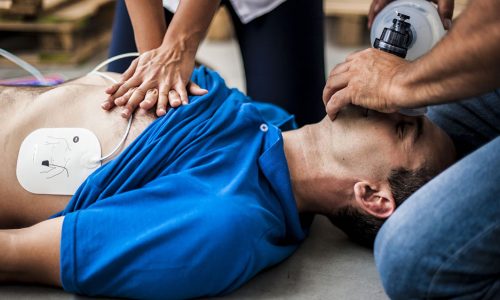 This course includes 2-hours face-to-face First Aid training, where you learn the proper application of Cardiopulmonary Resuscitation (CPR).
After completing this course, you will know how to respond to cardiac and breathing-related emergencies and know what it feels like to possess a skill that has the potential to save lives.
Includes: Provide Cardiopulmonary Resuscitation (HLTAID001)
The Provide First Aid course includes 4 hours face-to-face training and is the minimum requirement for workplace First Aid compliance.
Previously known as Apply First Aid and Senior First Aid, this is Australia's most in-demand First Aid course.
Some of the things you will learn in this course are First Aid response, life support, management of casualties, and treatment for bites.
Includes: Provide Cardiopulmonary Resuscitation (HLTAID001), Provide Basic Emergency Life Support (HLTAID002), and Provide First Aid (HLTAID003)
With a total face-to-face training duration of 5 hours plus pre-course reading and online assessment, the Emergency First Aid course is required if you work in the childcare industry.
With this course's specific focus on infants and children, you'll learn the CPR techniques that apply to infants, children, and adults. You'll be able to assess emergency situations, provide First Aid for various types of injuries, and manage medical conditions.
Includes: Provide Cardiopulmonary Resuscitation (HLTAID001), Provide Basic Emergency Life Support (HLTAID002), Provide First Aid (HLTAID003), and Provide an Emergency Response in an Education and Care Setting (HLTAID004)
Frequently Asked Questions
How long does it take to complete a First Aid Course?
A First Aid Courses will take 2 to 4 hours of face-to-face learning depending on which type of First Aid Course.
| | |
| --- | --- |
| Course Title | Course Duration |
| CPR (HLTAID001) | 2 hours |
| Provide First Aid (HLTAID003) | 4 hours |
| Child Care First Aid (HLTAID004) | 5 Hours |
How much is a First Aid Course?
Use the Booking Selector at the top of the page to quickly check course availability and the current prices. That said, if you find a cheaper First Aid course anywhere in Australia, we'll beat it by 10%!
Where Can I Take My Course?
Our First Aid training in Blacktown is in Lalor Park. However, we also have First Aid training centres right around the country, including in most state capitals. Find a location near you for more details. We also have the ability to provide training at your onsite location.
What Is First Aid?
First Aid is the act of providing emergency medical assistance to a sick or injured individual until professional medical care arrives.
First Aid covers a wide range of skills and competencies, covering basic care to more complex skills, such as Cardiopulmonary Resuscitation (CPR), using an AED (Automatic External Defibrillator), and applying techniques to control severe bleeding.
Australia Wide First Aid provides various types of First Aid courses — all of them recognised all around Australia.
Once you have completed your certification with us, you'll be prepared for most emergency situations when the time comes and be confident in knowing how to handle them.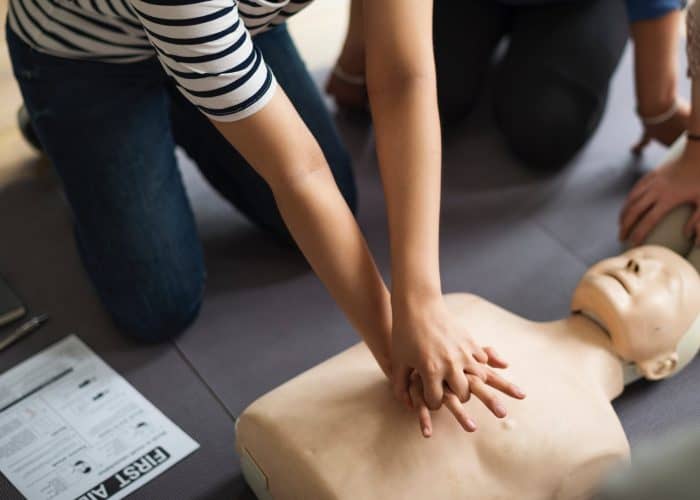 Why Is It Important to Learn First Aid?
When a medical emergency arises, being able to provide First Aid can often mean quick recovery. Without First Aid, injuries can be far worse.
First Aid is much more than simply dressing a wound or try to alleviate pain with calm reassurance. It also includes skills such as the correct way to provide basic life support or how to administer an auto-injector (Epi-Pen) properly when someone is suffering from anaphylactic shock.
Australia Wide First Aid course include face-to-face training that takes from 2 to 5 hours to complete.
You'll find that gaining the knowledge and practical skills to provide First Aid is a real confidence booster. Your First Aid certificate will be recognised all over Australia and can be applied in any workplace or community setting.
Providing First Aid in the Workplace
Industry peak bodies establish health and safety standards for the workplaces within their respective industries.
Groups such as the Australian Children's Education and Care Quality Authority (ACECQA), for example, set standards specific to employees working with children. If you work with children, you would be required to undertake the prescribed training, so you can confidently respond to accidents within your place of work.
Another example would apply to those working in the electrical industry. The appropriate training would enable a person to effectively provide First Aid in the event of a colleague needing to be rescued from a live LV panel.
Likewise, an employee suffering an asthma attack could be helped immediately if their co-worker was trained in the proper first aid procedures.
Workplace Safety is an issue that Australia Wide First Aid takes very seriously. That's why our First Aid courses focus on specific workplace as well as home settings.
Our training courses, such as Provide First Aid and Emergency First Aid, specifically cover scenarios within the workplace. They include examples of what employees are likely to encounter and how to attend to any incident with confidence.
Our courses fully comply with the guidelines set by our industry peak bodies. Graduates of our First Aid training courses can trust that their training is optimised for the safety in the workplace — regardless of the organisation or industry they represent.
First Aid Course Requirements
To take any of our courses at Australian Wide First Aid, you'll need to adhere to the following guidelines:
Complete your enrolment
Agree to the Terms and Conditions outlined in the Critical Student Information
Acquire a dedicated Unique Student Identifier (USI) through the student login portal or by contacting customer support
Have valid photo ID
Wear modest clothing and closed shoes for all face-to-face training
Bring a pen and notepad for note-taking purposes
Switch off or place in silent mode all mobile phones and devices during class
When you enrol in our Provide First Aid Course which includes CPR, you are required to complete pre-course e-Learning assessment by 11:59 AEST on the day before the course. Failing to do so, you would not be permitted to attend the face-to-face training. Rescheduling as a result of failure to complete e-Learning assessment prior to the course will result in a $22 re-booking fee.
Australia Wide First Aid values human life highly. We aim to share First Aid knowledge, so that those who need it can receive the proper care necessary during an emergency situation.
If you want to learn about First Aid, feel free to call us or leave us an inquiry on our Contact Us page.