Find a cheaper price we'll beat it by 10%
Provide First Aid course Beenleigh
HLTAID003
- Provide First Aid (Includes CPR)
    RTO: 31961
Child Care First Aid course Beenleigh
HLTAID004 - Provide an Emergency First Aid Response in an Education and Care Setting
    RTO: 31961

HLTAID001
- Provide Cardiopulmonary Resuscitation
    RTO: 31961
Getting Here
CAR – From M1 Pacific Motorway, turn onto Eastern Service Rd, then turn eastward onto Burnside Road.
Burnside Tavern is on the corner block and has offstreet parking. Australia Wide First Aid's training centre is upstairs inside the Tavern.
BUS – Bus routes 728 and 729 operate between Beenleigh and Yatala.
Food & Refreshments
Water, coffee and tea is available throughout the day.
A 30-minute lunch break is scheduled for courses running over 4 hours. The Tavern is open for lunch.
NOTE: Please arrive 15 minutes prior to course commencement. Late arrivals cannot be guaranteed entry as the busy schedules of everyone concerned, including those of the venue itself, are a priority.
First Aid Course Beenleigh
Australia Wide First Aid's streamlined courses blend e-Learning and face-to-face First Aid training. This combination provides flexibility and minimises the face-to-face First Aid instruction.
It also means the theory component of your learning can be done at your convenience — online.
Nothing at all is compromised in terms of the skills and knowledge you are expecting from a fully-compliant First Aid course.
Your First Aid certificate will be emailed to you the same day you successfully complete your First Aid course. And that First Aid certificate will be welcomed, not just in Beenleigh… it will be accepted Australia-wide.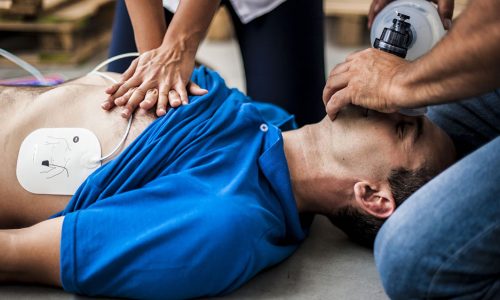 Cardiopulmonary resuscitation is component of Provide First Aid, and is available as a standalone course. It involves preliminary reading and an online e-Learning assessment plus 2 hours of face-to-face training, which has been minimised to meet the needs of busy people.
CPR is used in First Aid response to drowning and cardiac emergencies.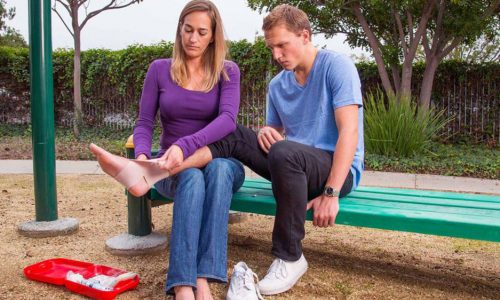 This popular First Aid course covers first response strategies, casualty management, and basic life support. The face-to-face training for this course takes about 5 hours. The online e-Learning assessment will take several hours but can be done in one sitting.
Includes: Provide Cardiopulmonary Resuscitation (HLTAID001), Provide Basic Emergency Life Support (HLTAID002), and Provide First Aid (HLTAID003)
Why is it Important to Learn First Aid?
First Aid aims to preserve life. It can help prevent a sick or injured person's condition from deteriorating and also promote their recovery.
CPR, or cardiopulmonary resuscitation, is a life-saving component of First Aid.
While it's use in treating life-threating medical emergencies is vital, First Aid is also used to treat other immediate medical needs, including cuts, burns, sprains and eye injuries to allergic reactions and poisoning.
First Aid training is extremely useful in addressing and reducing risks in the home and the workplace.
Accredited First Aid training certification is mandatory in quite a few professions. And many Australian companies are required to have at least one currently certified First Aider in their office or facility.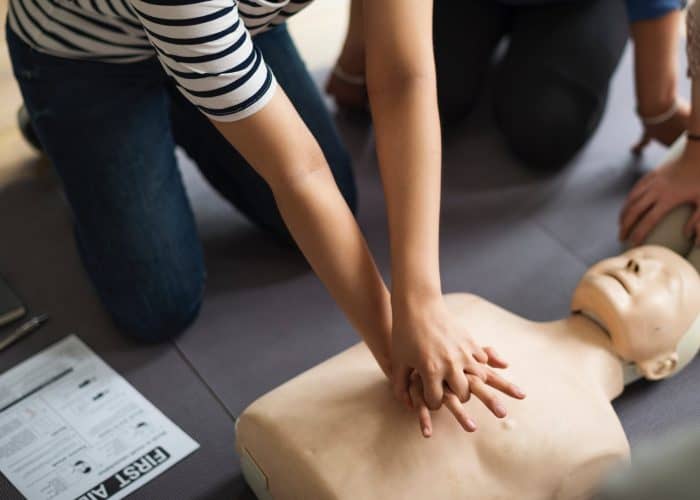 How Do I Become a First Aider?
Students in accredited First Aid courses need to be over 14 years of age. If you're under the age of 18, to enrol, you will need to present signed consent from a parent or guardian.
On successful completion of your First Aid course, you are awarded a Statement of Attainment. This First Aid certificate will be recognised and accepted nationally, so it will open doors wherever you go, Australia-wide.
To ensure your knowledge is up-to-date, you simply do a refresher course to renew your First Aid certificate.
CPR certification is valid for 12 months, while the Provide First Aid certificate is valid for 3 years.
What You'll Learn in Your Beenleigh First Aid Course
Your First Aid training with Australia Wide First Aid will be up-to-the-minute and completed in accordance with the VET Quality framework. Our 24-year reputation is founded on high quality, fully compliant training practices.
Your First Aid certificate will comply with the standards of the industry regulator – the Australian Skills Quality Authority (ASQA). Australia Wide First Aid is a nationally recognised training organisation — (Registered Training Organisation RTO no. 31961).
What you'll be taught at your Beenleigh First Aid course follows the guidelines established by the Australian Resuscitation Council (ARC).
Our First Aid courses are endorsed by Australia's peak bodies — the Royal Australian College of General Practitioners (RACGP) and the Australian College of Nursing (ACN). This is First Aid training that is also recommended by the Australian Acupuncture & Chinese Medicine Association (AACMA) — one of the country's most respected names in Allied Health.
Most importantly, you'll learn what it takes to act quickly and decisively in an emergency situation in order to help an injured or ill person.
AED & CPR training
You'll learn what to do when the person has stopped breathing. CPR — cardiopulmonary resuscitation — is the game changer that has saved countless lives.
You'll also learn how to use an AED (automatic external defibrillator). This is the heart-starter that is used to shock a person undergoing cardiac arrest.
Treating Wounds
Another important facet of First Aid that you'll learn is proper wound care. You'll learn correct bandaging techniques to manage injuries to bones, muscles and joints, as well as cuts, sprains, burns and bites.
Not Breathing, Choking
You'll learn the correct approach to manging the airway of an injured or ill person — infant or adult. Along with checking their breathing and clearing the airway if called for, you'll be shown important First Aid techniques to use when someone is choking. You'll also learn the appropriate First Aid for managing an asthma or anaphylaxis attack.
Poisons
You'll learn how to care for a person who's been poisoned, whether the toxin was injected by needle or fang, inhaled, or ingested.
Unexpected medical emergencies
Emergencies can happen in the home, the workplace, or when you're out and about. With your First Aid training, you'll be ready for the kind of action that can save lives.
Your Beenleigh First Aid course will have you ready to respond when there's an unexpected medical emergency — from a fainting spell to an epileptic seizure to a stroke or heart attack.
Your training will enable you to think quickly and act confidently. You'll learn appropriate emergency responses, but also what to look for, not just in the casualty but also in regard to potential danger in the surrounding environment, and how to stay safe yourself.
Will Learning First Aid Benefit Me Personally?
Learning First Aid will enable you to quickly identify and address risks in your surroundings — whether this is in familiar or unfamiliar environments.
First Aid training will prepare you to take action confidently in a medical emergency. You'll have the benefit of approaching the situation with the right mindset. And you'll waste no time using the appropriate tools and techniques to provide First Aid to the casualty, until the arrival of professional medical help.
First Aid training will improve your employment prospects and will help you achieve your career aspirations. Your CV will be enhanced by the addition of a Statement of Attainment in First Aid.
Not only is First Aid certification a priority requirement in many industries, First Aid certification is viewed positively by all employers.
Before and After Your Beenleigh First Aid Course
Your e-Learning assessment is a series of True or False and multiple-choice questions. It requires you to do some reading from your PDF First Aid eBook.
You can take as many attempts to arrive at the correct answer as you need and you can refer to your First Aid eBook as you go. This is all part of our fast-tracked learning methods.
The deadline to submit your e-Learning assessment is 11:59pm the night before the day of your scheduled face-to-face training.
Once you successfully complete your First Aid course, Your Statement of Attainment will be emailed to you the same day.
If you have any questions about our Beenleigh First Aid courses or training locations, simply give us a call on 1300 336 613 or email info@australiawidefirstaid.com.au.