Wherever you are in Australia, Australia Wide First Aid can provide a complete first aid solution, including courses, ongoing training, supplies and kits for the office, home or car. In addition to general first aid training, specialised CPR, asthma and anaphylaxis training is also available.
Our nationally accredited first aid courses are available in 21 locations around Australia, including central CBD locations: Brisbane, Sydney, Melbourne, and Perth. We also provide training on the Gold Coast, in Townsville, Toowoomba and Ipswich (QLD). A full list of locations can be found below.
If you are based regionally, there is the option to travel to your nearest capital city or alternatively, we can arrange for an in-house First Aid course at your organisation.
Contact us on 1300 336 613 and a friendly member of our team will take care of everything for you.
Alternatively, we can deliver First Aid courses at your organisation or business; enquire now.
Please refer to our Venue Facilities Table for further information on facilities available at our training locations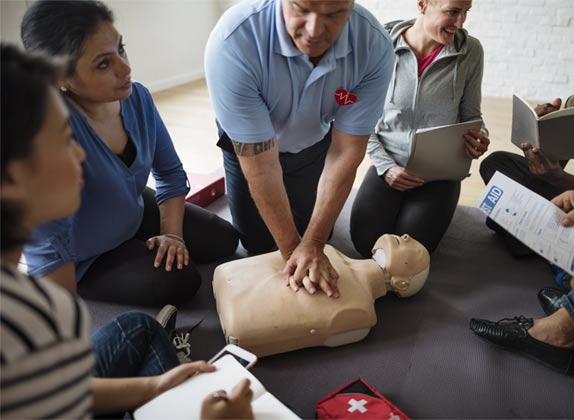 WANT TO WORK WITH US?
We only employ the best First Aid Trainers
If that's you get in touch with us TODAY!
The operating hours and days of first aid training varies at each location. All Central Business District (CBD) locations operate seven days a week and offer all first aid training courses. Regional locations are subject to certain hours and courses. To find out more, please click on each location.
All of Australia Wide First Aid locations are wheelchair accessible. Please contact our friendly customer service team on 1300 336 613 for more information on our training facilities.
BELMONT
BLACKTOWN
BRISBANE CBD
BROWNS PLAINS
CAPALABA
CLAYTON
DARRA
GOLD COAST
HOPPERS CROSSING
IPSWICH
JOONDALUP
MELBOURNE CBD
MITCHELTON
MOUNT GRAVATT
NORTH LAKES
RINGWOOD
SPRINGFIELD LAKES
SUNSHINE
SYDNEY CBD
TOOWOOMBA
TOWNSVILLE
TOWNSVILLE-Belgian Gardens
TOWNSVILLE-Douglas